Discover What's New with the OroCommerce 5.1 Demo
Get an up-close view of the latest OroCommerce features, capabilities, and upgrades in a free demo recording.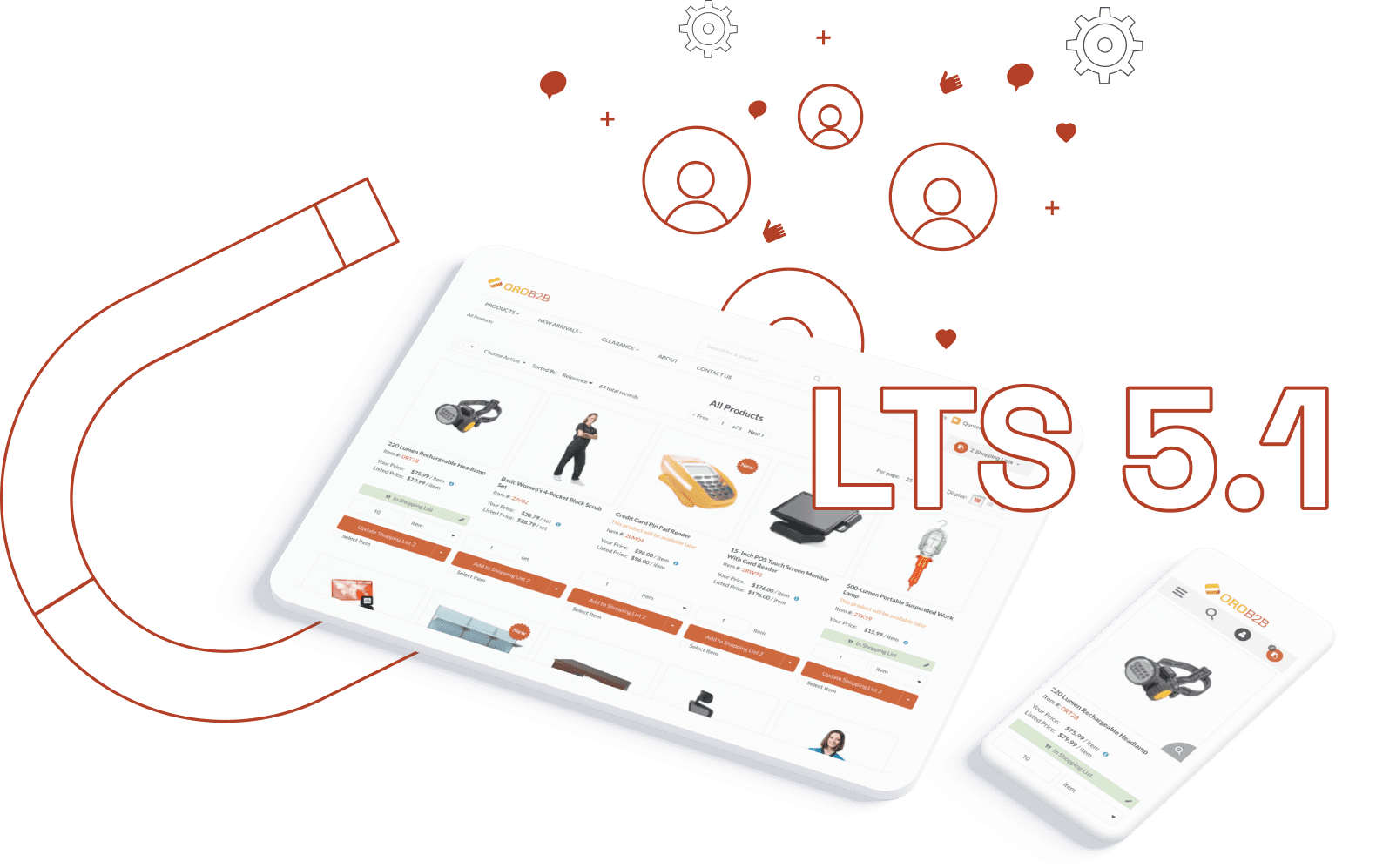 Watch the recording
Watch the OroCommerce 5.1 Demo Recording
This demo is great for:
Oro partners and customers who want to stay informed about the latest updates.
Executives at industrial brands seeking to improve their operations through digital commerce.
IT leaders looking to upgrade their existing technology stacks and systems.
Leadership teams exploring ways to digitize and optimize their sales channels.
What will you discover?
The OroCommerce 5.1 release focuses on empowering businesses to engage in commerce and thrive in any market conditions. Here's what you can expect:
Product bundling and kitting
We're introducing powerful product bundling and kitting capabilities that will make it easier for sellers to create, manage, and promote groups of products. Customers will also enjoy a better purchasing experience due to optimized buying journeys and improved product discoverability and configuration.
Search results management
Modern search capabilities are crucial for any digital commerce website. We improved the user search experience, giving business owners more control over search terms, stop words, granular personalization, and search results. With additional reporting, you get greater insights into the search activity.
Organization restrictions
For multi-vendor sellers with complex hierarchies, we're fine-tuning role capabilities to make them even more flexible, customizable, and powerful. You'll have greater control over permissions, multi-entity commerce, and vendor management. Other features include order splitting, shipping cost options, and more.
Payment options
As customer expectations continue to evolve, B2B sellers need to provide more payment options to meet their needs. OroCommerce 5.1 will include the much-anticipated Stripe integration, which will provide increased payment options and added flexibility and convenience to B2B transactions.
Marketplace features
Marketplace operators and multi-vendor sellers now have greater vendor control and user role customization for a more seamless vendor experience. Achieve the exact selling and buying experience by toggling various functionalities for your sellers and their customers.
Technical improvements
We've made several improvements to the codebase to enhance efficiency and security. We bundled translations with the application source code, and added support for JSON storage, filtering, and sorting. We're also introducing bundle-less application structure support and extended entities refactoring, among other things.
Fill in the form to watch the recording