B2B eCommerce Demo for Distributors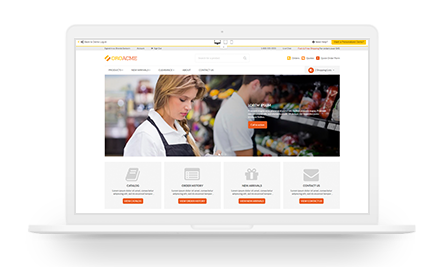 Demo the Unique B2B eCommerce Distributor Experience
No need to contact our sales to start the demo. You are free to test and enjoy the experience all by yourself.

No time limits. You will access the demo instantly after you fill out the form and you will be able to access it anytime for as long as you need it.
Distributors That Trust OroCommerce
Sign Up for Free Access to Demo
Key Benefits of B2B eCommerce for Distributors
Turn Your B2B Website into a Transactional Online Store. Digitize your business and take your sales strategy to new heights. B2B distribution companies with an eCommerce presence have a competitive advantage over their competitors, allowing customers to purchase what they need. The OroCommerce platform supports both traditional and headless eCommerce ensuring your website looks the way you want it to.
Offer Personalized Customer Experiences and Grow Your Business. Our eCommerce B2B platform for distributors offers rich personalization features and unique B2B capabilities to help build stronger ties with your online customers. Build relevant online product catalogs, set up customer-specific pricing, and develop unique customer workflows to ensure your buyers get the best customer experience possible.
Connect into eProcurement Platforms and Automate your Business. Our flexible B2B eCommerce platform for distributors has been developed to work within your supply chain and supplier requirements. The robust API and extensive integration capabilities let you connect with any eProcurement platform and support all EDI and punchout capabilities.
Leverage Mobile and Accelerate B2B Sales. OroCommerce's eCommerce solution is built with fully responsive themes meaning the application is accessible on any mobile, desktop, or tablet device. The platform also supports ordering through mobile applications giving your customers the flexibility to purchase in whichever method they want.
The robust functionality and highly customizable OroCommerce platform will be a great fit for our
company`s B2B needs.
OroCommerce has the most robust feature set for the B2B back-end and offers the best B2C customer experience on the front-end.