What's Coming?
Features for the Next OroCommerce Release
Always Iterating & Improving
At Oro Inc., we work every day to create, improve, and support an ecosystem where B2B businesses thrive. We listen to our customers and partners because we believe your feedback improves our products.
Release Schedule
Our next annual Long Term Support (LTS) version is scheduled for March 2024 and comes with new features and enhanced capabilities.
Learn more about our release process here.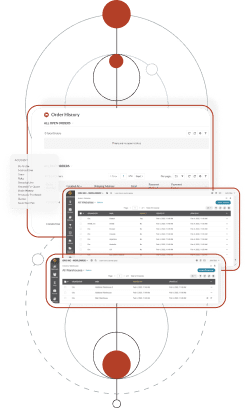 OroCommerce 6.0
Here's what will be included.
Improved Product Kit Functionality
We are improving the functionality for both buyers and sellers.
Storefront product configurator allows for listing kits on a single page and allowing different kit configurations to be purchased from a single product view page.
New export and import functionality will allow catalog managers to speed up product kit configurations setup.
Improved search results: product kits can be found by components and component searches will include kits as well.
Ability to add product kit configurations to the RFQ-to-Quote-to-Order flow for kitted products both on the buyer and the seller side.
Enhanced Search Management
Control which products appear in on-site search and how they appear. We are placing more control over on-site searches in your hands, giving you a powerful merchandising tool.
Manage search terms to define which products are displayed and include and exclude selected products by customer group, website, localization, or customer.
Handcraft search result pages.
Prioritize products in search results to adjust default search result sorting.
Sales Enablement Tools and Functionality
Digital solutions should enhance online and offline sales. We are including tools and functionality to help sales teams work efficiently and to close more internet and face-to-face sales.
Crossed-out prices allow you to highlight discounted prices and compare prices to MSRP, MAP, or other prices.
New dashboard widgets put sales,lead data, and KPIs at your fingertips.
Google Workspace and Microsoft 365 add-in to reduce duplicate data entry and make the contacts' data available directly in the Google or Microsoft mailbox UI. Your customer-facing teams will not have to leave their mailboxes to perform their tasks and keep the information synced with the CRM.
Deeper functionality for buyer/seller communication and collaboration that moves beyond simple Contact Us and RFQ integration.
App to support field sales working in low or no-internet scenarios, allowing digital catalogs and price lists visibility to customers during onsite visits.
User Experience and Workflow Improvements
With LTS 6.0, OroCommerce becomes easier to use and provides greater flexibility for how you use it.
New default order management and sales rep workflows.
Price list and rules management are more intuitive with drag-and-drop UI.
WYSIWYG enhancements and drag-and-drop functionality to improve usability by non-technical users.
Technical Improvements
Changes centered on technical upgrades and increasing the composability of the product.
Improved composability of the customer portal, checkout, and price engine modules, resulting in easier integration with third-party systems.
Upgrade to Symfony 6 LTS and update to supported versions of other libraries and system components.
Built to Meet Your Needs
When you speak, we listen closely. Your feedback plays a key role in the direction of our solutions. Is there a feature or functionality you need that would improve our products?
Complete our Request a Feature form and tell us what you need.