Product Information Management in B2B eCommerce
For many B2B commerce businesses streamlining operations, automating data processes and minimizing human error in product information still remains a challenge. This paper explores how a PIM system can help you reach success in your eCommerce business.
Get the PDF version
Tired of scrolling? Download a PDF version for easier offline reading and sharing with coworkers.
Dowload PDF
The Rise of B2B eCommerce
B2B commerce is (finally) going digital.
Over the past five years, global eCommerce sales have more than doubled. B2B eCommerce has witnessed even faster growth: the global B2B eCommerce market is a whopping 6 times as valuable as its B2C counterpart. This has supercharged a number of trends in online B2B sales that impact customer experience, product information management, and new eCommerce product offerings, including:
Omnichannel growth
Customers are already moving between brick-and-mortar stores, eCommerce websites, social media stores, and mobile apps, expecting that brands understand and tailor their experience to those habits. According to McKinsey's survey, 94% of respondents view today's B2B omnichannel reality as being as effective or more than before COVID-19.
Mobile growth
Mobile web browsing traffic more than doubled between 2015 to 2020, is projected to continue to grow in the coming years, and up to 50 percent of B2B search queries come from mobile traffic. As the mobile-dependent "digital generation" enters the workforce, mobile usage per B2B worker is projected to increase from 2 hours to 3 hours a day and will likely continue to rise going forward.
Cloud growth
Just like mobile sales, the market for cloud-based systems has seen widespread growth over the past 5 years in virtually every geographical market. With an average of 700% more spending directed at cloud technologies than the rest of IT, (80 percent of which is driven by small to medium business), we're already seeing a market predominantly relying on cloud-based data.
The changing buyer profile
The typical B2B customer has morphed into a tech-savvy millennial, expecting content-rich experiences across all touchpoints. Appealing to emotional or impulsive buyers and addressing shopping cart abandonment is important for both B2C and B2B sellers. Both B2C and B2B customers are equally time sensitive, expecting intuitive login and purchase experiences. In fact, B2B buyers often look for the same digital experiences and store features (including mobile experiences) that they encounter as B2C consumers.
Despite these similarities, the typical B2C and B2B buyer differs in many ways. B2B buyers, for example, rely on many different pieces of content to make a decision, employ multiple people in the decision making process, and rely on email for communication with sellers, all of which translates to longer sales cycles. Business buyers also prefer to use multiple accounts, shopping lists, addresses and checkout processes.
This means that B2B buyers are more receptive to segmented, customer-specific pricing, tailored product specifications, accurate volume-based discounts, real-time inventory and shipping information.
Growing complexity in digital sales channels
As the number of channels sellers must deal with continues to grow, so does the complexity within those channels. Customers expect instantaneous information, and any hiccups in content, its context for the channel, or its delivery has the potential to instantly ruin relationships painstakingly built over time.
With this great opportunity comes new challenges, particularly with respect to collecting, enriching, and distributing product information in a multi-channel or omnichannel context. This is critical, as each channel has its own rules and requirements, meaning product information needs to be defined and configured so that it works within each channel's rules.
B2B eCommerce Experience Drives the Need for PIM
To compete in this rapidly changing environment, B2B businesses must deliver an experience that is rich, relevant, and presented in context for the device and channel a customer is using. Product data also helps interested customers by allowing them to easily find relevant, up-to-date product information they need to make a purchase decision.
This need for exceptional experiences is driving the market for product information management eCommerce growth — and should continue to drive interest in PIM for the foreseeable future. The IDC MarketScape: Worldwide PIM Applications for Commerce 2021 stated that "online merchants rely on PIM systems to inform customers about products, tell brand stories, sell across channels, facilitate collaboration with suppliers, merchandize products … and much more. Having the right PIM application enables organizations to achieve these goals and ultimately grow faster than their competition."
What is a Product Information Management (PIM) System?
A Product Information Management (PIM) solution is a one-stop destination for all kinds of product data. It allows you to effectively collect, manage, and enrich your product information and distribute it to your sales and eCommerce channels.
PIM stores various types of product data, including:
Media files (e.g. images, gifs, videos, 3D renderings)
Product usage data (e.g. additional use cases)
Emotional data (e.g. product stories that create an emotional connection)
Marketing content & data (e.g. product descriptions and sell-sheets, SEO keywords and brand guidelines)
A strong PIM solution improves both frontend and backend workflows, particularly when combined with other systems such as an ERP and an eCommerce platform. By syncing product data across every area and technology stack, PIMs give back-office staff the ability to use data with the customer in mind.
It's also useful in maintaining customer ratings and other customer-generated content that sellers are able to leverage in other areas of their business. This type of information is valuable in strategic decisions, as it improves data syndication, team collaboration, and introduces other benefits that ultimately help accelerate sales.
The growing need for great product data makes a compelling argument for a dedicated solution to manage it, especially as businesses grow their catalogs and add increasingly complex product data to their eCommerce systems.
This is driving the market for affordable PIM software that's easy to use and easy to scale. Because PIM solutions can span a complex range of databases, attributes, and relationships, these systems have gotten on the radar of many B2B businesses.
How Does PIM Work?
A PIM workflow includes the following steps:
1. Gather
The PIM system sources content directly from your business systems like the ERP. It also allows you to upload data, like images and descriptions, from XML or CSV files or retrieve them directly from your supplier.
2. Synchronize
Once uploaded into the PIM system, data can be cleansed and consolidated. For example, in PIM you can merge duplicated items, categorize and classify them, ensuring that information stays clean and standardized.
3. Enrich
Within the platform, you can enrich your product content by adding photos and videos , or optimize existing content with SEO keywords. Many PIM systems also provide collaboration features like configurable alerts, validation checks, and product statuses to keep everyone on the same page.
4. Distribute
PIM automatically synchronizes content for integrated channels, like your eCommerce store. For non-integrated channels, PIM can create downloadable files, which can be uploaded into the seller portals of your choice.
Top 6 Signs you Need PIM in B2B eCommerce
Does your B2B business need a PIM? If you're dealing with any of the following situations, the answer is likely yes.
Complex business structures
eCommerce business models tend to evolve over time. As channels continue to proliferate and business structures become more complex, PIM is well positioned to help B2B businesses organize and govern their data to provide consistent, complete, and correct product information to buyers.
Large numbers of products
Whether the goal is to gain market share, satisfy customer demand, or just offer a one-stop-shop for their users, online merchants often choose to carry many different products. B2B storefronts rely on larger orders and can have a much higher SKU count and product inventories in stock. With more room for error within disconnected channels, this puts a strain on data management, transfer, synchronization, and, ultimately, product information integrity. PIM solutions can help ease this strain by automating manual tasks and making it easier for teams to enrich product data.
Complex product data
B2B product catalogs tend to contain different versions, customization options, content types, metadata, and large specification sheets. Data unity across these channels is a must, as one incorrect specification sheet can hold up or prevent a large bulk order. This can result in frustration now and lost business in the future. PIM solutions can help B2B sellers eliminate incorrect and inconsistent data, improve product data quality, and create trust in customer relationships.
Complex buying behaviors
Consumers increasingly move between product and pricing segments, as well as channels. As rigid boundaries between customer segments are blurred, shoppers expect heightened relevance and recommendations based on their buying behaviors and product data points collected by B2B merchants, regardless of the channel they've used previously. PIM solutions can help ensure that you provide a unified, but not necessarily uniform, experience across multiple channels.
Experience expectations
Customers have little patience for product data errors on websites, specifications, catalogs or invoices. In fact, Forrester found that over 87% of shoppers have left a B2B site to perform research around a product because the seller's description or product information was insufficient. A PIM system provides a system of record ensuring product data is accurate and up-to-date across multiple sales channels.
Personalization expectations
For B2B customers, high-quality, personalized content, delivered throughout the buying journey is an important differentiator. In fact, more than 50% of surveyed buyers will choose a supplier due to its personalization. PIM allows B2B businesses to use comprehensive product data to feed data-driven algorithms used to offer personalized recommendations exactly when they're required.
Benefits of Implementing a PIM Solution
Product, marketing, eCommerce, and even customer-facing teams all benefit from PIM, because they no longer need to rely on spreadsheets and emails when searching for product information and media.
With large, complex product catalogs, there's a lot of room for incorrect product information. Product data can lose relevancy, get outdated, or end up in disparate places.
With a digital, centralized PIM software, product data remains accurate and consistent, enabling brands to use and distribute it effectively across channels. Other crucial benefits of PIM include:
It reduces manual data entry
You enter data once and never reenter it again, as a PIM tool collects and manages product data from business systems like ERP and eCommerce, and quickly synchronizes it across platforms.
It ensures data accuracy
By eliminating manual hand-offs and redundant data entry, you reduce errors and inconsistencies that can damage the customer experience.
It prepares data for distribution
PIM helps you organize product content for centralized syndication across eCommerce channels, marketplaces, digital and print catalogs.
It supports scalability
By managing product hierarchies, attributes, assets, product sign-offs, and more in one system, PIM creates a foundation for growth and accelerates speed to market for new products.
Must-Have PIM eCommerce Features and Capabilities
Do you think your team would benefit from a PIM? Here are 8 of the most important features we think you should consider when selecting a PIM solution.
Advanced rights management
Agility and time-to-market are just as important in the quick-moving omnichannel age, as is the accuracy and consistency of your product information. Ensure you're establishing and keeping this trust with your buyers with a PIM solution that offers advanced user rights and permissions management capabilities.
This is key to providing a secure and controlled environment for governing PIM processes, and for outsourcing parts of your product enrichment or translation processes. These allow your team to fine-tune users, roles, and permissions, allowing them to access only the information they need and the field values they are allowed to change.
More importantly, it ensures your team knows exactly whose job it is to update various product descriptions, assets, or other data, leading to fewer errors in product information and a faster time-to-market.
Automation + business rules engine
As the cost of labor increases, so will the use of eCommerce automation. Customers are already hungry for tools that help optimize data integrity across systems, or eliminate some or all tasks related to logging data, reporting or updating content.
If your team is wasting time on tedious, time-consuming tasks, your PIM solution needs to take this repetitive work off their plate. Strong solutions typically include dedicated features designed to help you improve product data, rather than simply providing a different avenue to enrich product information.
The top offerings will also include features designed to automate and eliminate repetitive tasks and streamline processes. This frees up your team, letting them focus on value-add activities. Find a solution that can do some of the work for you by performing bulk actions and tracking completeness before publishing and validating product content.
Adaptability
It's not enough that your product information be accurate and consistent — you also need to be agile enough to keep up with the quickly changing ways commerce is conducted.
That means your PIM needs to be both able to support your current processes and current sales channel requirements, as well as to easily adapt to future processes and channel demands.
The best solutions conform to the way you do things, rather than force you to change your processes and workflows to suit its needs. Make sure your PIM can adapt to a changing environment before you make your investment.
Flexibility + ease of use
A PIM is a business application that you and your team, along with outside users, must adopt and use every day. That's why you should ensure that your solution offers an intuitive interface and doesn't require your team to sit through hours of training.
It should also provide a clear path to managing and enriching products and give a clear overview of the entire product catalog's status, ensuring that your team won't feel they need to use a separate product management tool for data enhancement.
Your PIM should also play nicely with your existing technical stack, because PIM systems are not one-off projects — they are constantly growing and evolving to support more connected systems and technologies.
Digital asset management capabilities
Creating compelling omnichannel customer experiences starts and ends with digital assets. So, make sure that you pick out a PIM with strong digital asset management capabilities. Ideally, that means a solution that offers both robust digital asset management capabilities so your teams can enrich and transform product assets easily and efficiently, in context for different channels, and strong connectivity to your existing Digital Asset Management system (DAM).
Your PIM should also give you a clear preview of any images, videos, PDFs, or other assets before you display them on your channels. Finally, find a PIM offering that provides a unified library for digital assets. That way, you have a system of record to help manage product assets, regardless of their storage or type, accelerating time-to-market and ensuring accuracy.
Product data intelligence capabilities
Improving product data quality is the key to creating better and more compelling omnichannel experiences. Customers who feel confident that a company is providing them with accurate, consistent information are far more likely to make repeat purchases or recommend the company to others. Build better relationships with your customers by choosing a PIM that ensures you're providing only the best and most reliable product data.
Strong solutions will offer features that both help you identify and integrate high-quality, accurate product information from sources around the web, make it easy for you to quickly measure just how good your existing product information really is, and suggest improvements that can make your product data better than ever before. A strong PIM solution will function as more than just a container for product information. It should also deliver high-quality data directly to your enrichment team.
Reference entities
Delivering a great product experience can, and should, include relevant non-product content that can serve to further inform and educate customers, and help you build trust among buyers. Your PIM should come equipped with features designed to help you organize your product catalog around pieces of common information shared among products, including brands, designers, materials, colors, and more.
You should also be able link enriched information to your product, including ingredients, materials, and care instructions for a faster, easier enrichment process. Your team can then use this data to easily and efficiently link information to relevant products in your PIM system to create content-rich product pages. You'll also be able to deliver deeper experiences to customers by providing richer product information while also reducing time-to-market.
Versioning and publication
Once you've used your PIM's various enrichment features to populate your channels with high-quality, consistent, and complete information, your solution will need to have strong versioning and publication features to help you distribute it to your various touchpoints.
Ensure your PIM is able to allow marketers to spread enriched, complete product information to all channels and all users with the snap of a finger, while also making sure they only export the data they need and route it only to the desired channel and locale.
Your solution should also provide connectors capable of hooking into virtually any channel, allowing users to efficiently store product information across a wide range of channels. Look for a solution that allows you to filter or export data based on several products, as well as attributes, families, categories, and identifiers, plus save these profiles for future usage.
The right PIM should also let you restore previous versions of a particular product in one click and maintain multiple versions of your data at the same time. This is especially helpful for staging specialty catalogs.
PIM eCommerce Integration
Most PIM systems can integrate with your customer-facing eCommerce solution or online B2B marketplace. This integration allows you to publish content directly to your eCommerce platform and marketplace listings or send it to your retail and distribution partners.
PIM eCommerce integration greatly benefits your eCommerce replatforming, too. To illustrate, let's take a look at a success story with Petra Industries.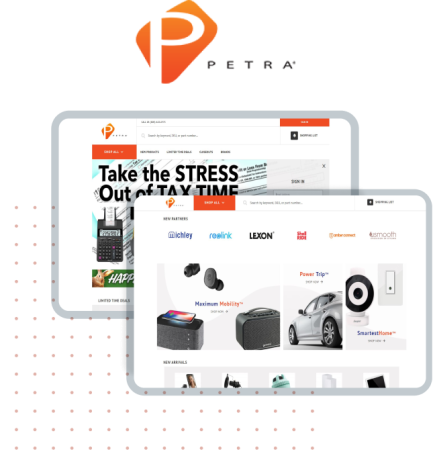 Being in business since 1895, Petra has grown into a massive distributor, offering products in more than 60 categories.
But when they discovered that they could no longer keep up with growth on digital platforms, Petra decided to overhaul their legacy system with OroCommerce. To make the migration successful, Petra also needed a new PIM system that would allow the company to centralize, organize, handle massive SKU lists, and onboard products faster.
So Petra adopted Akeneo PIM to help categorize and enrich its product catalog. The product categorization and integration connector between Akeneo and OroCommerce enabled Petra to complete eCommerce replatforming in under a year – a massive feat for a company managing more than 33,000 products from 600-plus suppliers.
Clearly, having a PIM system in place that can integrate with your eCommerce is essential. Here are some other benefits you can expect from PIM eCommerce integration:
Consistent product information across multiple eCommerce catalogs and marketing channels
Centralized management of diverse product information
Streamlined localization
Accelerated time-to-market for new products
Faster and easier eCommerce migration
Simplified on-boarding for partners, efficient co-marketing campaigns
Ecommerce PIM FAQs
What is PIM in eCommerce?
In eCommerce, a product information management (PIM) system helps you unify, enrich, and distribute product data required to market and sell products through physical and digital sales channels. With a PIM system, eCommerce managers can make greater use of product data, for example, by using it for marketing purposes.
What's the difference between PIM vs DAM vs MDM vs PLM?
With so many systems surrounding product content, it's easy to get confused. Here's a quick breakdown of the difference between PIM, DAM, MDM, and PLM.
Product Information Management (PIM)
PIM solutions are designed to sync product content, from SKUs and product descriptions, to images, videos, and specification sheets. They unify product content across channels to enhance consistency and sales performance.
Digital Asset Management (DAM)
DAM systems enable the management, storage, and enrichment of digital assets, like images and videos. Some PIM solutions include DAM, allowing users to manage digital assets within your PIM system.
Master Data Management (MDM)
MDM is the umbrella term for PIM and DAM solutions. MDM systems centralize a wider range of data, including product information, digital assets, financial data, supplier information, customer data, and more.
Product Lifecycle Management (PLM)
PLM systems are used for managing the broader product lifecycle, from design, to manufacturing, to launch, to sales, to discontinuation.
What should my PIM integrate with?
Your PIM should integrate with all relevant parts of your tech stack, including:
Ecommerce platforms
ERPs
Warehouse/POS systems
Procurement systems
Digital channels
Any source systems
By integrating your PIM with these systems, you can build an environment that centralizes and streamlines processes, making its users' everyday lives much easier.
What is the best PIM software?
There are several different eCommerce PIM software to consider:
Akeneo
Jasper
Plytix
Sales Layer
Catsy
Salsify
Choosing the best PIM for eCommerce depends on your business needs and the software's features and capabilities.
Back to top