To say that 2022 was a roller coaster would be an understatement.
What began like any other year quickly spiraled into uncertainty and economic challenges in many parts of the world. However, it was also a year of tremendous opportunity. We saw a continued acceleration of various B2B eCommerce trends, presenting brands with opportunities to transform their businesses.
It was also a year like no other for our customers and us as a company.
For the first time, we crossed the 3-million transaction mark. Our customers sold more than $2.3 billion on our platform.
We racked up an impressive array of industry recognition and accolades. We brought on new customers and saw existing ones succeed. We welcomed new team members and solution providers around the world. 
All of these point to one singular narrative – regardless of what's happening in the world, we stay true to our vision of building an ecosystem where B2B businesses thrive. We remain focused on growth and the success of our customers.
If the past few years have taught us anything, it's that we're running a marathon, not a sprint. While many industries are facing tough times, lower valuations, and layoffs, we're going in the opposite direction. We're emerging even stronger, more resilient, and more ambitious than ever.
Oro in 2022: Ecosystem Growth
Seeing our customers take ownership of their brand, build strong relationships, and reach more customers was rewarding. We supported them along their digital initiatives with our expertise, continued building our product, and expanded our ecosystem.
This year, we finally met in person at OroVibe and celebrated our 10th anniversary with partners, customers, and friends. The event brought together over 200 B2B eCommerce professionals from more than 10 countries.
We also introduced new features and added loads of improvements to our products.
Oro's 2022 Year in Numbers
To wrap up the year, our team developed an infographic showcasing our achievements, milestones, and data to illustrate how we have been doing.
1. Industry recognition
We don't typically pat ourselves on the back – instead, we let our products do the talking. 
However, being recognized in many analyst reports was a pleasant surprise, proving our dedication to helping B2B manufacturers and distributors in every industry and geographic location succeed.This year, we entered the "Visionary" quadrant in the 2022 edition of the Gartner Magic Quadrant for Digital Commerce.
We were also positioned among the top for the B2B Commerce Use Case in the 2022 Gartner Critical Capabilities for Digital Commerce report.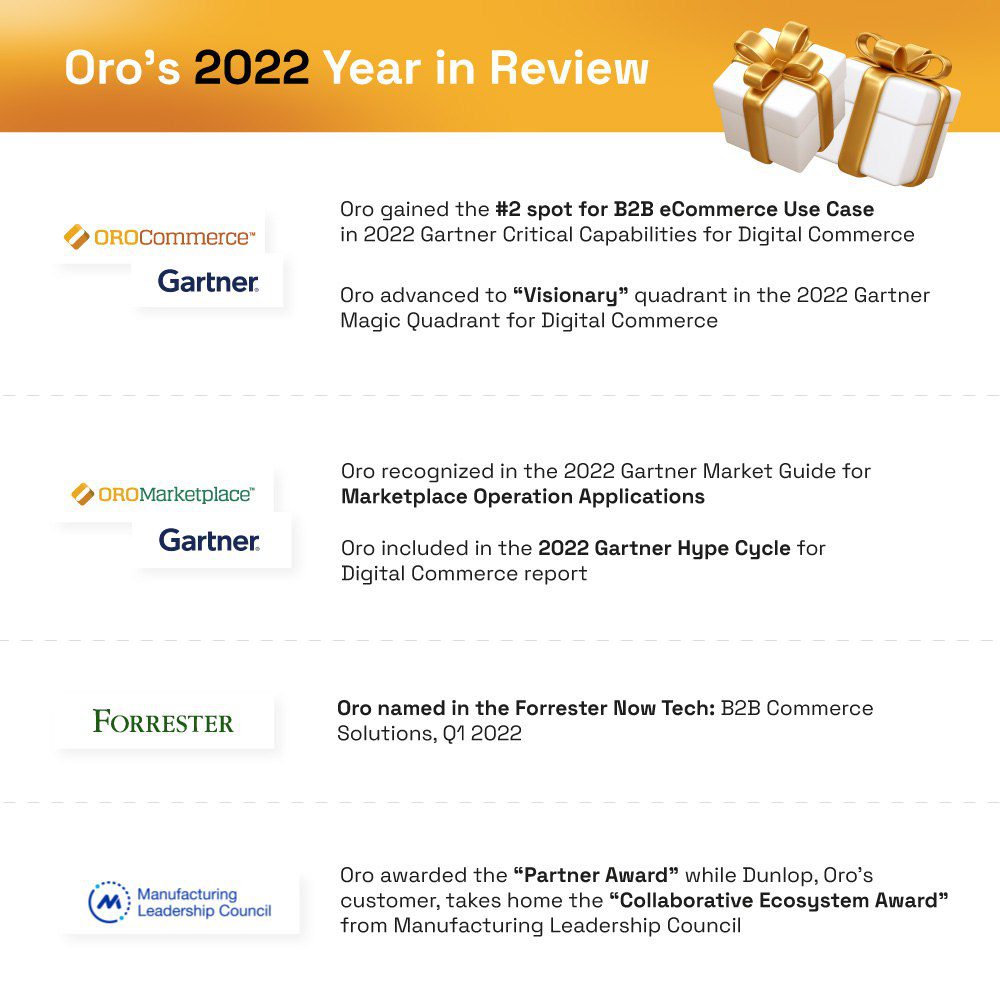 2. Transactions processed
We've made it easier for our customers to sell more, to more buyers, and in more countries. That's evident by our customer's transaction and revenue numbers.
Overall, Oro customers transacted 3.17 million orders mostly in North America, South America, and Europe. That is 25% more compared to last year.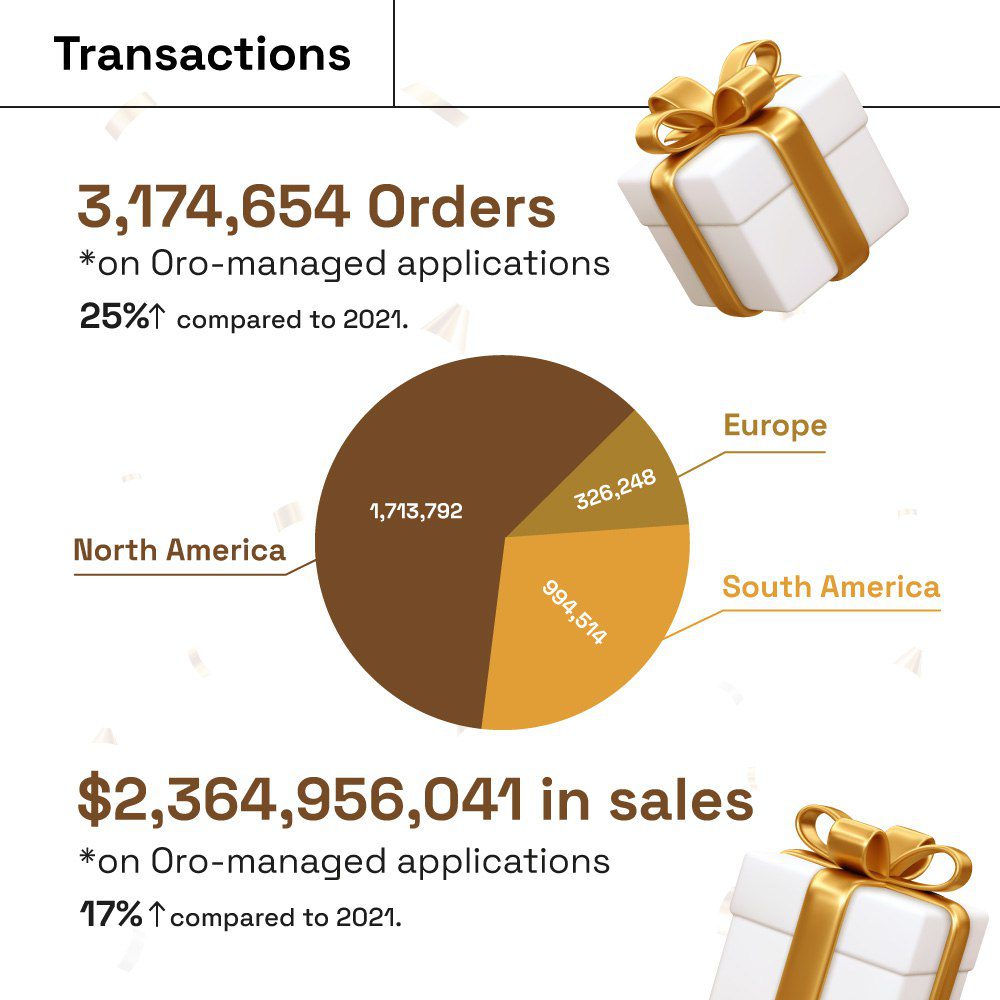 3. Customer success
Many of our customers saw growth only months into their digital commerce investments. We're proud of their success and applaud their achievements.
They posted exponential traffic growth, double-digit conversion increases, and thousands of dollars saved.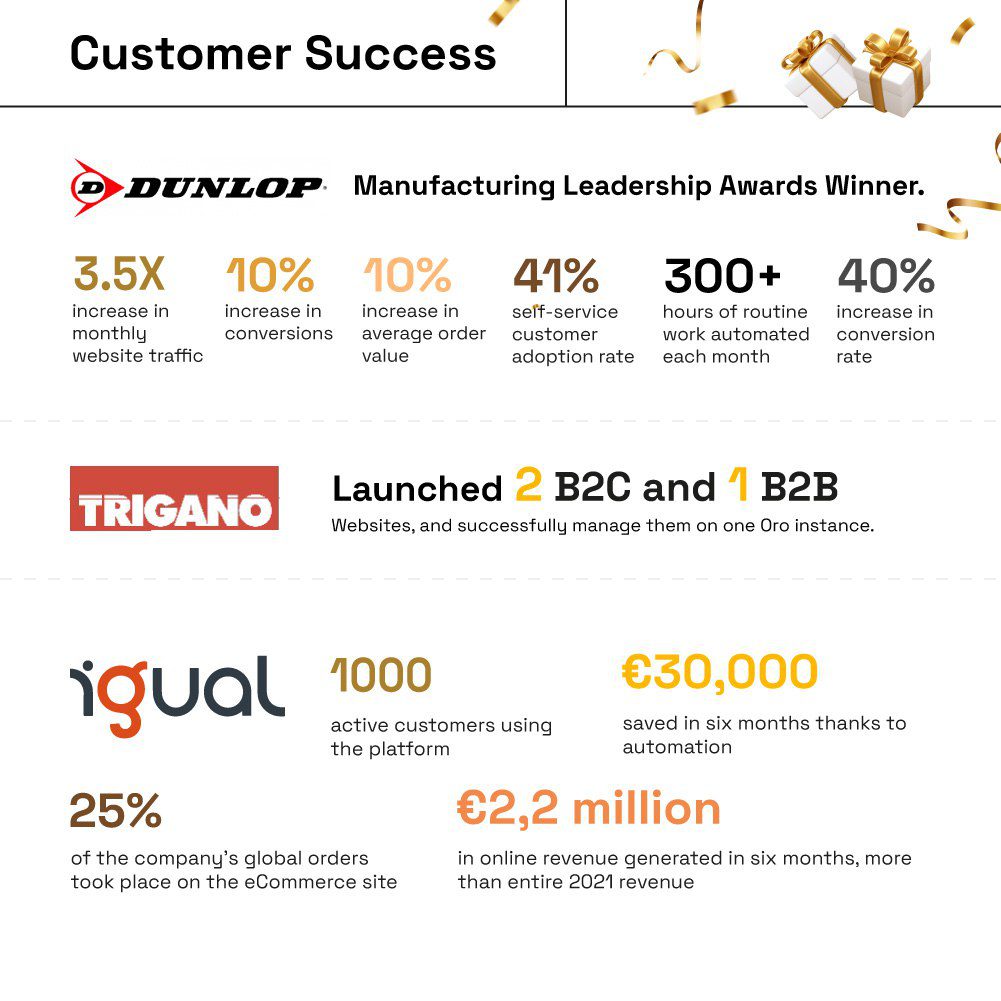 4. New customers
Over the year, we've seen continued interest in digital commerce. We gained 20% more customers compared to last year.
They include Interstate Batteries, a global battery supplier, KaMin Solutions, a producer of kaolin clays and solutions, Baird Brothers, a hardwood supplier, and RDP Foodservice, a food and beverage distributor.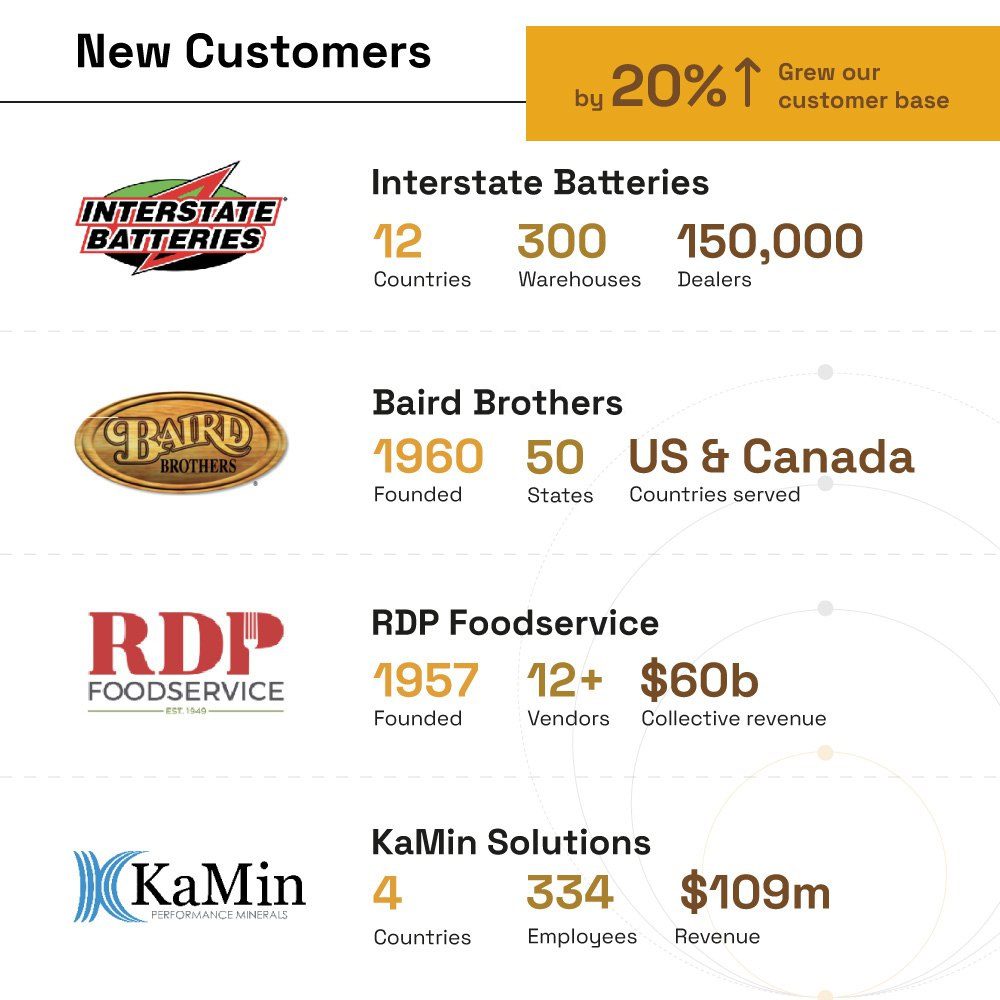 5. Ecosystem growth
This year marked Oro's 10th anniversary, and the focus was on our ecosystem. We got our customers, partners, and team members together for a series of video interviews.
At OroVibe Europe 2022, we rubbed elbows with digital commerce leaders, partners, and friends and discussed the future of commerce. We hosted the annual Oro Brilliance Awards celebrating our partners' contribution to the ecosystem, and welcomed new ones.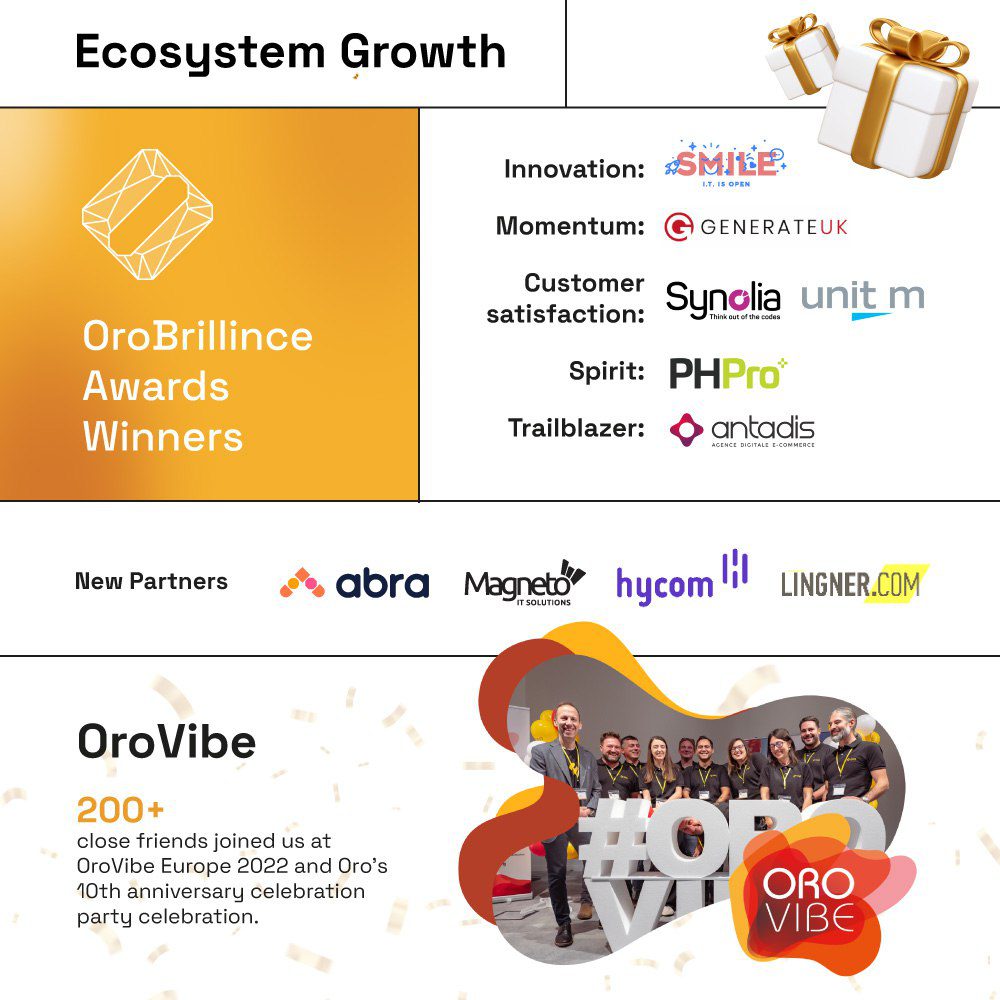 6.  Product stats
We launched the OroCommerce 5.0 release in March, followed by multiple smaller releases, patches and improvements. We optimized various interface elements, the storefront and back-office experience, and our product's performance.
In total, 43 developers contributed to 708,000 lines of code over the year.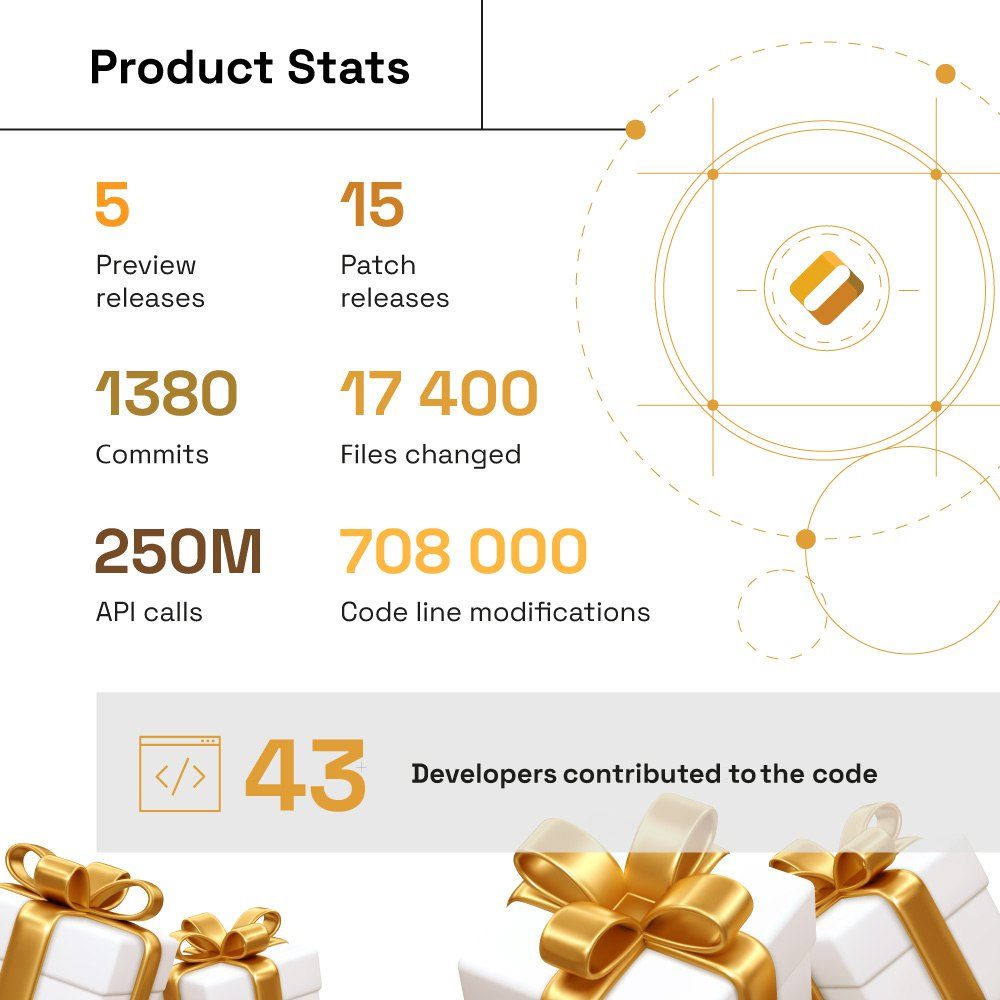 7. Let's thrive together!
As our company grew, we expanded our hiring efforts. We welcomed new people to leadership positions and brought on new developers and specialists. Our team grew by 19 more developers, engineers, project managers, and support representatives around the world.
Oro is hiring!
We're actively looking for sales, marketing, and partner management professionals in the United States and Europe.
Our founding values are transparency, open-mindedness, humility, and trust. We're motivated by helping our customers, partners, and team members succeed. That's why we're committed to giving you the tools and flexibility to make a difference. Join the movement to create an ecosystem where B2B businesses thrive!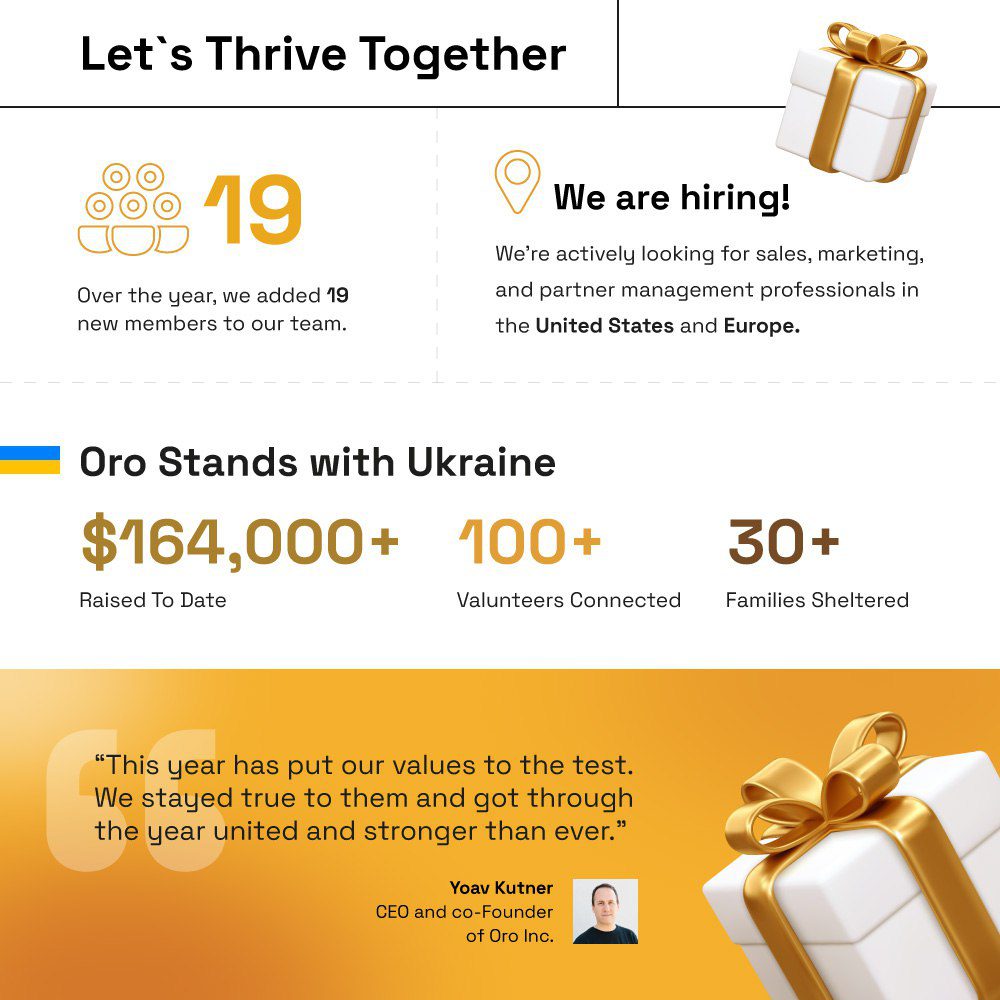 Since the early days of the war in Ukraine, we have been keeping in touch with people on the ground and collecting donations. We're incredibly proud of our team members who volunteered their time, resources, and effort to help Ukraine in this turbulent time.
Learn more about how Oro Stands with Ukraine.
What's Coming in 2023?
Despite a year of ups and downs, we're incredibly proud of how far we've come. But we couldn't do it without our team members, customers, and partners.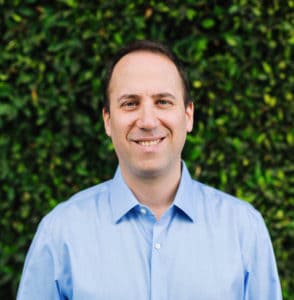 Our people-centric culture helped us bring people together that love their craft. Their passion and creativity drove us forward and evolved us to where we are. When we listen and hear our team members, we can adapt, evolve, and overcome any challenge life throws at us.
Yoav Kutner, CEO and co-Founder of
Oro Inc.
We plan on continuing the momentum by investing in tools that help our customers succeed, enabling them to grow their businesses and offer great shopping experiences. We're investing in the speed, resilience, and security of our products so our customers can focus on growing a thriving business.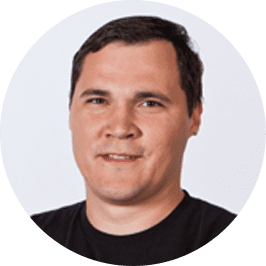 We're excited for 2023 and energized by what's ahead. We've got a talented, dedicated team, a strong ecosystem, and customers that see value in our products. We see tons of opportunities ahead, we can't wait for another exciting year for Oro and our customers.
Dima Soroka, CTO and co-Founder of
Oro Inc.
As we look back at how far we've come, we are extremely enthusiastic about the future. We're grateful to every one of our customers, partners, and team members that make our work so enjoyable.
We hope you are having a fantastic time during the holiday season! We look forward to seeing everyone more refreshed, healthy, and happy in the New Year!