The wholesale food industry is changing. Whether your business has already adopted an e-commerce solution or not, the global workforce is starting to consist of professionals who have grown up in the digital age. As a result, B2B e-commerce is dominantly positioned as a main showcase rather than a mere amenity. The number of B2B researchers aged 18 to 34 increased by 70% between 2012 and 2014, and has only increased since. The food industry is not immune to this growth. In today's article, we will look at some examples of why the wholesale food industry should consider B2B e-commerce.
Why the Wholesale Food Industry Should Consider Online Commerce

Why 310? For several reasons :
According to a 

study

, 

74% of buyers research online for their purchases. 

In addition

, 

93% wish to make their purchase online

.

Today, when a restaurant manager is looking for a food supplier, he / she usually goes online.

A bulk food company that has already gone online automatically puts itself in a better position to get new business.

Thanks to an adequate e-commerce solution, a buyer can consult his personalized price list, obtain quotes on the products that interest him and access all the information he needs on the products.

Google search is the new yellow pages system and your online presence will be the pulse of your business.

A 

B2B e-commerce platform

 user-friendly and scalable, with ready-to-use B2B functions, is a must.

The question is not « if » the food industry will go online, but « when ».

Electronic commerce is the key to the financial economy.

It requires much less manpower and offers greater scalability.

It also has the ability to fulfill orders at a faster rate than traditional offline sales.

Automation reduces human error.

When a business is operating offline, it is very likely to experience problems such as order entry errors.

This can be frustrating for both the customer and the employee.

Information can easily get lost in transposition when a seller takes orders by phone.

B2B e-commerce solves this problem since the customer places their own orders.

E-commerce solutions allow the sales team to focus on more important things, such as building customer relationships.

Your sales team should be interacting with prospects and customers rather than taking orders and performing manual tasks.

For example, Oro has developed its e-commerce platform in a unique way with integrated customer relationship management software, which allows the seller to access customer interactions, priorities, needs and interests.

With this type of data and intelligence gathering ability, the sales and marketing department can take appropriate action for personalization, promotions, recommendations, marketing strategy, etc.
Pourquoi le commerce électronique B2B est-il une bonne chose pour le commerce de gros alimentaire ?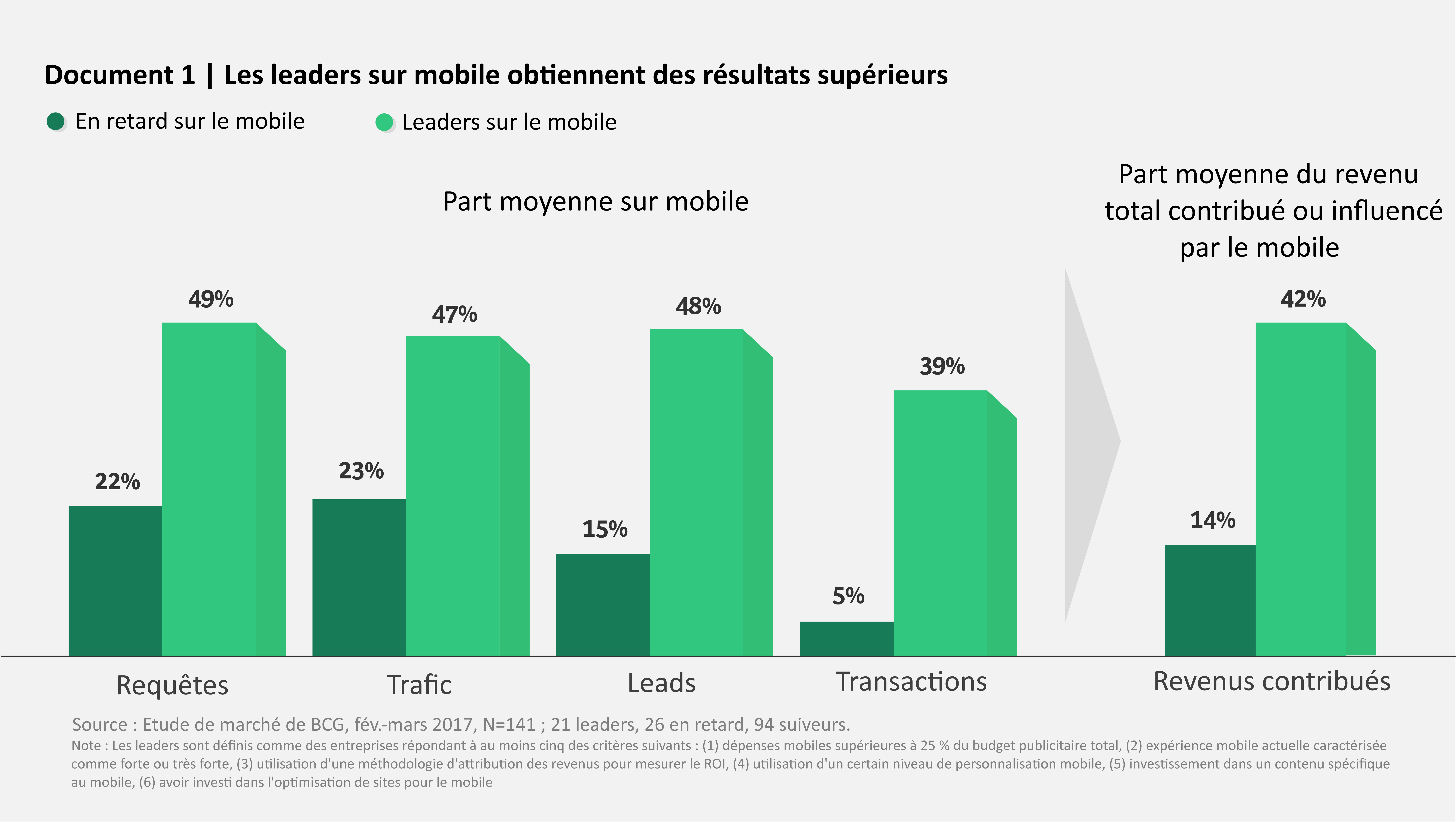 Source autorisée : Boston Consulting Group (www.bcg.com)
L'adoption de la technologie du commerce électronique présente d'immenses avantages. L'un des plus grands changements de l'ère numérique actuelle est la façon dont les appareils mobiles deviennent un portail pour les entreprises. Selon les études de BCG, environ 50 % des requêtes B2B sont aujourd'hui effectuées sur des smartphones. BCG prévoit que ce chiffre passera à 70 % d'ici 2020. Dans l'avenir, le mCommerce (commerce électronique mobile) ne sera pas une option mais un élément essentiel à la croissance des entreprises. Pourquoi ne pas être proactif et rattraper votre retard dès maintenant en commençant à développer votre présence en ligne ?
Revenons sur quelques autres indicateurs qui montrent que l'industrie alimentaire se dirige vers une conversion numérique complète :
L'abondance des options B2C pour les achats d'épicerie et les repas (ex: Amazon Fresh) indique un changement dans les préférences d'achat. Avec l'acquisition de Whole Foods par Amazon, le fossé entre le commerce électronique et l'industrie alimentaire se comble rapidement.
Même les canaux de distribution alimentaire les plus traditionnels commencent à se convertir aux solutions de commerce électronique. Par exemple, qui aurait cru que les bons vieux distributeurs automatiques pourraient disparaître. Snacknation, un distributeur de repas rapides sur le lieu de travail rend cela concret grâce à sa plateforme B2B.
Conclusion
As an increasing number of B2B customers want to buy online, it is crucial that your business responds to these changes. One of Oro's customers,  FoodMaven , a food supplier who sells millions of pounds of excess and imperfect food to restaurants and institutional kitchens, is a great example of a truly seamless B2B e-commerce experience.
Are you interested in a demonstration of OroCommerce's B2B e-commerce platform? Just  contact us here  and a representative will get back to you shortly.