Digital Solutions for Operational Efficiency Improvement
Get More Done with What You Already Have
contact us
What is Operational Efficiency?
Operational efficiency identifies the right things to do and then does them right. Eliminate duplicate data entry, stop meaningless reporting, and banish physical in and out bins. Replace outdated methods with automated workflows, reports with actionable insights, and use humans to do what they do best – create, innovate, and interact with other humans. Do more, do it better, and do it at the speed of digital.
Benefits of Operational Efficiency
Operational efficiency optimizes the use of company resources and infrastructure so you can do more with less. But that's just the beginning. By learning how to increase the efficiency of operations, you'll elevate every facet of your business to a higher quality standard.
Employees
Administrative tasks and data entry eats up everyone's time and limits innovation. With automation, you eliminate costly human errors, unwelcome surprises, cut costs, and improve employee job satisfaction. Best of all, you can adjust and optimize workflows over time.
Customers
Unlike consumers, purchasing is a job for business buyers. They need technology to help them purchase according to organizational, coordination, and regulatory requirements. Meet diverse buyer needs with a granularly configurable and flexible personalization engine.
Scalability
Double down on winning strategies. Enter new markets, onboard new customers, and launch products across borders, languages, and currencies. Integrating business systems and improving operational effectiveness must fuel growth - not stand in its way.
Agility
Successful operations require focused, decisive action in the face of rapidly changing markets. When decision-makers have access to real-time actionable data, they spot trends and gain insights to better prepare the company for what's ahead. Technology provides the operational efficiency that makes agility possible.
How Does Oro Improve Organizational Efficiency?
Don't conform to your software. Whatever your organization, workflow, or business model, our products are flexible and customizable to fit to your needs.
Automate the Routine

Make the most of your human assets. Focus on creativity, collaboration, productivity, and job satisfaction. Powerful pricing, approval, ordering, licensing, checkout, and shipping workflows digitize virtually any business process.

Digitize Sales Processes

Put your sales process on autopilot, no matter how big or diverse your customer base. Digitize your entire sales cycle, from Request for Quote to Quote to Cash. Create unique catalogs, price lists, and ordering paths at the group or customer level.

Integration Freedom

No need to give up your favorite applications and systems. Oro products are open-source for easy integration with your existing or future systems. Bring data to Oro or compose components with other third-party systems in a microservices architecture.

Improve Reporting

Focus on what matters. Combine existing analytics with Oro reporting tools for a complete picture of your eCommerce activity. Gain visibility into KPIs, keep tabs on your funnel, pipeline, and improve leads, sales, and customer value.

Deploy Anywhere at Scale

Don't be limited by your SKU, customer, or traffic count. Your solutions grow with you. Start with an on-premise solution and move to the cloud or start in the cloud and bring it in-house later. Oro deploys anywhere you want. And moving is easy. 
Manufacturer Streamlines
Commerce Operations

Dunlop gave control of the B2B purchasing process back to customers with OroCommerce.
With offices in over 75 countries, Dunlop Protective Footwear manufactures footwear for extreme environments. They selected OroCommerce to put customers in control of their purchasing process, and give back-office staff ample visibility from beginning to end of customer journeys.
Learn more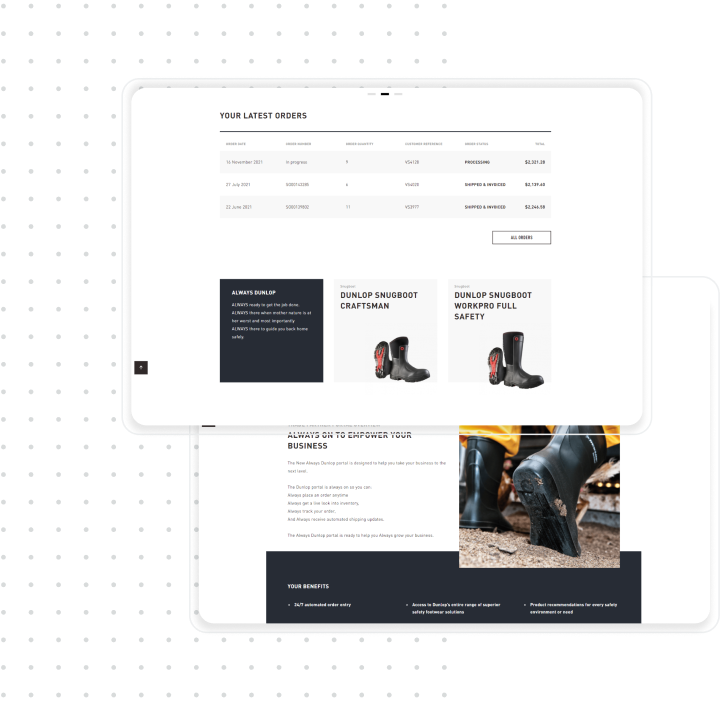 We leaned heavily on OroCommerce's comprehensive native B2B features, which enabled the rollout of a... deployment with very little need for customization now or in future.
Geert Besten
Senior Delivery Manager
Operational Efficiency for Any Business Leader
Oro products help everyone on your team be their very best. Our solutions provide the tools to achieve your operational efficiency goals, no matter your role, responsibility, or area of authority. 
CEO
CEOs can ensure teams operate effectively and make data-driven decisions. Oro integrates systems, breaks down data silos, and puts information at your team's fingertips. Scale and pivot with technology that aligns with your strategy and supports your objectives.
CTO
Embrace the complexity of your business with software that works around your requirements. Integrate data according to your needs and remove bottlenecks that impede data visibility. Deploy anywhere, reduce time to market, and enjoy the backing of a rich ecosystem of partners and users.
COO
Enjoy timely intelligence into critical areas of their business. They can fine-tune workflows to boost team productivity and optimize operations. They can create new apps or integrate with tools to improve searching, order management, customer service, and delivery.
CFO
Get rid of legacy systems with diminishing returns and rising costs. Oro's modern technology gets you to market faster and reduces the time to ROI. Enjoy built-in flexibility with customizable workflows and access real-time, accurate data as information flows freely through integrated systems.
VP of Digital
Real omnichannel experiences are finally within reach. Manage multiple storefronts from a single back-end. Centralize digital assets as you connect data from integrated systems. Gain a 360-degree view of every lead and customer, and keep a laser focus on individual experiences.
Director of Sales
Delegate functions to self-serve portals, which automate the order process and convert sales representatives from order takers to opportunity converters. Create reports and let data guide sales funnel and pipeline decisions to convert leads more efficiently.
SPVM Leaders
Automate routine workflows and focus on what demands innovation, creativity, and your human touch. Gain better visibility into the supply chain and detect buying trends as they emerge. Use integrated data to increase inventory turns and reduce merchandise loss.
Discover Operational Efficiency With These Resources