View and Set up Your User Profile¶
Access Your User Page¶
After you log into the OroCommerce, you can always find a link to your user page in the drop-down menu that resides below your username in the top right corner. This is a fast way to access your user profile, calendar, mailbox, and task list.
The following subsection is devoted to the user page that is available with My User menu. You can find more information about other menu items in the User Menu section.
My User Page Overview¶
This page provides you the full details of your user profile.
Its General section contains the basic profile details.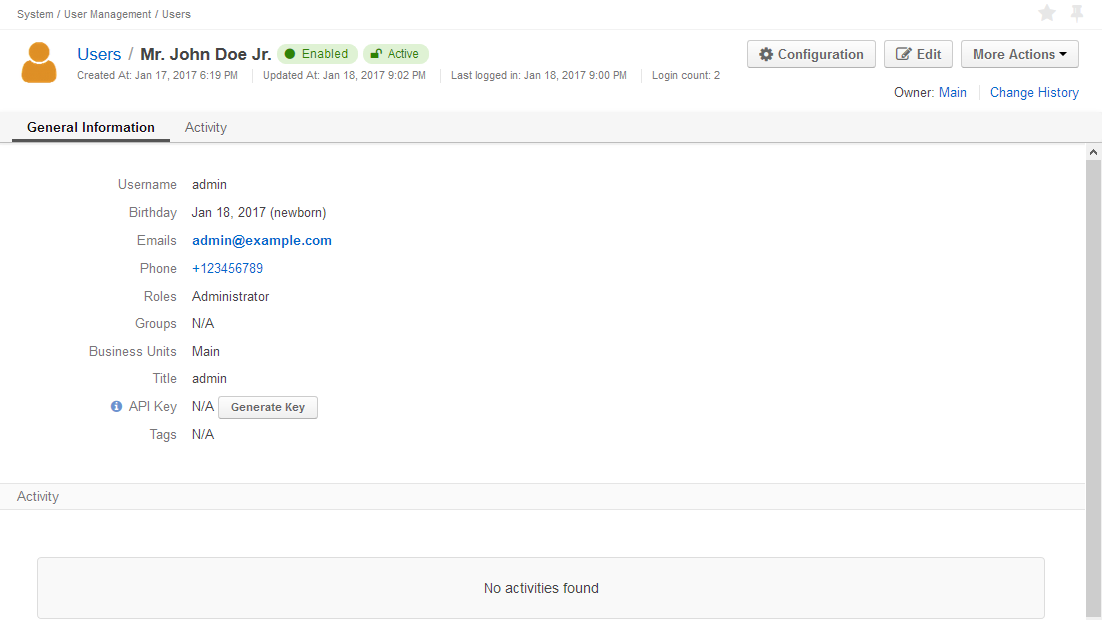 The set of information available in the section depends on the permissions defined for your user. The information may include:
Your name and system information such as status (Active), login count, date and time of the last login – in the header
Your username
Your birthday
Information about your role and place in the company structure, such as your roles in the system and business units you have access to, your API key (if any)
Any additional details of a user defined for your organization (in the example above this is the Title field).
A link to Outlook Add-in download (for enterprise users only)
Tags assigned to your user
If there is an email saved or/and a call logged in OroCommerce related to you, they will be displayed in the Activities section.

If there is a task assigned to you, they will be displayed in corresponding grids of the Additional section.
Actions Available From My User Page¶
Generate an API Key¶
Should an integration with a third-party software require an API Key, it can be generated on the My User page: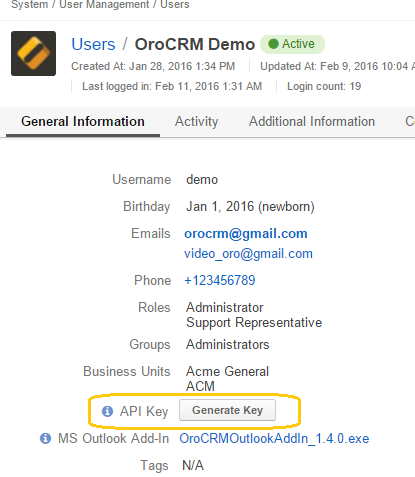 Click the

Generate Key

button next to the API Key label.
Copy and use the key generated.
Caution
Only one API key may exist for the user at the same time. If you choose to generate another API key over the existing one, the old key is discarded and cannot be used to access OroCommerce.
Get to the Edit Page of Your User Profile¶
Click the Edit button in the top left corner of the page to change and add the profile details, as described in the section below.
Edit Your User Profile¶
Once you have clicked the Edit, the Edit form of your user profile will be displayed. Here you can update your credentials, change your password, and synchronize OroCommerce with an existing IMAP mailbox.
Save the Changes¶
Click the Save and Close button in the top right corner to save the changes to your profile and return to the My User page.
Logout¶
Go to the User Menu in the top right corner of the page, and select the Logout item.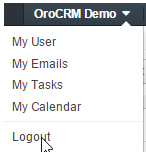 Related Topics