OroCRM Account View
There is no shortage of CRM vendors who claim to have a 360° or single-view of your customer. I am often asked how OroCRM sets itself apart from all of these other tools and their sales and marketing noise. With a robust suite of tools included, a major distinguishing factor is OroCRM's capacity to support multi-channel businesses. It's not enough to simply offer a multi-channel 360° view of your customer. OroCRM is designed from the ground up specifically for the special needs of multichannel businesses. And because we are an open-source platform, OroCRM can easily be customized. All of this leads to better account management and a higher ROI on sales and marketing programs.
Dynamic Multi-Channel Experience
Representing a true 360° view of an account has always meant so much more in OroCRM than many other traditional CRM tools. While most tools focus solely on traditional sales activities like emails sent, calls logged, and order information, OroCRM takes customer data capture much further by including all activities and touch points, and purchase history, from all channels. This is a true 360° picture with a comprehensive single-view of your customers.
The OroCRM account view experience is dynamic and defined by your channels and business rules. Let's look at a few examples to illustrate how this looks in a multi-channel environment.
Multi-Channel eCommerce Customer
In our example below Alan purchases from two channels operated by one merchant – furniture and electronics. Even though both of these are eCommerce businesses and include some similarities, they operate in very distinct ways. We can see Alan's orders and shopping carts in each channel separately, giving us a multi-channel view of Alan and helping us understand his true value as a customer to our business regardless of which website or marketplace he purchases from.
These screenshots from OroCRM highlight how data on multiple people, from multiple channels, is captured for one account.


In-Store and Online Customers
Many retailers operate online and offline channels. And many of their customers utilize both channels, visiting the store and buying online. With OroCRM, merchants can connect their POS or in-store transactional information, together with the behavior of customers on their website. With this comprehensive set of data, along with powerful sales and marketing tools, multichannel merchants can establish a meaningful relationship with their retail customers.
The Multi-dimensional Customer
The multi-dimensional customer interacts with a multichannel business in several capacities. This person is likely to purchase offline through the company's leads and opportunities flow, on their website(s), from eBay or Amazon, and in-store. This person may also purchase for their own business and for personal use. It's imperative that the merchant doesn't lose sight of the extensive value of this customer to their business. OroCRM captures all data, from multiple channels, in a single customer view for management, reporting, segmentation and much more.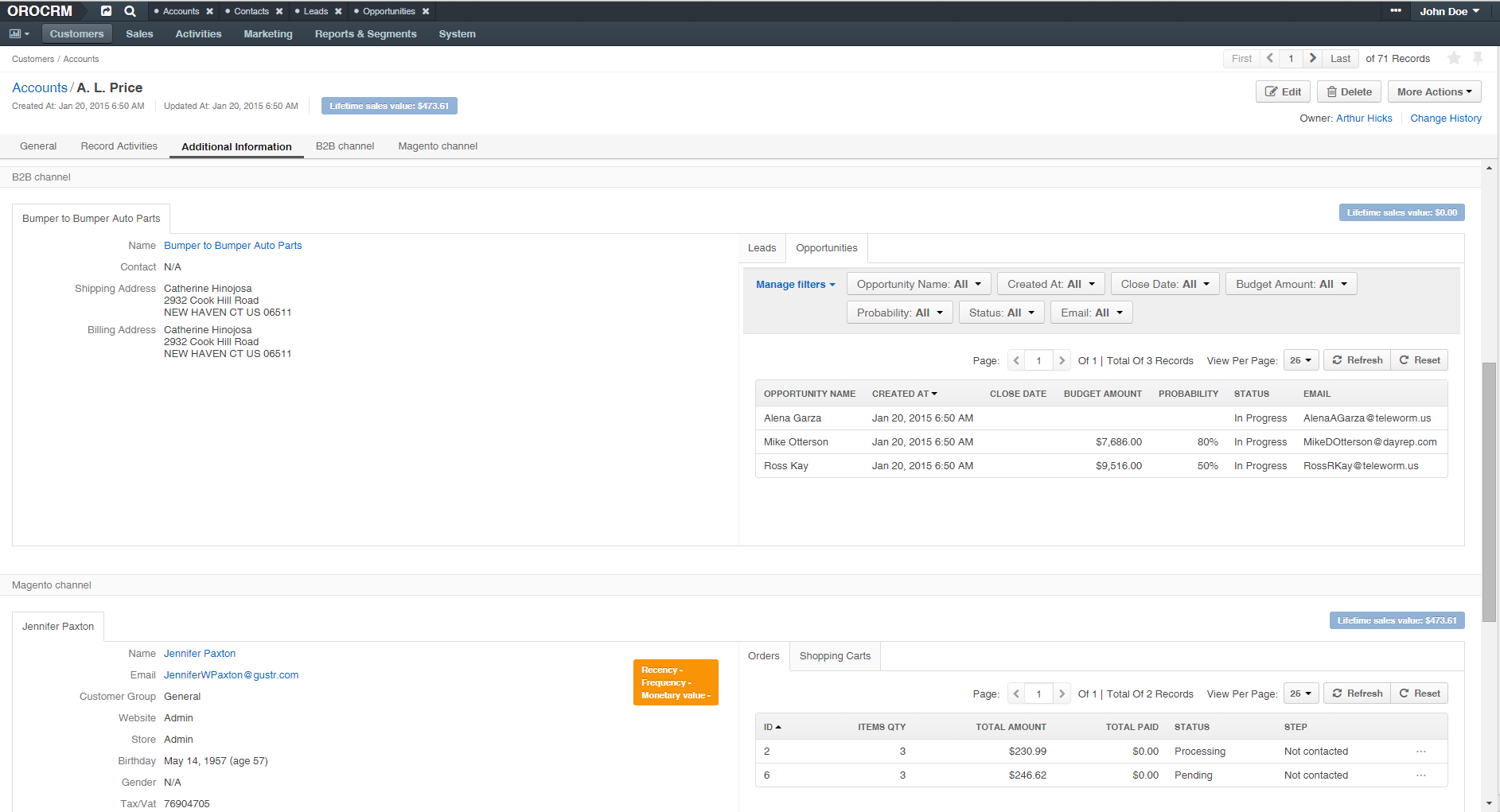 A Unique Experience
OroCRM provides a unique customer management experience to anyone who has customer data in multiple channels. And of course, OroCRM includes the standard features you would expect from a CRM including email and call management, contact management, case or ticket management, a place to store attachments, task management, reporting and segmentation suite and so much more.
What channels will you connect to OroCRM?
Contact us today for a personalized demo and solution building session with an OroCRM Specialist.