This post was contributed by Qhubekani Nyathi.
This year, global eCommerce sales will reach an imposing $3.9 trillion U.S. dollars.
While this growth is music to the ears of B2B eCommerce brands and affiliate marketers it brings challenges. The eCommerce landscape is fluid. Keeping up can be tough. While businesses are coming to grips with the latest eCommerce tool, new technologies pop up every day.
Online customers have become moving targets. Slacken one bit and you miss them. This is apparent in online payments. Digital wallets, new payment methods, and convenient payment gateway systems have shaped how customers pay. Customers want fast, safe, and minimal friction checkout. Anything less and you risk losing them to competitors.
To help you keep pace with the frenetic changes and satisfy your customers, you must come to grips with the latest eCommerce payment trends.
In this post, we will look at 5 hot eCommerce payment trends in 2020 and beyond.
1. Mobile Commerce is rising.
When mobile overtook desktops as the traffic driver back in 2015, people thought it was a fluke. But it's now clear it wasn't since more than half of total eCommerce sales are expected to come from mobile devices by 2021.
Mobile commerce matters because most people shop via a search on a mobile device. JP Morgan reported that mobile payments accounted for $282.8 billion of eCommerce sales.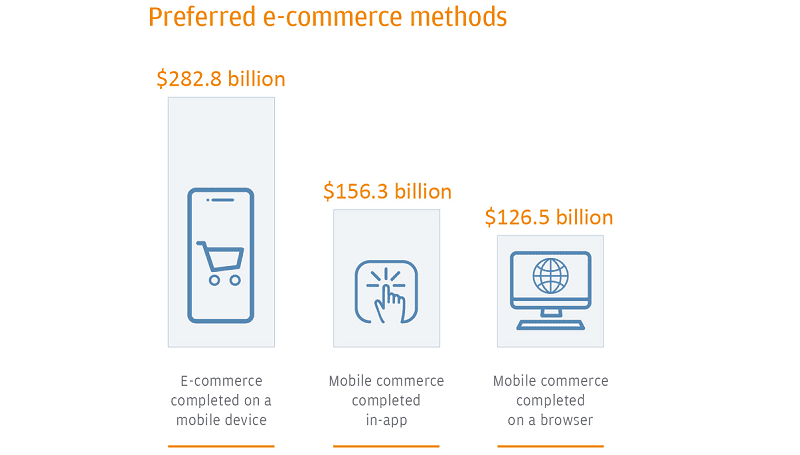 [Source]
Savvy brands maximize their earnings through
mobile app marketing
tools.
Pros:
Mobile commerce has many advantages which include:
Massive growth potential
All numbers show mobile commerce growth will continue. Brands that optimize for mobile purchases like eWallet will experience serious growth.
Convenience
Mobile shopping is perfect for consumers because they can shop:
Wherever they want.

Whenever they want.

However they want (through one-click buy-now buttons on Twitter, Pinterest, and Facebook.)

Omnichannel
Whether it's paying for goods using PayPal One Touch, Amazon Pay or shopping inside social media channels like Facebook or Twitter, or browsing a store's offerings, mCommerce caters for all those needs.
Cons:  
Mcommerce has its drawbacks mainly due to:
Varying global preferences
Different areas in the world prefer certain payment solutions that your store may not support so you lose out on revenue.
Perpetual updates
You must always be on your toes because best practices are always changing. For instance, you lose customers if you don't optimize your store for speed.
Security risks
Mobile payments are prone to data breaches. Should you somehow compromise the info customers trust you with, you harm your brand beyond repair.
Despite its challenges, eCommerce will flourish well into the near future.
2. Sell globally, locally.
A massive 4.79 billion people use the internet globally. That's a tremendous opportunity for brands to exploit and maximize profits. Your store must be a global-local brand and your payment solutions should reflect that.
Oberlo projects global eCommerce sales will balloon to $6.542 trillion by 2023.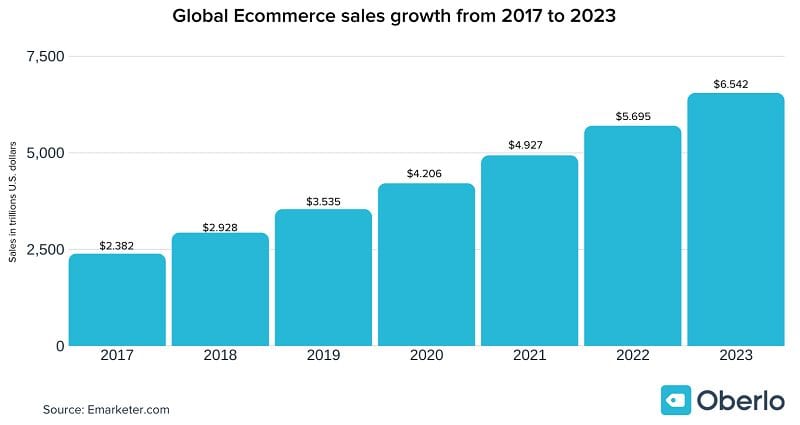 [Source]
In keeping with the global outlook, customers expect online stores to: 
Accept multiple currencies and global B2C and B2B payment methods.
Since shoppers from all over the world visit your online store, use an international gateway like PayPal or Stripe.
Display pricing that accurately matches a user's geolocation.
Use geolocation software to facilitate cross-border trading. The software automatically picks a shopper's IP address and displays prices in their local currency, using real-time foreign exchange rates.
Stay compliant in global tax complexities.
Staying compliant with tax laws when you are selling across country lines can be tricky. Partner with a digital eCommerce platform that specializes in global financial transactions so they handle the different tax rates and ever-changing international laws.
Push for flawless customer experience across the entire checkout process.
No matter where your customers are in the world, they want one thing- a fast, smooth checkout experience with flexible payment options.
Today, more than ever, every store must have a global outlook to rake in the profits. Armed only with sharp copywriting skills and minimal capital, you can easily open a B2B eCommerce store and become a global retailer.
3. Multi-channel is all-important.
Today's buyer journey is no longer linear.
Customers can view a product on a mobile device, return for a second look using a laptop and finally buy on a desktop. That's three channels for a single purchase. And the line between online and offline shopping has become blurred. Customers can use mobile checkout in-store or buy online and pick up their goods in-store (BOPIS).
Pros
Leverage eCommerce marketplaces
More and more retailers are taking advantage of the popularity of eCommerce marketplaces like Amazon and eBay by selling their products there. This not only allows you to reach a global market, but it also helps you sidestep complicated and ever-changing country tax laws. You don't burden your payment solution by trying to cater to many countries.
More channels, more sales
Since customers now buy on any channel or device, give them the chance to buy everywhere so you convert more. Fresh data from Invesp shows multi-channel shoppers spend 3x more than single-channel shoppers.
Selling on a variety of channels will attract new customers. If you sell on sites such as eBay or Amazon, a whole new audience emerges. Each channel will help expand your customer reach and generate a higher turnover.
More channels, more data
The more the channels customers use to buy, the more data you can collect about their shopping habits and preferences. You can then use this rich data to inform your marketing tactics and make more money.
Cons
Inventory management
When your customers buy from multiple channels, keeping track of your stock can be a handful. But with agile inventory systems, it's doable.
Marketing challenges


Selling on different channels is tricky. Each platform has its own rules and approach. Mastering the tactics of each channel isn't easy.

Sky-high customer expectations
Today's customers are finicky. They demand fast, smooth checkout, and 5-star support regardless of the channel they buy from. That's easier to do when you are selling on a single channel, but tougher to achieve on many platforms.
These days, you must set-up shop and be ready to transact on all your customers' favorite channels. Anything less and you'll leak sales.
4. Social payment apps are the in thing.
Social media is part of the fabric of the modern lifestyle. According to Broadband Search, people spend up to 2 hours and 24 minutes on social media on any day. It's no surprise that social media-based apps have taken off.
Social payment is a payment made between two people without them exchanging cash or bank details.
The leading social payment apps are Apple Pay, Venmo, Square Cash, and PayPal One Touch.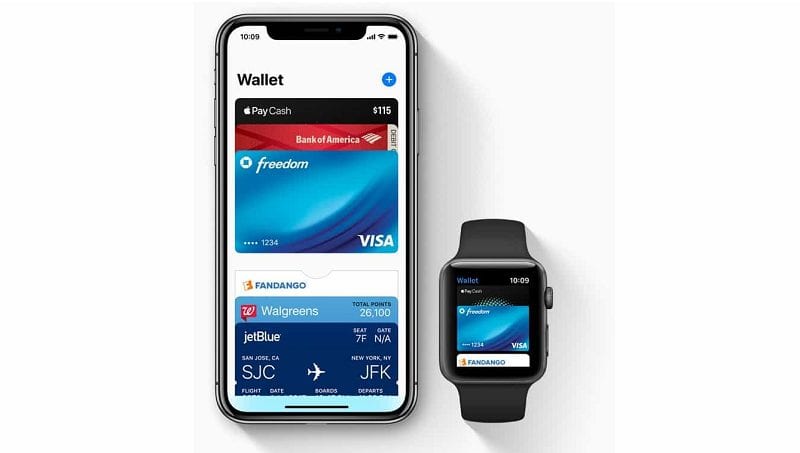 Pros

Cashless
You can transact without bulky hard cash.
Painless
Social apps are easy to use. You don't have to write a check or go to a long bank/ATM queue.
Free
Most social apps are free to use. You don't have to pay to play. Simply download and start transacting.
Debit cards
Users can have access to free debit cards.
Investments
You can buy stocks and trade in bitcoin using certain apps.
Flexible
Customers can use social payment apps both in-store or online.
Cons
Security
Because social apps are fast-moving and personal, scammers can easily dupe people of their hard-earned cash.
Localized
Some apps only work locally so you can't send, request, or receive money across borders.
Fees


Transaction charges can be as high as 3% if you want to send money through your credit card. Instant cash-out to your bank attracts a fee of 1% of the total.



Compatibility


Shoppers can only use certain apps with particular devices e.g. Apple Pay Cash only works on Apple devices so you can't use it if you have an Android device.
Because of their convenience and ease-of-use, peer-to-peer (P2P) services are here to stay.
5. Data privacy now a focal point.
With digital business booming, so have online criminal elements risen to get a piece of the cake. According to Security Boulevard businesses lost $3.5 billion to cyber crimes in 2019.
As a result, data privacy has come into sharper focus. 
If you want customers to have confidence in your business and trust you with their details, keep their private info under lock and key. If not, you may find yourself on the news for the wrong reasons like Facebook.
GDPR
To protect its citizens and guide companies on how to collect, use, and share personal data, Europe adopted the General Data Protection Regulation (GDPR) in 2016. GDPR became operative in 2018.
So, if you sell products and services to European consumers ensure you are GDPR compliant through:
Transparency
Tell customers you are collecting their data and how you will use it.
Freedom
Give customers the freedom to change or delete their data anytime.
Data minimization
Collect only data that's necessary to facilitate a transaction and no more.
Confidentiality
Take full measures to protect customer data from theft or loss.
When processing payments balance between collecting delicate customer info and giving users a great user experience.
PSD2
PSD2 is another set of regulations from the European Union.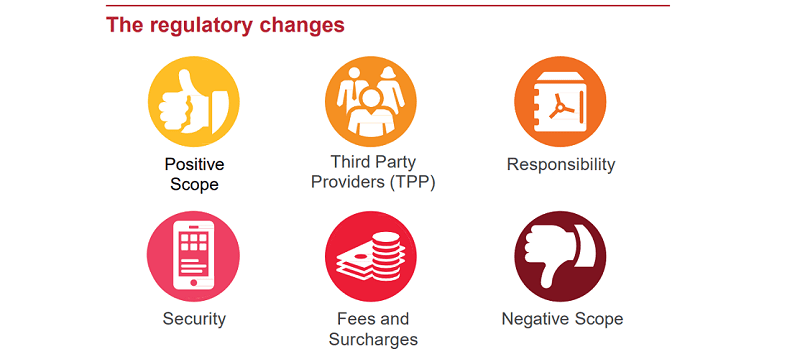 In a nutshell, PSD2 covers 3 major aspects:
Third-Party Providers (TPP)

–

 using an application user interface (API), banks must cooperate with TTP that want to collect account data to facilitate online payments.



Security

–

 shield consumers from attacks through multi-level Strong Customers Authentication (SCA) that are independent layers so a breach in one element does not affect others.



Fees and Surcharges

–

 your business must disclose all costs up front instead of using non-transparent pricing that hides extra costs in exchange rates on international payments.
CCPA 
Another law that seeks to protect consumer data privacy rights is The California Consumer Privacy Act (CCPA).
Here's a quick overview of what it covers.
Right to know

–

consumers must be informed when their personal info is being collected.

Right to request disclosure

– consumers can demand that companies show all data collected from them.

Right to request deletion

–

 customers can instruct companies to delete their data.

Right to opt-out

– customers can bar companies from selling customer info to third parties.

Right to equal services and price

– businesses mustn't

discriminate against customers based on their choice to exercise their rights.

Right to sue

– consumers can take legal action for civil damages in the case of a data breach. 
In brief, these laws give consumers more control over their data and how brands use it. Your company must prioritize privacy and security in all your payment systems. Your security analytics and data protection game has to be up there.
eCommerce Payments: Fluid Yet Profitable
Although it's hard to keep up with breakneck changes in online trade, eCommerce offers enormous benefits.
It has opened up the global market to retailers. 
Consequently, retailers can make more money, faster.
The plethora of payment methods means added convenience for shoppers so they spend more. Stores never close now because people can buy 24/7 using the multiple payment options at their disposal. 
Through flexible eCommerce payment systems, the whole world is always open for business.
About the author
According to his cheeky wife, Qhubekani Nyathi aka The Click Guy is irresistibly handsome. He's an offbeat Digital Marketer certified SEO copywriter who writes zingy long-form content that ranks, drives massive traffic, and leads for B2B SaaS and marketing companies. He contributes to prestigious blogs like Search Engine Watch, Crazy Egg, Smart Blogger, Get Response, and more.