Omnichannel marketing promotes products and services across multiple channels, platforms, and devices to offer a seamless and personalized customer experience. 
According to B2B Pulse research by McKinsey, 94% of B2B leaders believe that omnichannel marketing is more effective than the conventional approach. It can help businesses acquire new customers hassle-free.
What's more?
B2B customers use over ten channels to interact with suppliers. Around 82% of them switch to new suppliers if their expectations are unmet. 
No wonder, an excellent omnichannel experience has become essential to engaging, attracting, and retaining B2B eCommerce buyers.
In this blog post, we will share five omnichannel marketing strategies to help B2B eCommerce firms generate high ROI, improve customer satisfaction and reduce churn rates.
1. Train and Equip Your Team with Advanced Technology Stack
An advanced marketing technology stack can provide a positive omnichannel experience to B2B eCommerce buyers. 
The reason?
Customers use multiple channels to interact with a brand. So, your team's product knowledge, responsiveness, and customer data are crucial aspects to consider. With thorough product knowledge and data at their fingertips, they can guide customers to make informed purchasing decisions. This can help ensure a unified and consistent experience for your customers.
So, equip your team with the best tools to enhance the chances of sales. 
Here are three key tools to get started.  
Digital Adoption Software
Implementing eCommerce automation tools is a pivotal step in digital transformation. However, your team should understand the tools' utility to work seamlessly. 
The more they understand tools and technology, the higher their productivity. 
So, consider deploying digital adoption software in the first place.
The benefits include:
Experiential learning with relevant information

Greater knowledge retention

High efficiency and low costs with automation

Greater levels of productivity

High ROI on software investments
Count on tools like Digital Adoption Platform to provide continuous software training to your team. This tool allows businesses to monitor and improve their team's software usage and proficiency.
With this platform, you can provide your team with self-service and contextual support, thereby minimizing the need for in-person training. So, implement this DAP to your tech stack to provide dedicated support to the customers and drive business goals.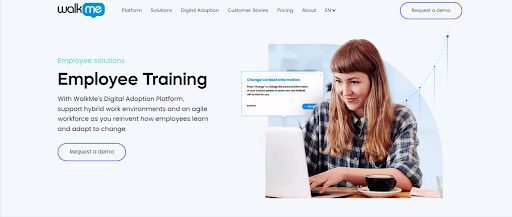 Hitachi Vantara, a leading B2B SaaS firm, deployed WalkMe to drive digital adoption. 
Here are the impressive results they earned: 
86% reduced training time

88% adoption increase of digital sales tools

7+ apps combined into one user experience
Client Relationship Management (CRM) Software
CRMs enable businesses to track and manage customer interaction, thereby nurturing their relationships. 
Count on OroCRM, an open-source client relationship management application. This tool can help you create a holistic 360° view of your customers across multiple platforms.
From managing the sales pipeline, and communication to keeping a tab on their account and contact details and running and tracking marketing campaigns, OroCRM can handle everything.
What's more?
This tool is flexible and highly customizable. It can address the needs of several industries, including eCommerce, retail, financial services, and others. Besides, OroCRM dashboards share comprehensive insight into business performance and KPIs. This can help your team drive strategic actions.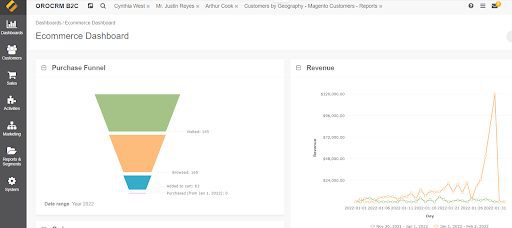 ADDEV, a wealth management mid-cap company, witnessed a 7x increase in turnover with OROCommerce. 
Here's what Olivier Fiquet, Digital Transformation Officer at ADDEV Materials, says:
"Oro allows us to address in a personalized way different types of customers according to their expectations."
Omnichannel Bots
These chatbots leverage advanced technologies like artificial intelligence (AI), natural language processing (NLP), and machine learning to understand and address customer queries. 
They can help you store crucial customer information in a centralized database. Use this information to deliver personalized conversational experiences to your prospects and clients.
Count on a bot builder platform to create the perfect omnichannel experience for your customers. This no-code chatbot builder tool helps build AI-powered chatbots that can be integrated across multiple channels, such as: 
B2B eCommerce websites 

Mobile apps like WhatsApp and Slack

Social media platforms like Facebook and Twitter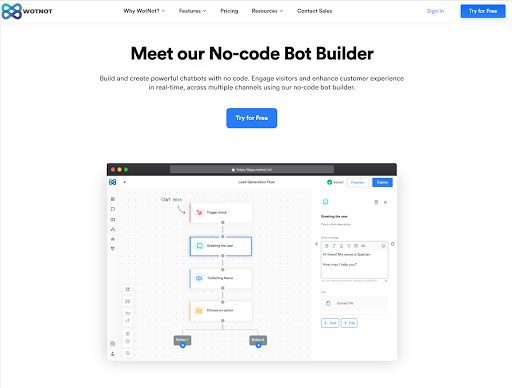 This platform automatically adapts to the requirements of each channel. This can empower your team to deliver personalized experiences for the buyers. 
No wonder, over 3000+ businesses, including Granite, Wilson Security, and Symphony, trust WotNot. 
2. Create Seamless Customer Journeys
Mapping the B2B customer journey is key to uplifting eCommerce sales.
With customer journey maps, you can visualize and identify the complexities they face during purchase. This information can serve as a roadmap to understanding their needs. 
However, no two customers are alike. Hence, the way they interact with your brand can be different. 
So, start defining potential customer journeys based on their stage in the sales cycle. 
Identify their behavior by analyzing aspects like:
Customers' interests

Challenges 

Past purchases

Research patterns
This can help you segment and create data-driven buyer personas, thereby analyzing customer behavior for the different sales cycle stages. 
Next, dissect their interaction pattern with your brand to recognize their goal. 
For instance, identify whether the customers are surfing your site to compare product prices or want to purchase your B2B products. This information can help you develop customer-centric sales strategies for different sales stages.
How can you find real-time customer data?
A comprehensive CRM platform can help you analyze all ins and outs of your customers in real-time. With CRM, you can save precious time and resources while making accurate business decisions. 
Here are a few crucial aspects to consider for various sales stages. 
Initial Visit to Your eCommerce Site:

Unlike retail customers, B2B customers land on eCommerce websites to find a solution to resolve specific business issues. So, providing them with content like blog posts, white papers, webinars, case studies, guides and reports, and others can be helpful. 
Check out how Amazon Business shares blog posts to help B2B buyers. These resources can help them understand your product offerings and ease their decision-making.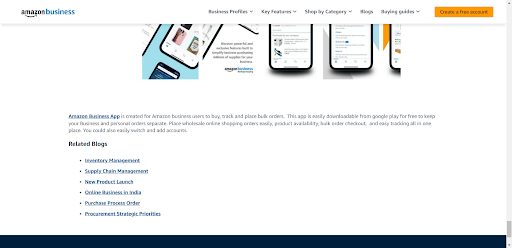 Product Inquiry Options:

B2B decision-makers, senior marketers, and sales professionals often need to review their potential purchases. So, add collaborative tools like inquiry forms with custom note addition options on your website to help them. 
TradeKey, one of the leading B2B eCommerce players, is using this tactic. Observe how they have provided multiple options within the inquiry form. The purpose is to help potential buyers share their concerns hassle-free.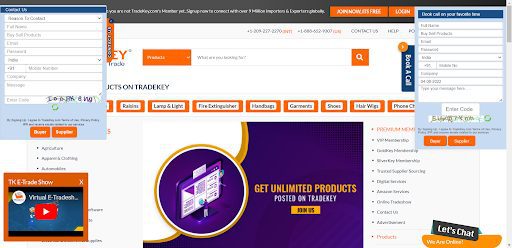 Self-Guided Consideration:

B2B buyers interested in a product often compare it with others. They usually evaluate the products' features and pricing to ensure a quality investment. So, integrate a knowledge base to provide guidance. 
For instance, add a dedicated user guide depicting your product's features and functionalities. Explain what sets it apart from the competitors offering. 
Notice how Ecoburo shares a quick order guide to help their B2B eCommerce buyers.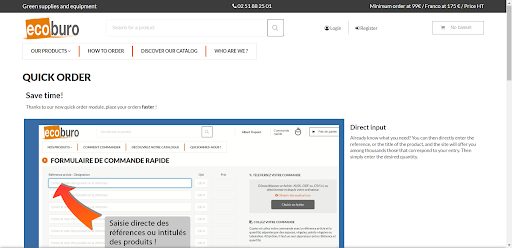 Easy Navigation Provision:

User experience is crucial to converting prospects into leads. So, evaluate your existing eCommerce store to understand its ease of navigation. Remove the unnecessary elements and make it easier for the B2B buyers to search for what they need. Categorize offerings according to your clients' industries, such as finance, hospitality, healthcare, and more. 
Dunlop's eCommerce website is a perfect example depicting simple navigation. Check out their clutter-free and well-organized navigation menu.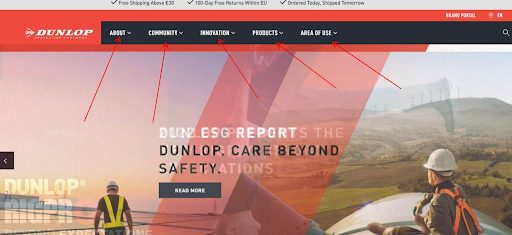 3. Provide a Personalized Experience Across All Channels
Personalization can help B2B eCommerce businesses drive customer retention and loyalty. 
Unlike the multi-channel approach, an omnichannel marketing strategy should provide a cohesive and personalized customer experience across every channel. 
How can you achieve a seamless experience?
Hire the best resources having expertise in handling different channels. Empower them with a state-of-the-art CRM that enables them to keep track of customer data across each touch point. This can help your team make data-backed decisions to serve customers, thereby establishing long-term relationships.
Here's a list of channels and their best practices to consider.
Live Demo:

Besides integrating live chat, you can offer a live product demo on the website to maximize customer support. This can help your sales professionals understand and address the B2B buyers' concerns, thereby boosting the chances of sales. 

Geolocation-Based Offerings:

Offer custom catalog and pricing based on customers' geolocation. Besides, integrate page translation option as per users' language preference. This level of personalization can help you gain customer loyalty, thereby building lasting relationships.

SEO:

Invest in SEO services to attract relevant traffic to your eCommerce website. SEO can help your team understand users' queries and create helpful content for the website. This can help your store appear in top search results on Google and improve your chances of acquiring customers. 

Push Notifications:

Depending on the user stage in the sales cycle, send exclusive promotional offers and discount information via push notifications. Besides, you can even send reminders for abandoned carts and product updates. This can help increase the chances of sales.

Email Marketing: Sending emails is not enough. Personalize your emails by addressing the B2B customers' issues. Offer them comprehensive solutions to speed up their business processes. 
Social Media:

Provide chat options and inquiry forms on relevant social media channels. Utilize social channels, such as LinkedIn, the

#1 B2B lead generation platform

. Besides, you can promote your business using search ads and reach potential customers. To boost sales, businesses can embed Instagram Reels on website easily. This can help you improve customer experiences. 
Phone Consultation:

Offering phone consultations to businesses can help you generate quality leads. Share your phone number across social media channels, websites, and forums. 
Polycom is an excellent example of a B2B eCommerce brand providing a personalized customer experience. This video and voice solutions provider uses all the above-shared channels.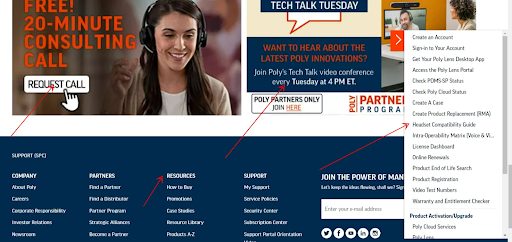 From offering free consultation calls and demos to resources like blog posts, FAQ pages, product customization options, language customization options, personalized emails, and live customer support, this global corporation provides the best customer experience.
Speaking of their social media, they have 105191+ followers on LinkedIn, the most relevant channel for B2B eCommerce businesses. 
What's more?
According to Semrush reports, Polycom received 1.5 million visits in June with an average session duration of 09:03. This signifies their SEO strategy is on point. 
In short, Polycom is acing the game of omnichannel marketing. Following their footsteps can help you get ahead of your competitors.
4. Proactively Manage the Channel Conflicts
Managing multiple online channels can lead to channel conflicts. 
Here's how – 
When you offer a product through multiple distribution channels, the chances of direct competition with similar product offerings in the market increase. As a result, your existing channel partners, retail partners, and distributors can develop concerns, and conflicts can happen. 
According to a recent survey, 38% of corporate eCommerce channel managers admit channel conflicts are one of their top business concerns. Whereas, 44% believe that these conflicts will increase in upcoming years.
Here are a few tips for managing channel conflicts.
Maintain Consistency in Pricing:

Let's say you offer your B2B solution at a low price on a channel while selling that at a higher price on others. This can give rise to unnecessary competition. So, keep a tab on pricing for all channels. 

Inform the Partners:

When you make efforts to expand your brand, inform the sales reps, retailers, and distributors about the changes. Keeping them out of the loop can lead to communication gaps and conflict. So, address their concerns and be upfront about your plan. This will aid clear communication, thereby avoiding conflicts. 

Pay Attention to Sales Across All Channels:

Paying heed to only one channel can impact others. Aim to increase sales generation from different channels. With the help of a CRM and dedicated resources, you can keep a tab on every channel performance. 
5. Assess Your Omnichannel Maturity Level
Assessing omnichannel maturity level is pivotal to driving targeted omnichannel transformation results. This assessment can help B2B eCommerce firms identify the market gaps and gain a competitive edge.
Here are the three key assessment levels to consider.
Level 1: Customer Experience
This is the initial phase where B2B companies implement various strategies to create an integrated omnichannel experience for the buyers. However, managing multiple channels and providing a seamless customer experience needs consistent effort. 
The best way to handle this phase is to focus on creating customer-centric strategies. Define team roles and functions, such as sales, customer care executives, field reps, and more. This will help manage channel conflicts to a large extent while providing an excellent customer experience.
Level 2: Operational Excellence
Once you have created a roadmap, focus on utilizing real-time customer insights. Since market trends are ever-evolving, you need to act according to the ongoing trends. So, leveraging real-time customer data and modifying strategies can take your growth game to the next level. 
Level 3: B2B Customer Engagement and Sales
Monitor customer engagement and sales to gauge the effectiveness of your strategies. Evaluating these aspects can help you improve your existing omnichannel strategy. 
For instance, if you see increased abandonment from mobile devices, consider assessing the app for its user-friendliness. Analyze the number of customers following the same pattern. Check the app's speed, payment options, and overall user experience. 
Note the issues and work on launching a new version of the app. Do competitor analysis and understand the market fit. Perform A/B testing before launching the app in the market. Acknowledge the feedback of your customers to provide a seamless experience on mobile. This can save you from losing valuable customers.
Tracking customers' behavior for multiple touch points thus can help boost your eCommerce sales.  
Conclusion
Nowadays, B2B buyers prefer remote and digital self-serve interactions over in-person engagement. The practice of searching multiple channels before solidifying buying decisions has made it a mandate for B2B businesses to be omnipresent.
While omnichannel marketing offers new opportunities for B2B eCommerce businesses to thrive, handling the challenges that come with it can be draining.  
The omnichannel marketing strategies shared in this post can help you innovate your sales approach. With tools like CRM,  you can adapt and transform your business processes according to the needs of present-day customers. So, get the right tools to implement the above-shared actionable plan and deliver exceptional services across multiple channels. 
This post was contributed by Lucy Manole, a Creative Content Strategist at Marketing Digest.