This post was contributed by Molly Crockett.
With Instagram becoming more and more desirable for businesses, since many users are on there, and so are many brands that have already taken to the style of promoting on social media, it's not surprising that B2B businesses are looking to that direction as well.
Originally a platform where people could share and follow photos posted on there, it wasn't until 2015 when Instagram Ads appeared and caught the eye of the business world, and helped them generate B2B leads. 
In this article, we'll introduce you to the seven effective ways to use Instagram marketing for B2B leads.
1. Create An Effective Instagram Bio Link

"Around 200 million Instagram users visit at least one business profile a day," says Zachary Hipkiss, a marketer at Australian help and Paper fellows. "With that said, you have to be able to hook these visitors with a reliable bio link. The link is essentially a business card that people can click on, and learn more about your company instantly."
Or, if you have digital downloads (i.e. eBooks, online courses, tutorials, etc.), they can also be used as your bio link to generate B2B leads. All in all, you want to make sure you're using your one and only profile link as effectively as possible. If you're running a marketing campaign on your story and through your posts, make sure you're using a link that will take businesses through to the content they want to see.
If you're not updating your link for every kind of campaign you're running, and you're simply keeping your link as the same link to the homepage of your website, you're going to be missing out on so many potential opportunities. If you want to make things even more interesting, make sure you're using a customized link that tells people exactly what you're doing, such as the Tentsile profile link.
2. Add Various Ways for People To Contact You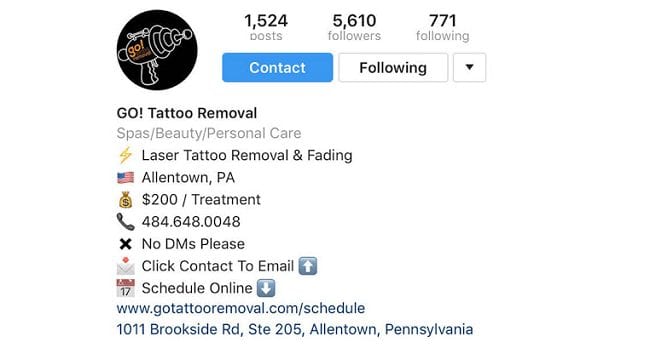 Now that a potential buyer has found your product or service, what do you do? They need to be able to contact you directly should they have any questions or concerns.
When you provide various contact options (i.e. directions, email address, phone number, etc.), they help Instagrammers choose the best way to contact you and ask you about your product or service (either pricing or collaboration), thus generating B2B leads on your end. You can even get creative by allowing people to get in contact directly through a chat bot, meaning they'll get an instant reply at any time of day.
3. Talk About Your B2B Business

Simply telling your followers about your B2B business is also an effective strategy. This lets you get in front of your target audience and prove that your product or service exists.
Whether you write posts about product information and benefits, or share unique videos and or tutorials, the goal is to keep your followers engaged and interested. Though, make sure that you're getting likes, comments, and shares, since they serve as a sign that Instagram's algorithm is recognizing you on the feed.
Take a look at the HootSuite page, for example. All the posts they're sharing are informative and educational to their readers and help business users understand how to do various social media-related tasks, and how to make the most of their opportunities. Of course, if a business wants help with any of the processes, or wants to make their life easier, they would then get in contact with HootSuite and start using their service solutions.
In this way, you need to make sure you're not just promoting your products to your followers, but rather you're providing them with valuable information first.
4. Establish Relationships

Users want to see authenticity in a business profile on Instagram. And, to establish authenticity, as a B2B business, you have to build authentic relationships you're your followers.
Here are some of the best ways to establish relationships with your followers:
Take users behind the scenes of your company

Share testimonials (from clients, provided that they've given you consent)

Take part in discussions by liking and replying to people's comments
As you put a human face on your company, provide social proof, and engage with discussions, you're showing your followers that you care. Take a look at Ryan Holiday's Instagram page. He's an author and it promotes his content and his books and blog posts, but he also posts what he's doing in his day-to-day life, giving people an idea of what he gets up to, thus building a relationship with his followers.
At the time of writing, his story showcases a road trip he's taking with his wife and children, and as they switch turns driving, they're hosting a Q&A with their followers. This is a create way to showcase what happens behind the scenes, an approach that many businesses follow suit in.
5. Collaborate With Brand Ambassadors
While word-of-mouth marketing can still help you generate B2B leads, collaborations are becoming more and more common on Instagram. That's where endorsements come in!
On Instagram, you can collaborate with brand ambassadors who, in turn, can endorse and promote your company. To find the perfect brand ambassador for your B2B business, you can check their websites or business listings to find contact information on who's in charge, and their employees. Then from there, you can offer co-branding promotional collaboration.
Though, for smaller businesses, try reaching out to micro-influencers – people with a niche Instagram following that's under 100,000, but with high engagement on every post.
6. Instagram Stories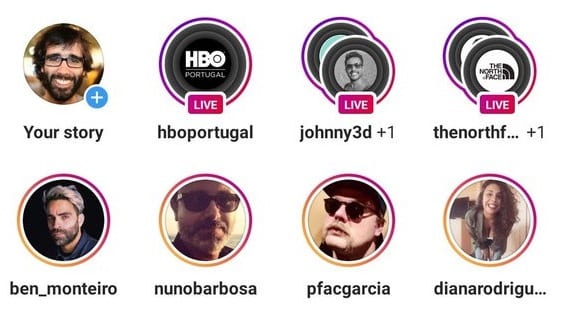 "Many users love to create or watch Instagram Stories," says Timothy Hann, a business writer at State of writing and Boom essays, "and companies have already started to pick up on using this feature. For B2B companies, they can use Stories to generate more leads."
Here's how you can generate B2B leads with Stories:
Create a swipe-up link that takes viewers to a landing page

Save important Stories to Highlights (which is below your bio), so that both followers and new visitors can see relevant content instantly
You need to make sure you're using the Instagram Stories feature. This is what the majority of people use when they go on Instagram, especially since the feature is right at the very top of the page.
Long-form blog posts can get a bit long for many people to read. Repurpose your blog posts into actionable points and share those on IG Stories for everyone to engage with – in an easy to consume way.
7. Run Lead Generation Ads
Instagram lead generation ads can help you generate B2B leads fast. These ads help you reach your target audience and collect valuable information from them. Whether you collect phone numbers or email addresses, Instagram lead generation ads can collect this valuable information from your potential leads.
Conclusion
On Instagram, storytelling and presenting are everything, when it comes to good marketing. As you utilize one or all of the seven strategies mentioned, you'll soon get users' attention and win their trust.  Thus, Instagram will help you succeed in generating B2B leads.
About the author
Molly Crockett edits for Academized and Ukwritings. She also writes for Essayroo. As a marketing writer, she shares unique lifestyle and personal development advice with readers.