Companies often face the same common challenges when growing the business: how can I get a deep understand of my customers and how can I get actionable data-driven insights that can help grow the business. One of OroCRM's main value adds is providing businesses with an holistic 360-degree view of the customer by collecting data from all customer interactions and touchpoints. While many vendors claim this capability, few actually go into details of what it means and fewer actually deliver on it. Therefore, this blog post is intended to discuss the specifics of how businesses can configure and leverage entities like Accounts, Contacts, and Customers to get a holistic view of the customer with OroCRM.
Accounts
In OroCRM, Account is the point of reference for all customer records. This is an umbrella entity that encloses every bit of interaction you may have with a customer or contact. Activities, like emails exchanged, calls logged, and notes inputted, are all tracked in addition to leads, cases, and opportunities.
However, because OroCRM is designed as a multi-channel CRM, the Account entity alone is not enough to represent all customers across the many channels you may have. Different channels may bring you different data on the same customer, and although the Account entity shows a global view of the whole business, channel-specific customer profiles are necessary for deeper insights and segmentation. That is where the Customer entity comes into play.
Customers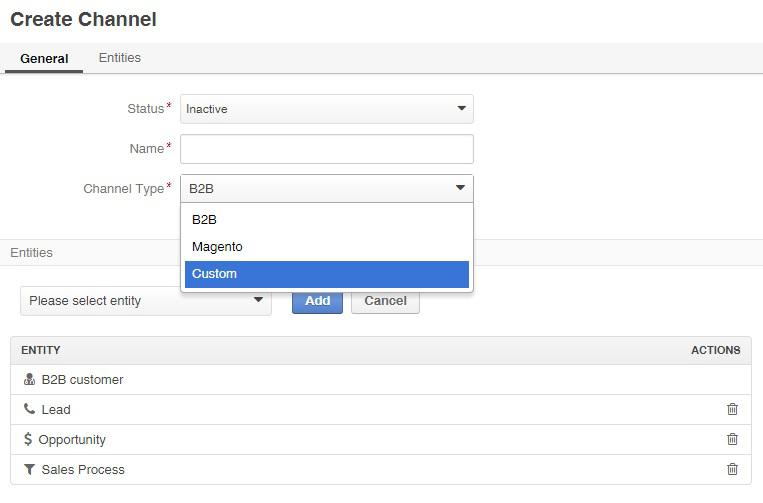 Before we start talking about Customers, we first need to understand Channels.

Channels are the various sources you get customer information from. For example, say that you have a factory producing furniture and you sell those goods through the presence of a retail store and an online B2B furniture website. You are also partnered with several interior design studios where they buy directly from your factory in bulk. This means you are selling to individual clients in stores and online, while also selling to other businesses directly. Therefore, depending on the purchase path or channel, a Customer will fall into one of the 3 channels. While these customers may fall into separate channels, they have one thing in common: they are all related to the same Account entity.
Note that you can also create new Customers within Accounts regardless of being a single or multi-channel organization. For example, a multi-channel business may need to add "new" customers buying through a separate Magento site. However, if a "new" customer already exists from another channel or another Magento site, our integration is smart enough to automatically identify customer duplicates and merge them under a single account. Now, you will still have two Customer records but these Customers will be linked under a single account providing a 360-degree view of each account across multiple channels.
In a single-channel business, the Account–Customer hierarchy can be used to break down sales relationships with large, distributed businesses resulting in the global management of every division or business branch. Think of a supermarket chain for example: Every individual store location can be a Customer record (i.e. Wal-Mart in California and Wal-Mart in New York will be two Customer records) that will be related to a single Account (i.e. Wal-Mart) .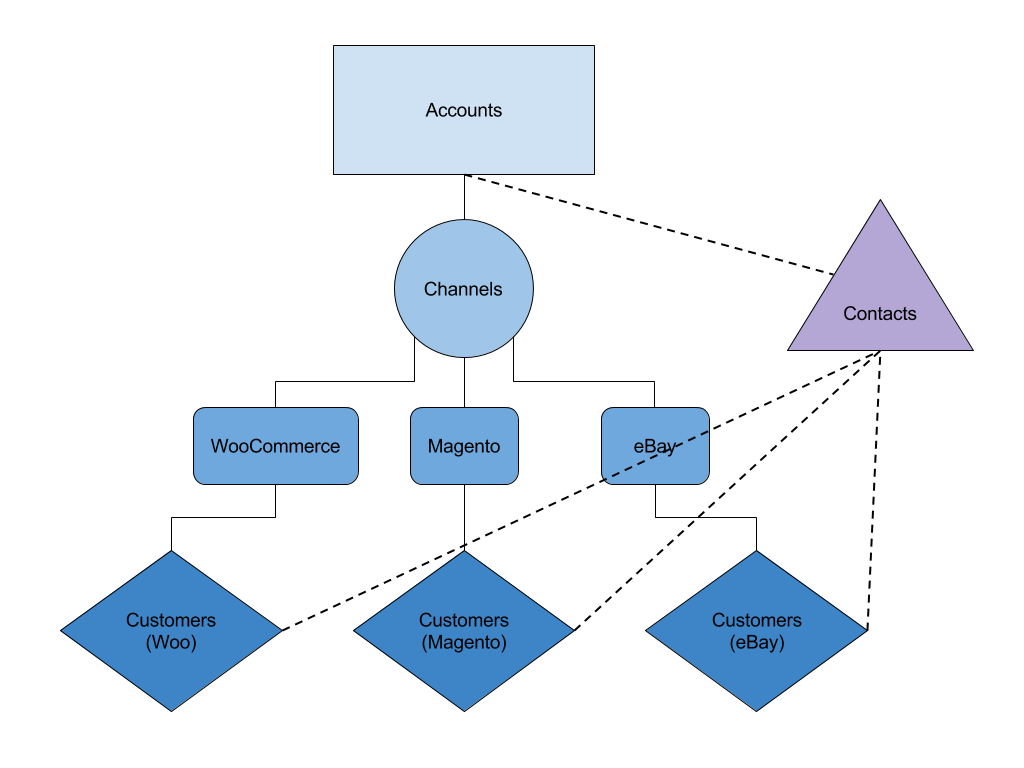 Contacts
The Contacts entity does not directly fall under the Account–Customer hierarchy but it is related. Contacts represent actual people you interact with, and it stores all contact information (i.e. email address, phone number, mailing address) and contact history/activities.
For simple eCommerce businesses, a Contact might seem redundant as most information may overlap with Customers but it is important to note that they serve a different purpose. The difference is simple: The main job of a Customer is to store business interactions, purchases, and transactions like orders placed, while a Contact stores contact information, case details, and a history of activities (i.e. calls logged, emails sent, events added, etc.). As always, Account unifies everything.
The Contact entity may also be used as a stand-alone function like an electronic address book. The endless flexibility of OroCRM can keep track of personal or business contacts along with a full activity history of past interactions, calls, and emails. 

Conclusion
Whether your business is single-channel, multi-channel, B2B, B2C, or any mixture of the following, Accounts, Contacts, Channels, and Customers can always be set to give the 360-degree view of your customer in OroCRM. Integration with eCommerce platforms, email marketing services, and case management systems all funnel into the Accounts view detailing all customer interactions in sales, marketing, and support. Gaining this perspective will not only help grow your business but it may also provide you with an substantial competitive advantage
To learn more, schedule a demo with one of our consultants or try OroCRM for yourself here.
We are always eager to get your feedback, so please either comment on this blog or send us questions or comments via our forum.
Thank you!
The Oro Team