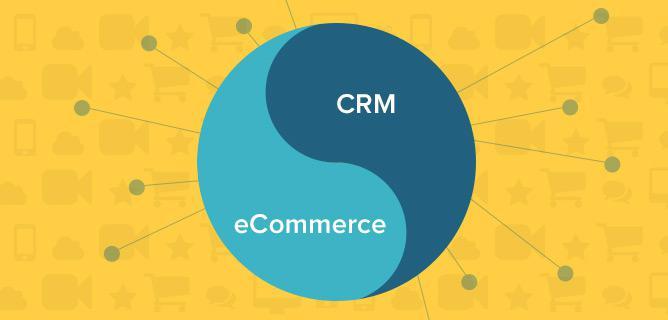 Commerce businesses have long heard they should look into a Customer Relationship Management (CRM) system. Many at one point have. When they did, they found a world that doesn't speak their language.
Executives barely get past buzzwords like "Social Collaboration" and "360-degree View of Customer" before wondering if there is real business value to a CRM. With ROI in mind, we will break down why CRM should be at the forefront of every merchant's mind for attracting new customers, converting prospects, and bringing existing customers back to purchase more. Each of these three items is worthy of it's own blog post, which is what we will do.
For this post, I will focus on how a CRM can help a commerce business convert prospects.
When someone has found your business, your next goal is customer conversion. Many companies have KPI's around reducing the number of website visits from when someone finds their business and actually transacts on the site. Others have KPI's around raising conversion on subsequent site visits. These KPI's are areas where the right CRM can really shine.
Each time someone visits a website they give additional information about their interests and preferences. This is an opportunity for forward-thinking merchants to collect and optimize this information. If aggregated into a CRM system, this data can be segmented and utilized for customized marketing efforts.
Consider a hardware and tools business, Acme Tool, who understands a particular customer segment is more likely to buy a generator only after talking with an expert about how it works. Acme uses this information to follow up with a personal email from a customer service representative that can answer questions, turning a browser into a buyer.
Acme may have also found prospects that only browse hammers and leave the website normally don't return, because they have only one purchase in mind and are highly price sensitive. This group of hammer browsers return to the website 20% of the time to purchase with a simple one-time email offer.
CRM serves as the aggregation of this information and decision point of these customer interactions, because, if implemented properly, it carries a single view of a customer across all channels.
The information aggregated doesn't need to be limited to customer preferences. As an example, a company can use prospect's weather information to provide a more relevant product selection. Let's assume Acme also sells umbrellas. Because they know the rainy season is hitting today San Francisco, they send me a relevant offer for a new umbrella. Or when a snowstorm hits, they offer to ship a snow-shovel to my house at no cost, highlighting all the local stores will be sold out.
This powerful "360-degree View of Customer" across multiple channels and dimensions allows companies to interact in a more relevant way with prospects, delivering ultimate ROI. The possibilities are endless and there is no limit to the conversion improvement that can happen when smart business practice meets the right data.
What will you create with CRM in 2014?
Related Posts: Commerce CRM – Cross-sell and Up-sell, Closing the Commerce Loop