Welcome to OroCRM's video tutorial series.  This is Alex with OroCRM and today I'll be demonstrating how to create and work with an Opportunity record within OroCRM.
An Opportunity represents a chance to perform some kind business transaction.  An opportunity could be used in many different scenarios such as:
Selling a sophisticated software package

Offering professional consultation services

Brokering a B2B transaction

Responding to an RFQ or RFP
In this demonstration I will cover the creation of an Opportunity as well as two ways of working with the new record.  In the interest of flexibility out of the box OroCRM allows for you to manually manage all aspects of your Opportunity.  
A workflow for Opportunities is included in OroCRM and can be enabled as is, cloned for customization, or simply used as a template for creating your own from scratch.
Before we begin be sure that the Opportunity entity has been added to a channel otherwise it will be hidden in the user interface.  Typically Opportunity is added to the Sales channel.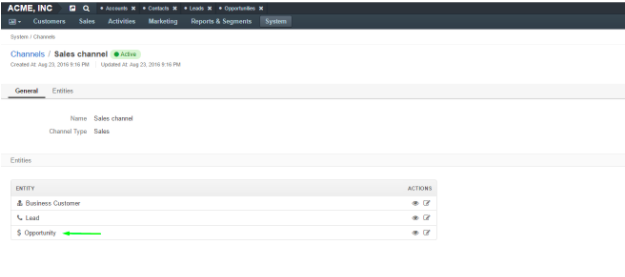 To get started we first should navigate to Sales > Opportunities then click the Create Opportunity button in the top right hand corner.
The owner field is set to the currently signed in user by default but can be changed by selecting a new user from the drop down list.
Opportunity Name is used to identify the specific Opportunity record in OroCRM.  Many Opportunities can be associated with a single Business Customer so naming each Opportunity uniquely is important.
The Account field represents the relationship between this Opportunity and an Account record.  An Account must have a Business Customer associated with it.  An existing Account can be selected through autocomplete or filtered through the menu.
If for example you have an Account representing an existing business but a new person in purchasing you are working with you can click the plus sign and create a new Business Customer to associate it with your existing account.  Alternatively, you can simply enter the new name and look for autocomplete to show (new) in parentheses, this will create the record automatically upon pressing enter.
The Account field is mandatory.
The status field is used for several purposes:
First, it is used to clearly identify the current standing of an opportunity.  

Second, it adjusts the probability percentage based on predefined settings.

Third, the statuses here are used in pipeline reports and dashboard widgets
Probability is tied to the status field by default.  It is possible to manually adjust the probability percentage however this adjustment will permanently disable the automatic mapping between Status and probability on this record.
Budget is used to track the proposed Opportunity budget.  This value, in conjunction with probability percentage, is used for weighted pipeline reporting.  
Expected close date is used for tracking the date when the Opportunity is expected to close.  This field is also utilized in reporting and dashboard widgets.
Close Revenue and Close Reason should only be filled once the Opportunity is Closed Won or Lost.
Customer needs, Proposed Solution, and Additional comments allow for rich text formatting.
Once you're satisfied with your Opportunity form click Save and Close in the upper right hand corner.
Now you can add actions as well as make changes to status through the edit menu.  
There are now two ways to manage Opportunities from the list view.  The two methods can be selected from the View button next to the grid settings button.
The first is Grid mode which is similar to other grids within OroCRM.  Many fields support inline editing including Status and Probability.
Using the Board view you can transition your Opportunities through different statuses by dragging and dropping.  You can easily access the view or edit pages by hovering over the ellipses.
Thanks for watching.  You can check out more video tutorials on our website at our CRM tutorial library.