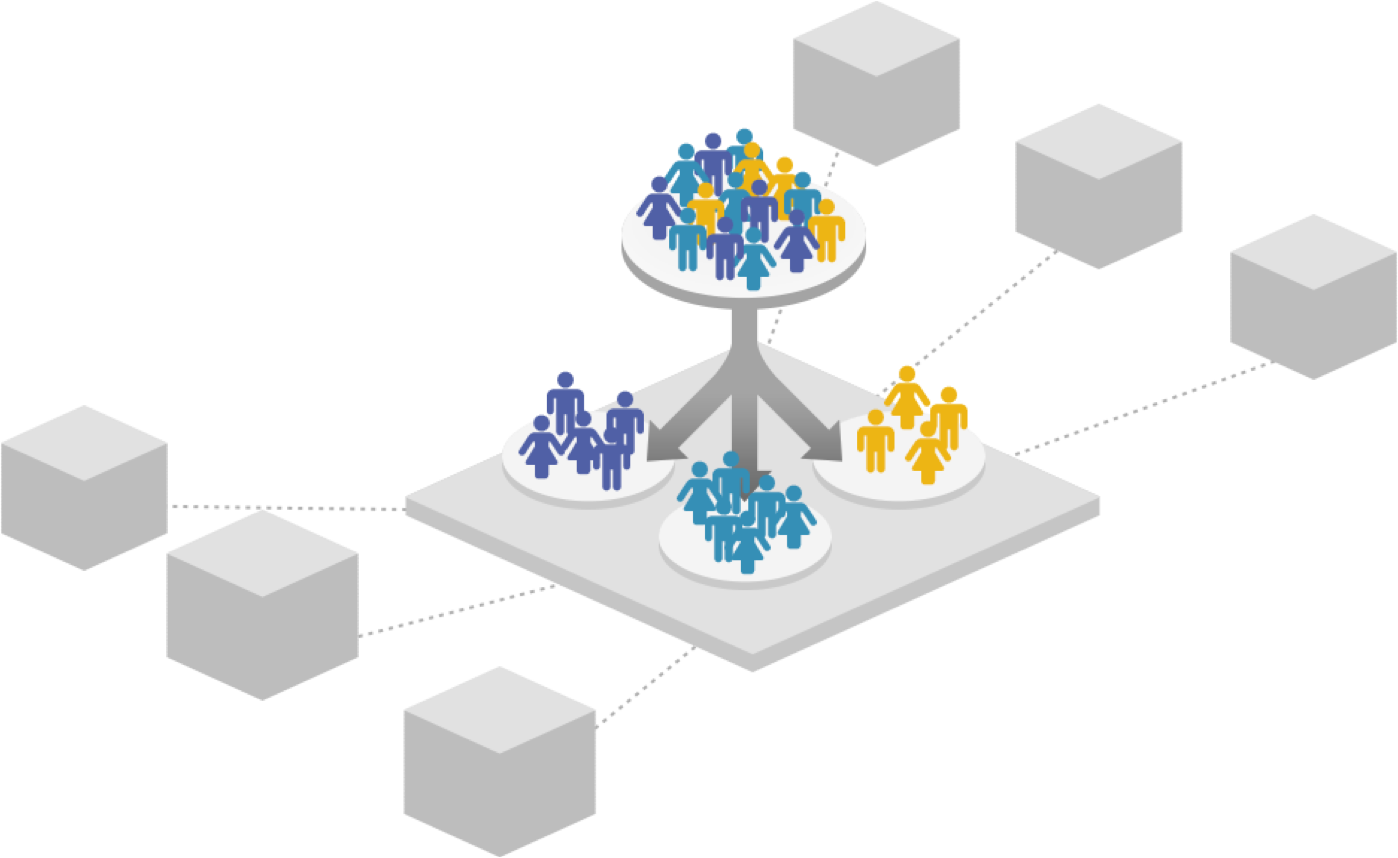 In today's hypercompetitive commerce landscape, finding and keeping loyal customers is paramount. In recent years there has been an onslaught of new ideas and methods to aid in this pursuit. Experts agree segmenting customers and targeting them in a personalized way creates happy and more loyal customers. OroCRM provides you the tools to gather all customer data, better manage your customers and more effectively segment and market to them.
According to Forrest Research it costs 5 times more to acquire a new customer than it does to keep a current one. Pair this with research done by the authors of Leading on the Edge of Chaos that shows that reducing customer churn by as little as 5% can increase profits anywhere from 25 to 125%. Keeping customers happy, loyal and returning is proven good business.
Understanding Your Customer Needs
The first part of an effective customer segmentation strategy is understanding your customer needs. The account view in OroCRM is a great way to visualize touch points with a specific customer. Orders, shopping carts, leads, opportunities and list of all your contact activities are represented in one place. As you aggregate and your teams utilize the tools in OroCRM they are building a database that can be used for effective segmentation.
Tracking Customer Behavior
Another critical component to effective customer segmentation is to track their behavior on your websites. While tools like Google Analytics help you gain insights into overall customer behavior, OroCRM website tracking allows you to track behavior in the context of a single customer. Identifying which products or categories your customer is browsing, which pages they visited, which items they added to their cart and which blog posts or reviews they looked at can help with understanding your customer needs and effectively targeting them in the future.
Segmentation and Marketing Tools
Segments
Creating segments in OroCRM is easy and provides a very powerful interface for flexibility. Here is how to do it:
Come up with a plan and start by choosing a basis for your segment.
Choose a type and associate it to the correct business unit.
Choose the fields you want to see represented in your segment.
Add filters to set criteria and save your segment.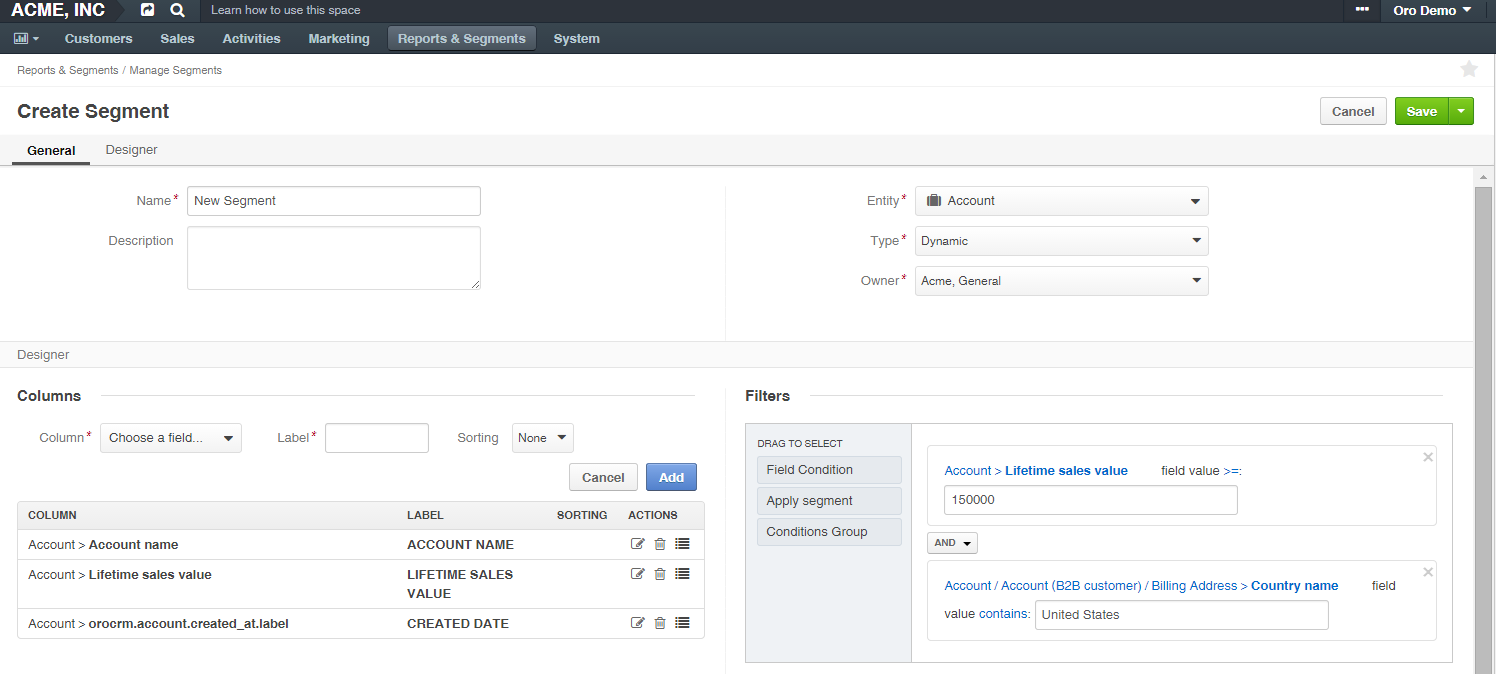 Segment customer based on any data set available in OroCRM. Examples can be creating segments by products they viewed online, past purchase history, recent customer service interactions and much more.
Marketing Lists
Marketing lists are segments built specifically with the purpose identifying customers to target using OroCRM or connected third-party tools. A popular example is to create a marketing list and use OroCRM's built in email campaign feature. You can also push to other popular email marketing platforms like MailChimp or dotMailer.

Measure Campaign
Once you have established your segments and launched campaigns, OroCRM will help you measure their effectiveness. OroCRM campaigns provide you the ability to track campaign events and measure their performance. Track online and offline efforts that lead to your overall goals.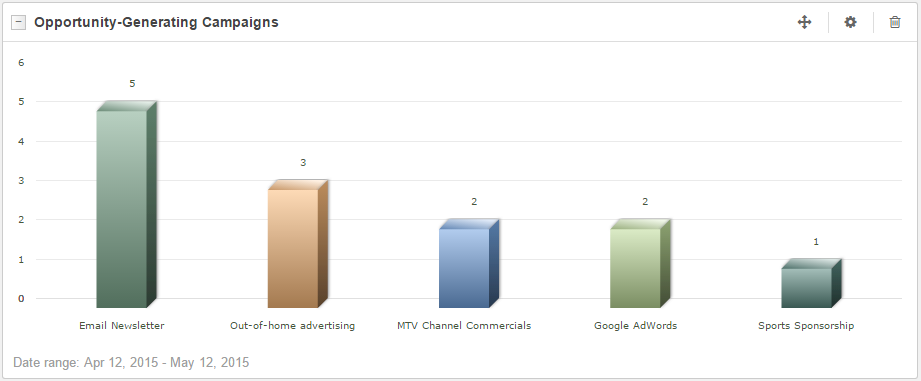 RFM Analysis
Another feature of OroCRM that provides greater insight into your top customers is our RFM Analysis feature. An in-depth overview of RFM can be found in another article on our blog. Using RFM in conjunction with our segmentation tools can empower marketing, sales and services teams to better target the right customers with the right message. According to Gartner, "80% of your company's future revenue will come from just 20% of your existing customers," so let's target them in the most effective way possible.

More Effective Marketing
More effective marketing can be achieved by using OroCRM to segment, target and measure your customers. Build happier and more loyal customers that support your brand and products.
What segments will you create in OroCRM? Explore possibilities with an OroCRM Solution Consultant with a private demo. Contact Us!