Every sales team has the irrevocable challenge of finding the right type of customer. Building a solid clients portafolio takes time, money and structure. Big companies dedicate a great amount of assets to improving their sales outreach methods, but for small and medium-sized businesses, this mission comes with the additional edge: having limited resources. 
What happens after entrepreneurs have exhausted their personal contacts? In this article, you will discover what's behind sales outreach. Also, you'll find out how tech-savvy businesses are using eCommerce automation to reach out to prospects effectively, saving time and money. 
The Basics of Sales Outreach 
Sales outreach refers to all the interactions with prospects or inactive past customers sought by salespeople. The recipients of this type of campaign didn't explicitly asked to be contacted, which makes tricky to approach them without being intrusive.  
In this scenario, a successful outreach campaign is often the result of having your sales and marketing teams working together on communications that your potential clients or business partners find relevant. 
Among the most commonly used methods for sales outreach are: cold calling, email marketing, text messaging and social selling, which we'll address further on.
However, when it comes to outreach strategies, there's no such thing as a magic formula that applies to every business. Particularly for B2B businesses, reaching out to potential clients or partners requires a personal and specialized approach. To offer that type of communication, you'll need to have the necessary information about your prospects organized and available for your team. In other words, you'll need to centralize all your data into a CRM. 
Why a CRM 
A CRM is the perfect place to store and manage your contacts' information. It gives you a complete view of your customers and other contacts and help you manage your relationships with leads, prospects and opportunities. 
You can "feed" your CRM with information coming directly from your website or through other business applications. For instance, if you are using a lead generation tool, email marketing platforms, customer support tools or VoIPs, you should have the information they collect in sync with your CRM. 
All these data about your prospects, leads, potential partners or past customers will be key to segmenting and personalizing your outreach campaigns. But imagine if you would have to go through a database that it's constantly receiving new information from different sources and organize it manually, that task would be completely inefficient and a hassle! Luckily, there's automation. 
A CRM offers you a variety of features to automate processes around your database. Additionally, you can extend this functionality by integrating your CRM with additional business tools that automate the rest of your business processes. To ensure your selected CRM has the potential to integrate with your other applications, make sure you use a cloud-based system, preferably one with integrations already available or an open API. 
Long buying cycles are typical in B2B sales funnels, it can take a lot of time to create a solid relationship with a potential client or partner. That's why sales teams need to do their best to optimize their time and focus on those prospects that suit the right profile and might actually convert.
Additionally, by automating the collection, management and segmentation of data you are avoiding human errors and poor quality data. 
Automate your Preferred Sales Outreach Method
By using the high-quality data collected by your CRM and automatically syncing it with your other tools, you can build en enrich the lists of contacts you'll reach out through your preferred method.
Emailing
When it comes to sales outreach and emailing, the top-of-mind term is "cold emailing." But wait… don't stop reading just yet. Yes, cold emailing is an unpopular term and that's no surprise. When it's not done properly, it easily becomes simply unwanted email or spam. 
However, when it's directed to well-segmented audiences with relevant messages and personalization is in place, it's a very efficient method. Actually,  MailChimp indicates that average open rates for email campaigns range between 15.22 and 28.46% depending on the industry. 
Thinking about creating an email for each one of the prospects you listed? No way! Choose an email marketing tool that allows you to set up tags to automatically personalize your messages with the information stored in your CRM. With this type of feature you can go beyond personalizing first names, you could for instance use company name, industry or location to engage with your prospects. 
Here's a fictional example of how a typical outreach email template should look like: 
Hi [first name], 
I'm [sales rep name] from Example.com. We recently launched a service for TheCRM.  I saw on [company name]'s online profile that you are using TheCRM to manage your sales funnel and I didn't want to miss the chance to connect with you and let you know about Example.com. 
We are providing a service that connects your TheCRM with iCloud and Google Contacts, so you always have your CRM's data available on your phone. Does this sound interesting? If so, please book a call with me whenever it suits you. Here's my calendar link [calendar link].    
I appreciate your time! 
Best,
[signature]
All the information within the [ ] is available in your CRM. Share this data with your email marketing tool and automatically send out personalized emails to your entire outreach list. 

You could also automate the next step, which would naturally be to follow up with prospects who didn't answer your initial email. Email marketing and marketing automation applications make really easy to automate email sequences based on the way your receptors engage with your email. 
Cold Calling 
Jumping on a call might sound like an "old-school" method to contact prospects, but even in today's digital world there's room for it. In 2018, a study by the Rain Group gathered that 57% of C-Level buyers still prefer a call from a sales rep. 
However, the way tech-savvy businesses make calls nowadays has changed completely thanks to automation. Salespeople used to waste hours every week on potential clients' answering machines. Now most VoIP systems allow you to send out pre-recorded voice messages whenever you end up in a voicemail. 
Next to productivity, automation can also help you improve the quality of the conversations by making sure the contact data of your CRM is always available in your VoIP application.  
Remember how we talked about the importance of personalization? In cold calling makes a huge difference if you answer the phone with a "Hi James, how are you? I was hoping you would call back," instead of a "Hi, who is this?."  
Social Selling 
LinkedIn has changed the way B2B sales work. Last year,  84% of C-Level or VP Executives interviewed affirmed they used social media to assist in some way with their company purchasing decisions.    
But how are you managing this social platform? It is a hassle to go through hundreds of profiled and enlist them according to your targeted audience. LinkedIn offers an efficient ways to automate this and other processes, it's called Sales Navigator. It allows you to find the right people and companies according to your goals. You can also keep track of key leads and certain updates in the market of interest.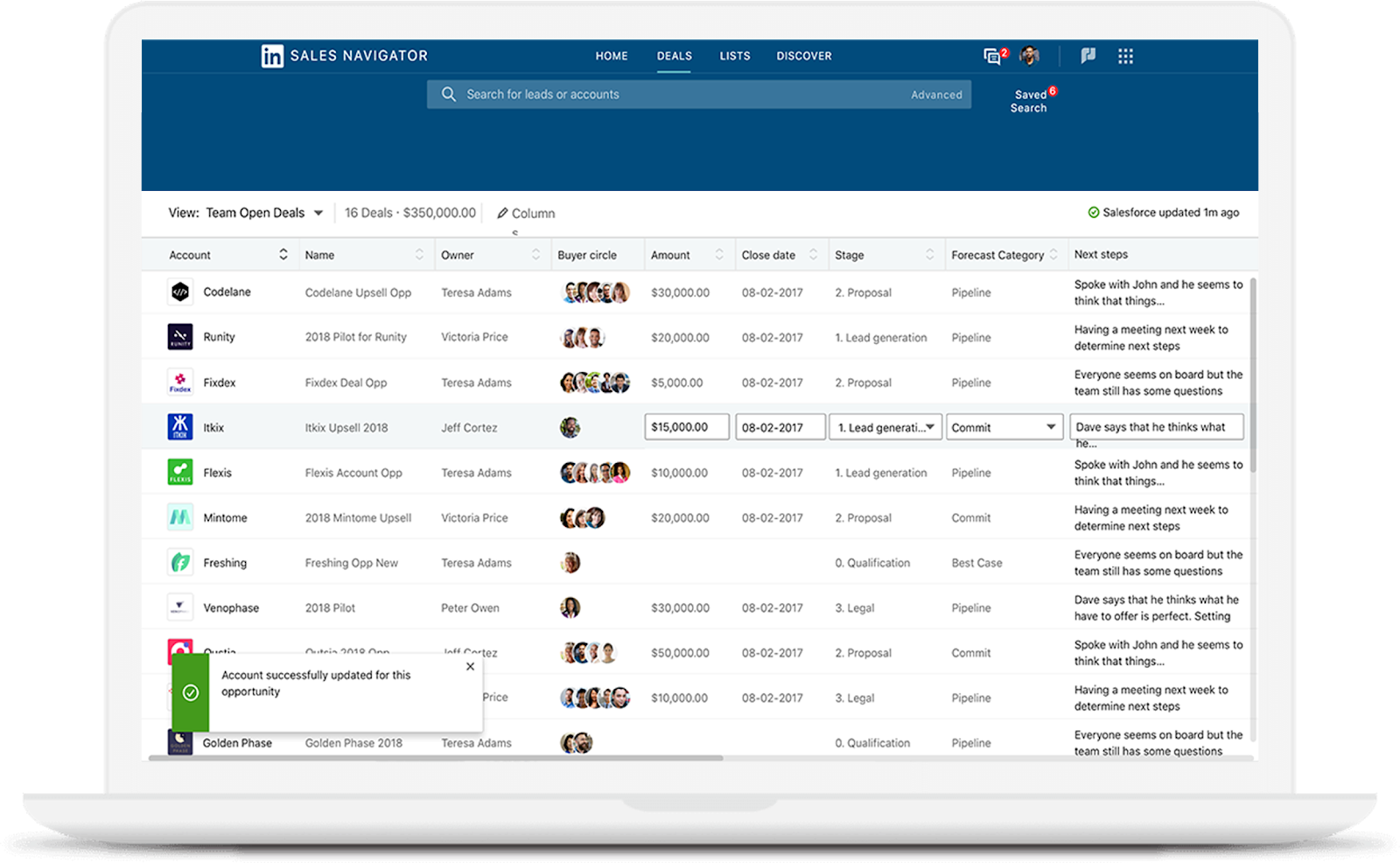 Through the Sales Navigator you can reach out directly to prospects and potential partners and by having it integrated with your CRM (yes, they also support this option) you can centralize the information you obtain there as well. 
For certain B2B businesses using Facebook ads to reach out to a custom audience or  automate direct messages through Twitter are also interesting options to check out. 
Automating Your Sales Outreach: The Takeaway
Your buyer has evolved to embrace digital transformation. Nowadays, clients are much better informed about the market you represent. For that reason, they demand an extra value and a personal approach on every interaction, especially in B2B businesses.
While big brands dedicate countless resources to nurture these long buying cycles, the challenge for small and medium-sized businesses is to find the right tool and automate as many processes as possible to save time and focus on those prospects that fit their target and might actually convert to clients. 
Luckily, there are dozens of cloud-based applications with type of solutions that fit SMBs limited budgets. The must-have is definitely a CRM, the epicentral platform where you can store your more valuable asset: your data. Taking a step further, you can integrate your CRM with other business tools to enable more processes and cover all the interaction points with your potential buyers.
About the author:
Claudia Martinez Monsanto is Marketing Manager at HubSpot. Currently, she creates blogs, case studies, ebooks, and newsletters for the PieSync brand. This tech-savvy writer is constantly searching for that great story behind a use case.