Following our recent announcement of  OroCRM 2.0, we'd like to reflect on the enhancements made to the application.
The new release has brought major improvements to the Opportunity and Sales pipeline management making OroCRM even more powerful for sales teams to better facilitate data orchestration.
What's New in Opportunity and Sales Pipeline Management
Although Channels are still kept as entities within OroCRM, a Sales channel is no longer required to create and manage leads and opportunities. Opportunities can be created not only for the Business Customers but for virtually any customer type available in your OroCRM instance. Due to their improved multi-channel capability, Opportunities can be used as a unique sales tracking tool to analyze results from past business interactions and deals.
Due to the enhanced Opportunities and Sales pipeline management functionality found in OroCRM 2.0, it's possible to:
Enable/Disable Lead and Opportunity Entities;

Relate Opportunities directly to the Accounts;

Create Opportunities for  all  the customer types available in the system;

Create Opportunities straight from the Account or Customer form;

Access detailed sales history as a single opportunities list from the Account view;

Track deals straight from the Opportunity view.
Let's overview each improvement in more detail now.
Enabling Leads and Opportunities as Features
We have now facilitated the ability to enable and disable leads and opportunities as features inside OroCRM.
The option to switch off leads and opportunities has been proven necessary for businesses working in a self-serve interaction model, like common B2C Magento stores. These eCommerce businesses do not have a sales department so they won't need to work with leads or opportunities.
If this is the case with your business, OroCRM 2.0 allows you to easily switch off the unnecessary functionality while still providing other features like RFM analysis, marketing campaigns and reports, and a 360-degree view of your customers.
Setting up leads and opportunities can be performed with just several clicks directly in the system configuration. As soon as you enable leads and opportunities as features, the entities appear immediately and seamlessly in the Sales menu.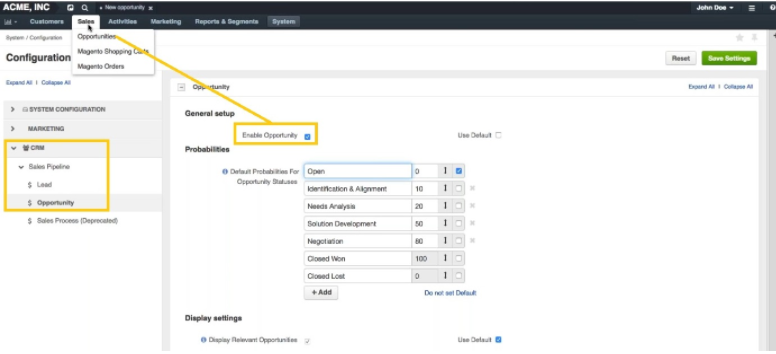 Creating Opportunities for Accounts and Customers
As we mentioned above, in the previous version of OroCRM, it was possible to relate Opportunities only to the Business Customers. Now that this mandatory relation has been deprecated, the users can relate the Opportunities directly to the Accounts and create these for different customer types.
If your organization only sells via your website, you may not need a sophisticated multi-channel CRM functionality since you don't have to track multi-channel sales. To keep things simple, you can relate opportunities directly to the accounts representing your customers in the CRM system.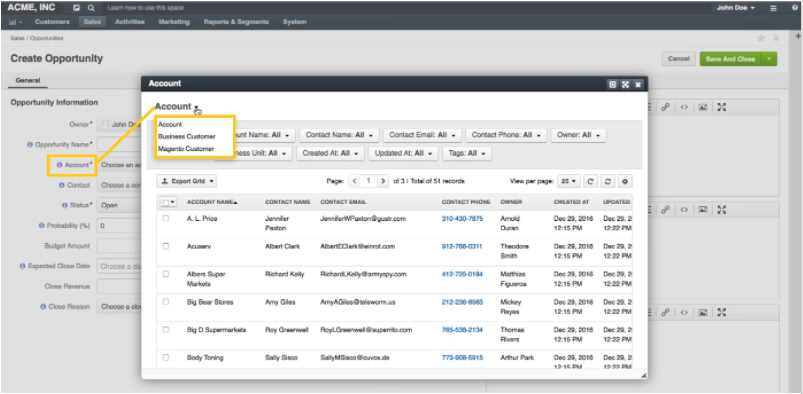 You can always enable the additional complexity of multiple customer channels later when the need arises, though.
For example, if your company has customers belonging to different channels (let's say you are selling both B2B and B2C), you may want to track deals with same customers coming from different channels and have the ability to create an opportunity for any customer in the system, no matter how they originally got into it.
In OroCRM 2.0, it's possible to create opportunities from OroCommerce or any other B2B eCommerce platform customers such as PrestaShop, WooCommerce, eBay, etc. Opportunities are a great sales tracking tool, as they allow you to clearly see your sales pipeline, forecast revenues, and manage sales departments more effectively.
Creating an Opportunity from Account and Customer Views

With the latest improvements, it's now possible to quickly create opportunities straight from Customer and Account views. For example, when you're negotiating with a customer and have their profile opened in front of you, you may instantly create an opportunity with just several clicks on the same form instead of clicking through the system.
View the Complete Sales History within Account and Customer View
Now that you can create sales opportunities for any customer type, you can access the detailed history of deals with a certain customer from their respective Customer view.
The same relates to Accounts. Once inside an Account view, you obtain a 360-degree view of all relevant information. In addition, the Account view will now display the complete list of all the opportunities assigned to a specific account or customer linked to the account. Having the full list of opportunities for a particular account helps you quickly analyze your past and current deals.

Tracking Deals from the Opportunity View
A sales rep processing an opportunity can now get a complete view into the deal history of a particular customer. The new feature enables the sales staff to track successful sales, see lost opportunities, compare past and current opportunities, and use this data to manage ongoing projects for each customer. This feature is enabled by default and can be optionally be turned off in the CRM configurations.
The new improvements within the Opportunities and Sales management have made OroCRM 2.0 even more flexible and easier to manage sales. Again, Leads and Opportunities can be enabled or disabled as features depending on requirements. Sales teams are provided multiple options for creating opportunities and relating them to Accounts or various Customer types. It's now much easier to get the full 360-degree view on Customers and Opportunities.
Stay up to date on what's new in OroCRM 2.0! We'll be keeping you posted on other significant application changes in our blog.
Contact our friendly team to chat about your particular CRM needs.