In our 1.7 release, there were two major improvements made to web tracking. The first is that web events can now be linked to CRM data such as customer profiles. The second is that the tracking engine is now capable of recognizing anonymous activity and connecting it to customer accounts once created. Both these updates enhance our ability to provide you with a more complete view of the customer, create refined customer segments and launch targeted marketing campaigns.
Relation between web events and CRM data
Prior to this release, our web tracking engine was capable of registering user activity on a website and storing it in OroCRM so businesses could track general website traffic. This allowed them to keep tabs on the dynamics of particular events, such as new customer registrations or items being put in shopping carts. However, the data lacked a clear connection with customer profiles.
In the new release, our updated web tracking engine links anonymous activity to corresponding customer accounts once you link your tracking website to a channel (i.e. a Magento store). For example, when an anonymous user decides to register on your site, the events will be connected to the customer record in OroCRM; and, when a registered customer puts a product in their shopping cart, the event will sync with both the Magento Customer and Magento Shopping Cart records.
This provides businesses incredibly valuable information on customer behavior down to the products they are interested in buying. This web tracking capability now allows sales and marketing teams to segment the customers based on refined criteria such as the period of time they visited (or haven't visited) your website, the particular pages they have looked at, products they viewed and carts the customers abandoned. This allows marketers to personalize the customer experience and send targeted offers and ultimately increase retention and sales.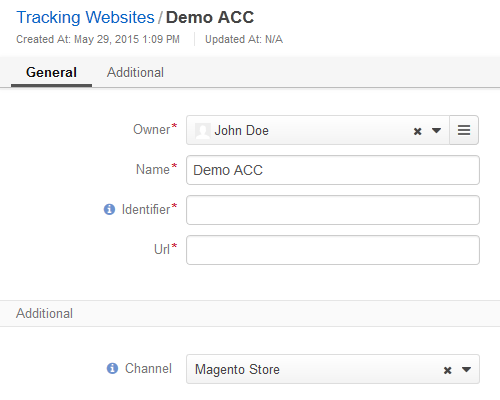 Recognition of guest activity
If a particular user is temporarily anonymous—either because he recently cleared his cookies, changed browser, or used a different device—then sooner or later he will identify himself by logging in or registering. As soon as this happens, the tracking engine will establish a connection between the customer profile and all events previously registered with the same 'Visitor ID' and sync it to the customer account.

Magento users that have the last version of OroCRM Tracking installed will get this improvement out-of-the-box. By default, customers are identified by their Magento ID that is cached when a visitor logs in or registers. This feature allows your team not only to market and sell to existing customers, but identify new potential customers very early in the customer journey.
Schedule a demo with one of our solution architects to learn more, or you can try OroCRM for yourself here.
As always, we look forward to hearing your feedback and comments in our forums.