As a B2B enterprise, you might think that social media is not as relevant for driving sales and brand awareness as it is for B2C companies. However, things like social media and influencer marketing are no longer restricted to B2C marketing. In fact, 77% of B2B marketers are leveraging platforms such as LinkedIn and Instagram for organic and paid content to drive leads and sales.
But one concern amongst B2B marketers when it comes to social media marketing is Return on Investment. Return on investment (ROI) is used to measure the ratio of returns earned on investment concerning the cost of the investment. Measuring the ROI lets you know if you are gaining or losing from a marketing investment like buying Instagram followers from a platform like iDigic. 
Research shows that marketers who measure ROI generate 12 times more year over year return than marketers who don't. Despite the importance of ROI, only 35% of marketers measure their content marketing ROI.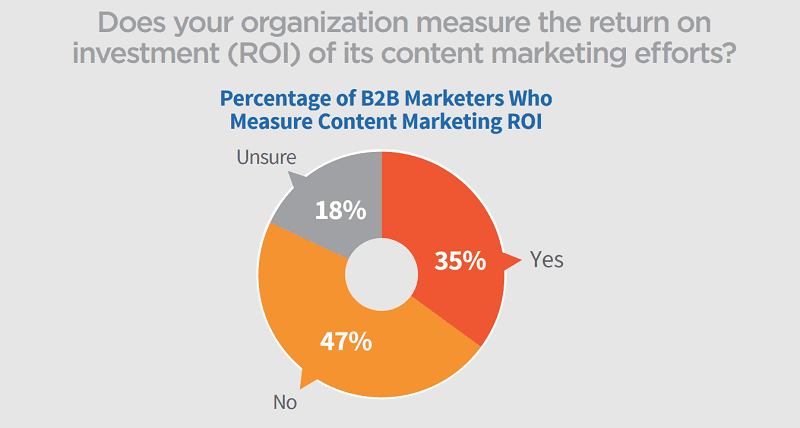 And if you're an Instagram marketer, research shows that the platform has the second-highest ROI for social networks. So you'll definitely want to know how to grow your ROI on Instagram.
So in this post, we will examine various ways you can grow 10X ROI On Instagram. 
1. Set Your Goals
No marketing strategy is successful without defined goals and laid out plans to achieve those goals. Having a 10X increase in ROI is only possible if you know what you want out of each marketing campaign. 
So it's important to set your marketing goals before commencing marketing on Instagram. Your goals will determine what type of approach you should use and will also help you measure the success rate of every marketing campaign. 
The best goal strategy to use is the S. M. A. R. T strategy:
Specific:

You need to have specific goals for every marketing strategy you adopt. Avoid vague goals. 

Measurable:

The success of the goals should be measurable. Unfortunately, 51% of social marketers still find it hard to measure their ROI. At the end of each campaign, you should be able to state if the goal was achieved or not. 

Attainable:

While aiming high is good, setting goals that are out of your reach won't give you much. Set goals that are attainable at the level your business is at. 

Relevant:

Every goal you set should apply to the overall goal of your business. Don't leave out the bigger picture when setting marketing goals. 

Timely:

Every goal should have a timeline or duration, this will make it easy for you to measure the success of the campaign and also increase accountability. You can break down big goals into mini-goals and allocate a deadline to each one. 
Mailchimp does a great job of creating highly targeted yet engaging campaigns for their B2B market on Instagram:
2. Identify Your Audience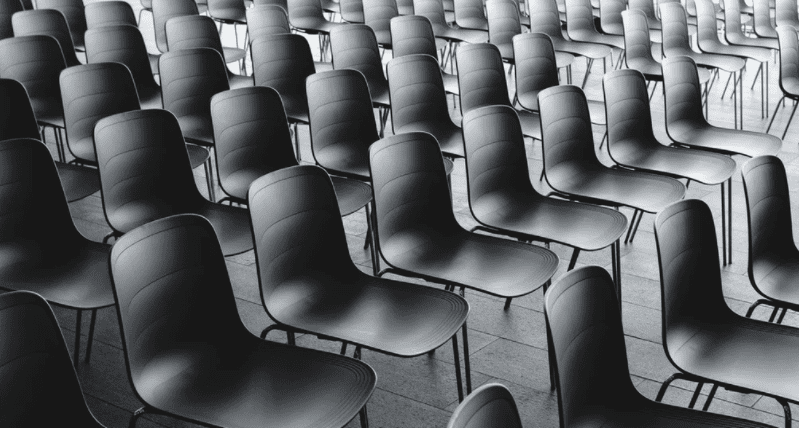 No matter how much money you put into your Instagram marketing campaigns, if you don't know who you are trying to target, the campaigns will fail. This is why 63% of marketers create content based on buyer persona. 
You need to develop a relevant buyer persona. This means that you need to know your audience, know what they like, what they hate, how to capture their attention, etc.
Data reveals that 48% of buyers will only consider a brand that has personalized its service to meet their (the customers) specific needs. 
You can identify your audience by talking to your support team to find out what kinds of questions customers always ask them. This will help you know what kind of content will trigger the interest of your target audience. You can also read reviews from happy clients to give you an idea of what you are doing right. 
For example, Hubspot has used the Highlights feature of their Instagram page to promote lots of their helpful customer resources and pro tips for making the most of their B2B platform: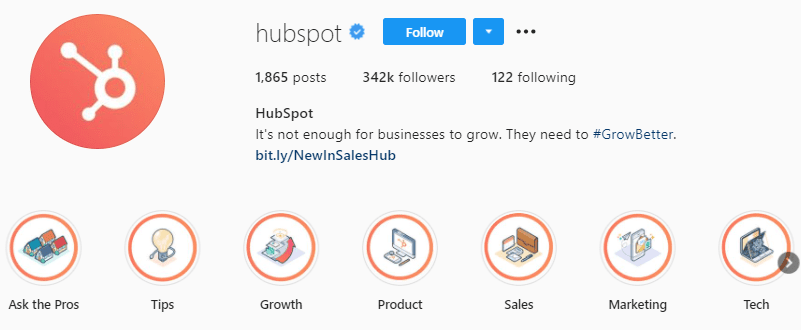 3. Use Sponsored Ads
Using sponsored ads entails paying to have sponsored content posted on Instagram to a target audience. The potential reach of Ads on Instagram is 849.3 million users. 
So If you want to increase your brand exposure, get more web traffic, generate more leads, and conversions, which will ultimately increase your ROI, you shouldn't ignore sponsored ads. The best Ad types to use are photo and video ads with an appealing caption. 
The success rate of Instagram Ads is high because they are non-intrusive, this makes them less annoying to the targeted audience and increases the conversion rate. Ads are also hard to miss because they occupy the full screen of mobile devices. 
Again, Hubspot drives engagement, traffic, and  brand awareness with helpful content used in their paid Instagram ads that are highly relevant for their B2B audience: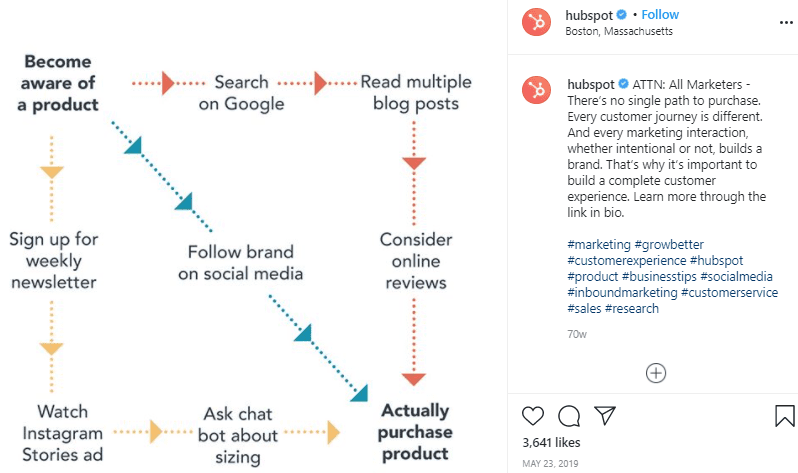 4. Partner with Influencers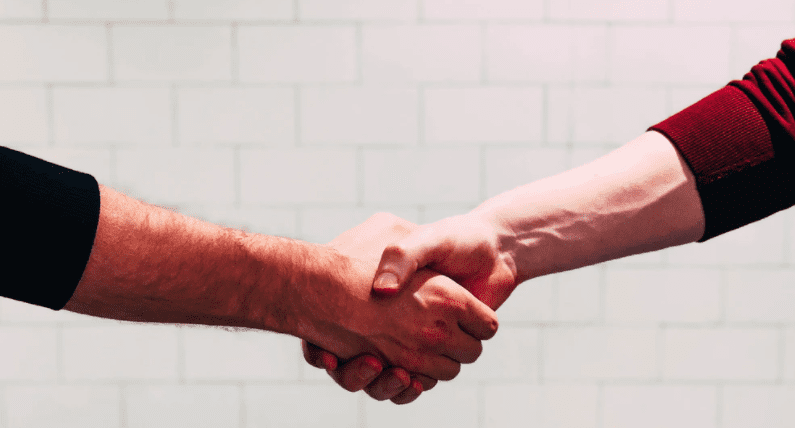 With over 49% of consumers depending on influencers for a recommendation, and 67% of marketers hiring the help of influencers to promote their content, It is no wonder that Influencers have grown to become a force to reckon with in Instagram marketing.
Research has shown that for every 1 dollar spent on an influencer marketing campaign, marketers earn $6.50. The best influencers to use are those in your industry, especially those whose audience applies to your brand. They already have a loyal and large follower base that makes decisions based on their recommendations. 
5. Cross-Promote on Other Social Media Channels
If you want to see a 10X increase in your ROI, then you need to take your promotion to other social media platforms like Twitter, Facebook, and LinkedIn. Research shows that 54% of people conduct product searches on social media. Cross promoting on all these platforms by using an integrated social media approach will give your brand the exposure needed.
Also promoting on other platforms will enable you to reach your followers on those platforms willing to do business with you, but do not know you have a profile on Instagram. 
You can cross-promote on other platforms by using tools such as Hootsuite to automatically post Instagram content on these platforms, or you can post the link to your Instagram profile on the other platforms. 
Deloitte uses an integrated approach to social media while tailoring content to the specific B2B audience and content best practices of each platform. Here's an example of a recent campaign for their 2020 Millennial Survey across Instagram, LinkedIn, and Twitter: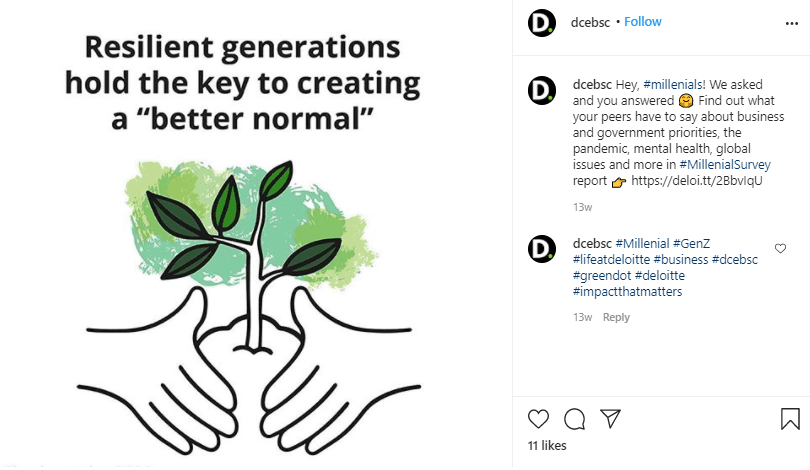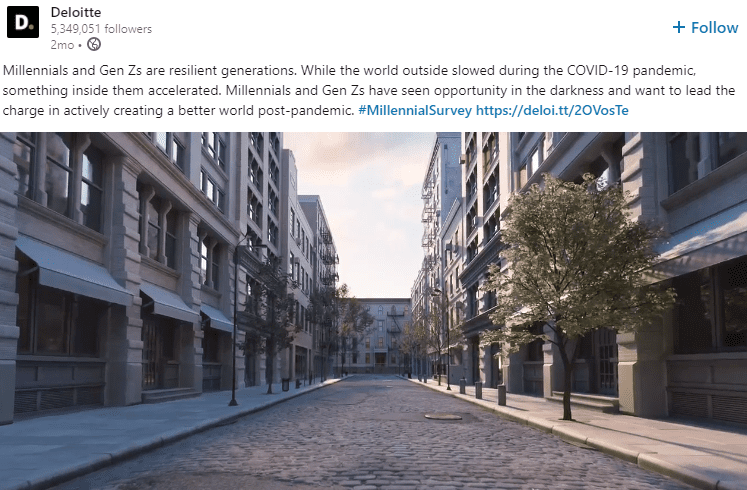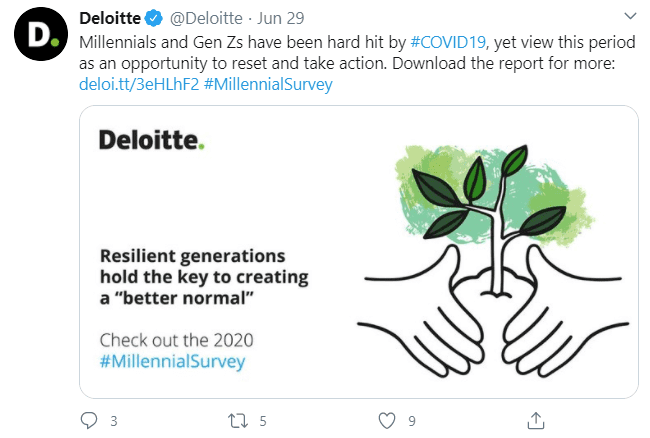 6. Use of Hashtags
About 75.1% of posts on Instagram contain hashtags The use of hashtags can not be avoided if you want to get the best out of Instagram marketing. 
However, avoid using crowded hashtags. Unique hashtags will drive more traffic to your page and increase your engagements. If the hashtag is too crowded, your target audience will find it difficult to identify which one is yours in the search results. 
Instagram allows you to use as many hashtags as possible but the average number of hashtags you should use is 10. Posts that have high engagements have just about 7 hashtags. 
You can also use hashtags in your stories, this will increase your engagement, as over 500 million Instagram accounts view stories daily.
In this example, Accenture makes use of the popular hashtag "#MondayMotivation" to reach their B2B customers with engaging content: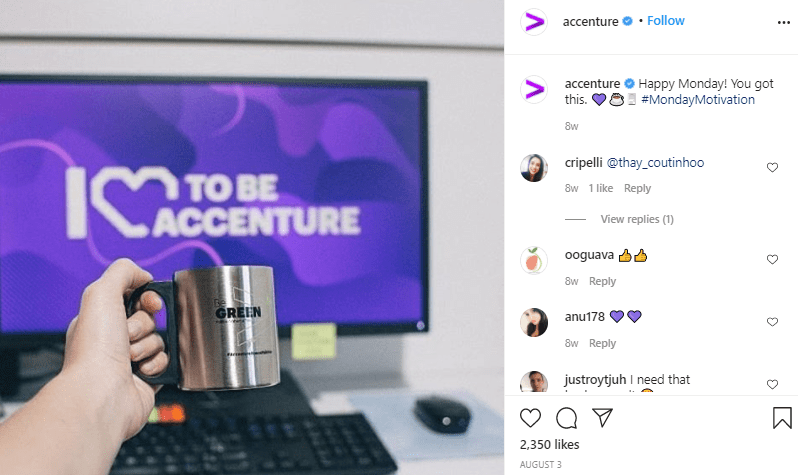 7. Create a Strong Business Bio
Instagram has over 25 million business profiles, and over 200 million users visiting at least one business page daily, with 80% of Instagram users following a business every day. So for your business to stand a chance, you need to have a unique bio. 
You can liken your Instagram business bio to your resume. If your bio is not strong, your target audience won't notice or take you seriously. People should be able to know important details about you and your business by looking at your bio. 
The first thing you should have is a good brand name and username. Both names should be easy to spell. You also need a wonderful profile photo, that's relevant to your brand. 
The next thing you need to pay attention to is your bio content. Instagram gives you a maximum of 150 characters to write a description in your bio, take advantage of it. Go straight to the point and highlight important details about your brand. 
Your bio is the only place that Instagram allows you to post a link. Ensure you put the link to your website in the bio, your target audience will click the link when they want to visit your website. 
You can also insert your email address, phone number, or other important contact details.
8. Integrate with Existing Business Tools
While Instagram offers plenty of useful data and information under your Insights section, that data is of little use if you cannot view it within the wider context of your sales and marketing strategy.
That's why it's essential to ensure you are tracking engagement activities such as link clicks in conjunction with your overall campaign metrics. Integrating your Instagram metrics with your CRM can help to contextualize your Instagram performance and create more actionable insights. 
For example, with OroCRM, you can get a more holistic understanding of your pipeline when you can easily view your prospects' engagement activity with your Instagram content along with other touchpoints. 
Conclusion 
Even though the different ways examined may look very trivial, adhering to them will go a long way to boost the efficiency of your Instagram marketing campaign and ultimately give you the desired 10x ROI. 
Have you tried any of these methods? Kindly let us know.