Businesses run dozens of applications that store customer contact data. Customer Relationship Management (CRM), marketing automation, customer ticketing, and eCommerce systems are just a few applications where customer information could be stored and duplicated. If these systems don't communicate and aren't synchronized with each other, it will be difficult to manage your customer information across disparate systems. That's why we've partnered with PieSync to help synchronize customer data across multiple cloud applications.
We're excited to inform our Community that PieSync's intelligent data synchronization is now available to OroCRM cloud users. The new PieSync connector keeps all OroCRM contact details synchronized with other business applications. Let's take a closer look at how PieSync works.
Syncing Contact Data with PieSync
PieSync, the Belgium-based IT & services company and an Oro technology partner, develops solutions that help keep all customer information up-to-date across multiple applications. After selecting which systems require data normalization, all customer contact information will be consistent moving forward.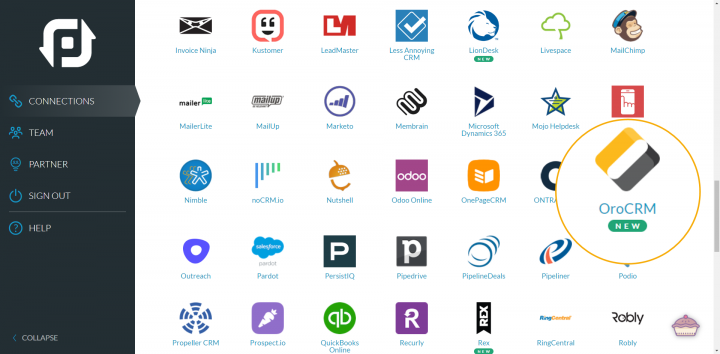 PieSync offers over 100 apps to sync
The key benefits of getting OroCRM contacts normalized and synched are as follows:
Any data changes are instantly reflected across your connected systems. Forget about updating data through importing and exporting or switching between systems. Due to a seamless two-way contacts sync, the connector for OroCRM by PieSync will do that heavy lifting for you. The solution automatically makes all necessary updates in real time. For example, you can immediately update your customer contacts with new prospects without being involved in the process.
Normalized data across multiple systems ensures absolute visibility and a single source of truth. The PieSync solution for OroCRM normalizes contact data among your marketing, sales, and helpdesk systems. This ensures your team obtains a single source of truth when it comes to customer information.
Increased productivity within teams and error-free data. You only need to enter data once, which saves time and eliminates errors when communicating with customers.
Quick and user-friendly setup without any installations or downloads
There's no need to install or download anything. To initiate the process, you'll only have to log in to your PieSync account. Choose the application you want to connect to OroCRM, set up the connection, and configure how both systems will interact.
User-defined conditional logic and logic rules
You can add your own "If-this-Then-that" rules and conditions to define what data should be transferred from one application to the other and how exactly it should be updated. For example, if you're syncing contacts in your both billing and CRM systems, you can set a rule based on which your billing system contacts with the revenue greater than $3000 will be synched to your CRM and tagged as VIP customers.
Flexibility and customizations
It's possible to choose and modify the sync direction, create filters to manage subsets of contacts, sync specific data like deletions or unsubscribes, and specify which of the connected applications should be used as the central database. Whenever required, you can also put synchronization tasks on hold.
Sneak Peek: What the PieSync Connector for OroCRM Looks Like
Let's see how we can set up a two-way sync by connecting cloud-based OroCRM and MailChimp.
To enable a seamless sync, you'll need to authorize PieSync to access your OroCRM and MailChimp accounts. This is fully secure and safe. To connect an OroCRM account, you'll need to provide the domain, username, and an API key. PieSync will tell you how these can be retrieved.
Once both apps are authorized, choose the contact type. For this example, we've specified Contacts for OroCRM and Subscribers for MailChimp.
The next steps will be specifying the sync direction, setting up connection rules using If-Then filters, and defining which app "wins" in case of a conflicting change.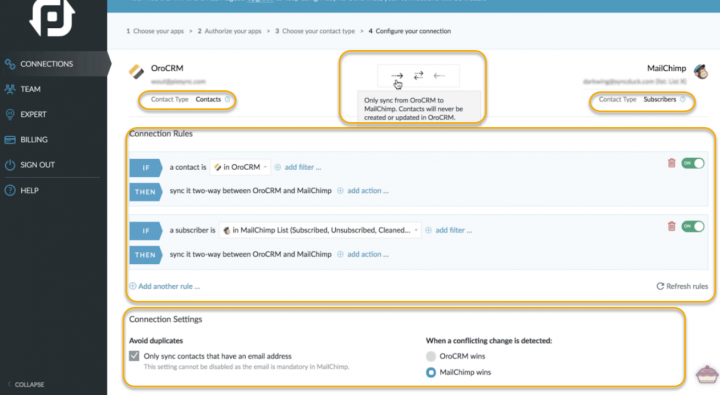 Configuring the connection between OroCRM and MailChimp through PieSync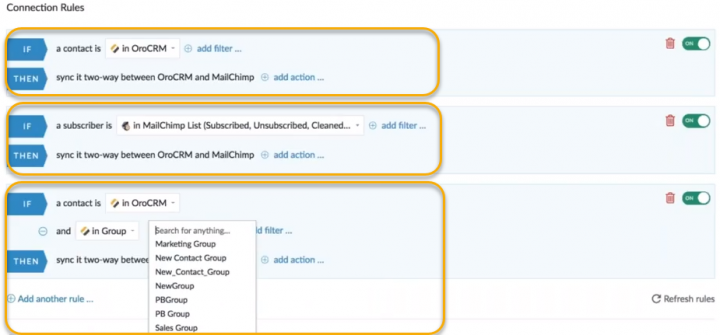 Using If-Then filters to set connection rules for the OroCRM-MailChimp sync. You can add as many rules as you need.
After that, configure field mappings for both applications. There are three predefined field mappings with three standard fields existing in both OroCRM and MailChimp. Additionally, you can set custom mappings to specify which contact fields should be kept in sync between the applications, including custom fields.
Field mappings
Once you're finished with setting up the sync, click the "Start Syncing Now" button. All of your contacts and leads information in OroCRM and MailChimp will be fully synched and will always be up-to-date, regardless if the information was changed from OroCRM or MailChimp.
Still wondering how to sync your OroCRM contacts and leads two-way through PieSync? Watch this comprehensive video tutorial explaining every step of the synchronization process
How to Access PieSync for OroCRM
The PieSync extension for OroCRM is available at our Marketplace. To learn more about syncing contacts between OroCRM and other cloud apps through PieSync, click the Contact us button on the extension's page. You'll be redirected to the PieSync site for further details.