As we continuously improve OroCRM to make it the most flexible open-source CRM application on the market, we are excited to announce that we have added a new Google Hangouts integration, which is now available on the development environment.
One-on-one customer interactions have never been easier! You can now call your prospects and customers directly from OroCRM via Google Hangouts, increasing work productivity and giving a personal touch to the customer experience. Sales representatives can make calls to their leads and contacts directly from the dashboard using either their phone number or email address, making it faster than ever to make and log their sales calls, generate new leads, and win opportunities.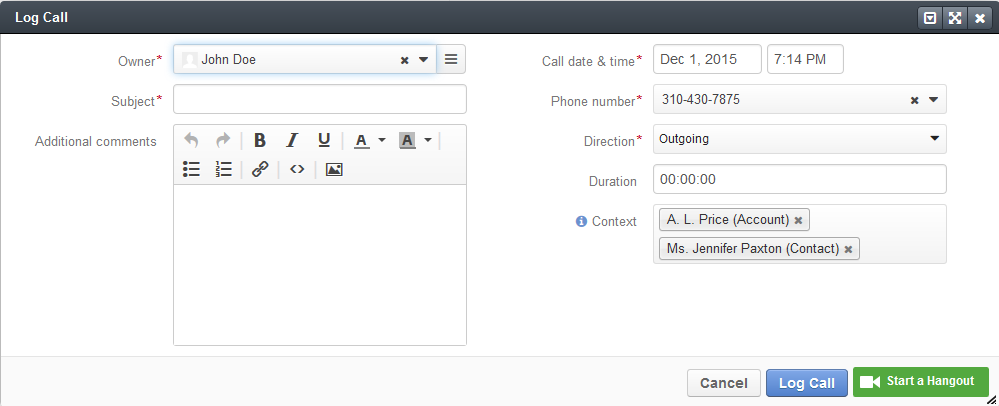 Quickly and easily begin a new Hangout with the Start a Hangout button in the Log Call dialog box.
This feature is also great for support teams. Customer service representatives can now connect with customers through Google Hangouts and utilize the screen sharing function for necessary support cases. Google Hangouts is also integrated with your Calendar, allowing you to pre-arrange a meeting and then quickly launch a call from the event page.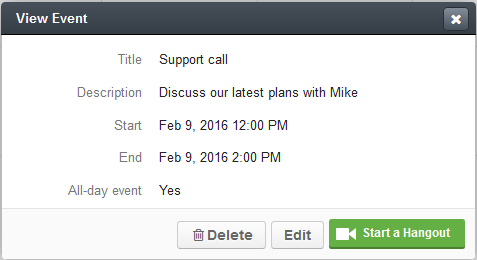 Hangouts integrates with your Calendar as well, making calls with customers easier than ever.
Beginning a new Google Hangout call is easy! Simply click on the Hangout button next to the contact you want to call, or start a Hangout from the Log Call dialog box. Most calls within the USA and Canada are free, and you can pay your balance for other regions using Google Wallet. For further instructions on how to set up and use Google Hangouts, you can visit our user guide.
To try this feature today, download and install the current development version of OroCRM. Note that the Google Hangouts integration code is stored in a separate repository, as the integration will be distributed as a separate extension via our Marketplace.
If you happen to find any issues with Google Hangouts (remember, development is not yet finished and this is a preview version), please report them on our OroPlatform GitHub page.
As always, we look forward to hearing your feedback and comments in our forums.
Contact us today if you would like to learn more about OroCRM.