One of the most exciting additions in the recent release of OroCRM and OroPlatform Community Edition (CE) 1.10.0 and OroCRM Enterprise Edition (EE) 1.12.0 is the Kanban Board View for Opportunities. Designed to give businesses and their sales teams a comprehensive, at-a-glance view of all their opportunities, this new feature will help gain sales pipeline insights, streamline operations, and incentivize employee productivity.

What Is a Kanban CRM Board?
A Kanban board is a data visualization tool that maps out the status of various projects and opportunities, letting you optimize your workflow in a simple but very effective way. Similar to OroCRM's Grid View, you can use the Kanban Board View to immediately see a global view and easily process your various sales opportunities, including probability of closing, expected close date, deal worth, close reason, and more. However, unlike the Grid View, where much of this information is undifferentiated, the Kanban Board View highlights the most important data points for sales teams to quickly digest relevant information and understand what stage of the sales process all opportunities are in.

Kanban CRM Board View Features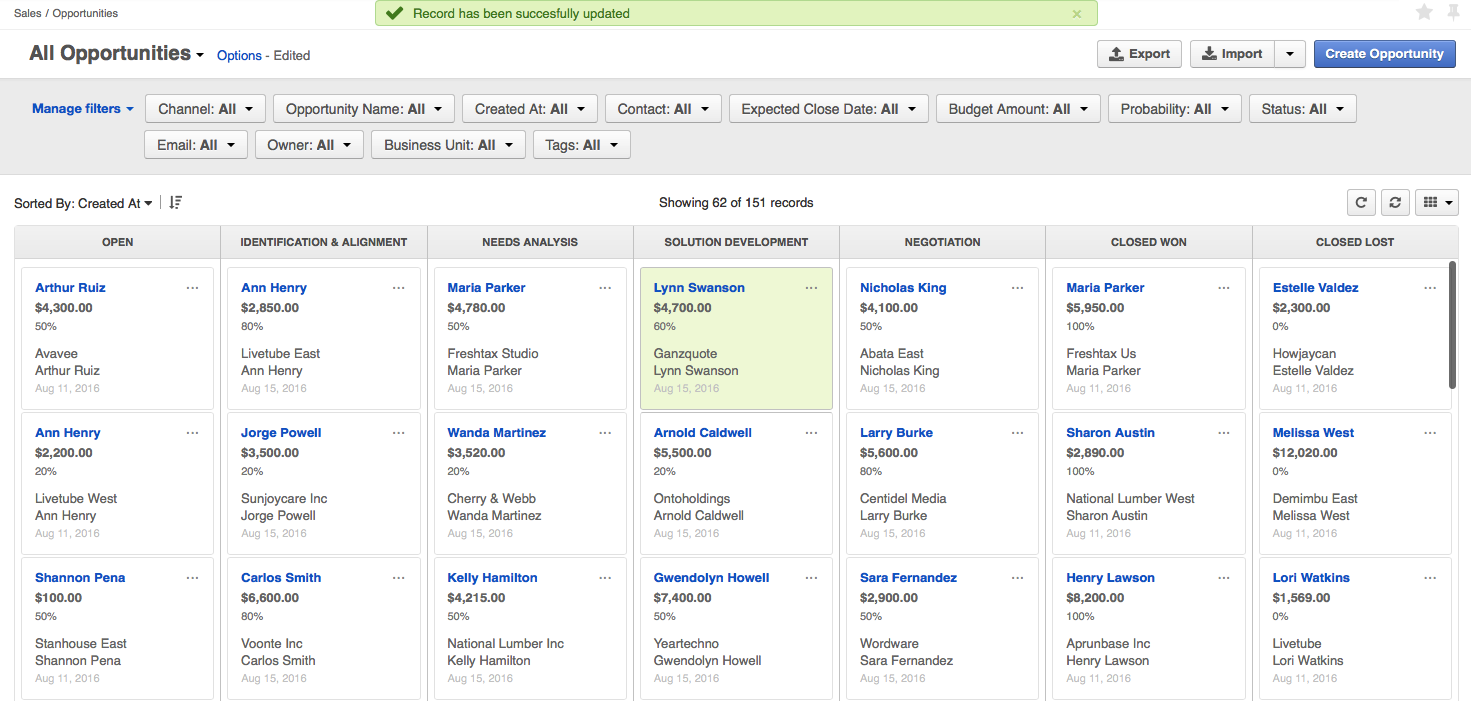 Using a set of configurable statuses that match your business's unique sales process (i.e., open, closed, lost, etc.), the Kanban board displays all opportunities in terms of where they exist along the sales journey. Each opportunity record is shown on a card that contains its relevant information, including opportunity name, owner, probability, budget, expected close date, etc.
Other features provided with the Kanban Board View include:
Easily qualify leads and opportunities to the appropriate sales stage by simply dragging the opportunity card to the desired status

Filter and sort opportunities to showcase and prioritize only relevant opportunities

Save Kanban Board views with filter and sorting preferences for quick access and future use

Switch between Kanban Board and Grid view at any time
How Kanban Board View Helps Sales Teams
It is important to note the Kanban Board view may show information that should not be available to the entire sales team. This may include the probability of close and total dollar value of an opportunity of each sales representative. To address this, OroCRM's Access Control List (ACL) and role-based management grants managers and administrators permission to view to this information while restricting access to general sales representatives.
The new CRM Kanban board feature can be used by any OroCRM user, including those in marketing, but the groups that benefit the most are your sales managers and sales representatives.

Benefits to Sales Management
The Kanban Board View allows sales managers to see every opportunity in a single view so that they can quickly spot bottlenecks and shrinking sales pipelines. Based on these insights, sales managers can then develop strategies to overcome any hurdles and maximize sales figures at the end of each month, quarter, or year. Specifically, sales managers can use the Kanban board to:
Manage pipeline and sales forecasts more easily.

Managers not only get a comprehensive view of all opportunities, but they can also quickly and easily drag and drop opportunities to the correct status. This allows them to keep sales pipelines accurate and up-to-date which results in better sales forecasts.
Spot bottlenecks in the pipeline quicker.

Managers will be able to quickly identify if opportunities linger in a particular status. Sales strategies can then be crafted to help move opportunities to the next stage of the sales process.
Create future sales strategies based on current state of pipeline.

Quickly assess your pipeline and apply the right pressure to your sales team if majority of opportunities are still in the beginning stages. Conversely, sales managers can quickly spot if most opportunities are near closing stages where marketing will have to start lead generation campaigns to add prospects to the sales pipeline.

Benefits to Sales Representatives
The Kanban board is also enormously helpful for individual sales representatives. By giving them a comprehensive and up-to-the-minute view of their opportunities, sales reps can push the status of deals forward and track their personal sales pipeline. Specifically, sales representatives can use the Kanban board to:
Save time.

The ability to quickly see the status of every opportunity means representatives no longer have to sift through irrelevant information to find what they need. This gives them more time to focus on their customers.
Increase productivity.

A global view of their sales pipelines lets representatives concentrate on what matters most, whether that means closing deals, focusing on stuck opportunities, or canvassing new leads
Foster Competition. Seeing their deals progress alongside other representative's deals can foster healthy competition. Sensitive information, like total deal amount and probability of close, would be protected and can be viewed by managers.
What Else Is In Store?
We built the Kanban Board View in order to provide you with a convenient and comprehensive way to analyze your data and develop quick solutions. However, although we have only turned it on for your sales opportunities, the CRM Kanban board has the potential to be applied to virtually any entity. In future releases, stay tuned for even more tools and features that will help you meet your customer needs and reach your business goals.