It has never been easier to build a good reputation for your brand. Your presence on social media, online forums, listing sites, business review sites, corporate websites, etc., can go a long way in helping you build a reputation for customer service, experience, and satisfaction.
But there's another side to the coin.
While getting social approval with a few clicks and quality content is easy, it's just as convenient for your detractors and disgruntled customers to leave bad reviews and destroy your standing in the market. And that's where a reputation management strategy can come in handy.
Typically, reputation management refers to the effort you put into influencing how visitors perceive a particular brand when regarded online.
This is important because a brand's online reputation is a determining factor for most customers when they go shopping. For example, a recent study found how 57% of customers often rely on the social presence of a specific brand to decide if they want to do business with them.
The good news is that there is a range of content marketing strategies that you can deploy to boost engagement and solidify your brand's reputation.
Why Is Content Marketing Crucial To Online Reputation Management?
The most effective strategy for a B2B company is to build standing for quality and service! And for that, you need to make your brand/business a thought leader with the help of content marketing strategies.
Content marketing is used by 88% of companies (B2B), so even if you don't have a content strategy, the chances are that your competitors do.
Content marketing is the key to becoming an industry vertical thought leader. As a B2B marketer, it is essential to frequently publish informative, fresh, and relevant content.
But before that, you need to precisely determine what your target audience demands, their concerns related to your specific market, and how your service/product can help solve their problems. Then, once you've analyzed all this data, build solutions to their pain points into compelling and engaging articles that they can't help but read.
Take adequate time to learn how to craft engaging content, and make sure that you keep track of the recent changes in your sector to prevent your brand platforms from becoming irrelevant.
Additionally, it is also good to maintain content calendars and follow through with them. That way, you can build your brand's online reputation in the industry, get desired attention while generating qualified leads and driving conversions for your business.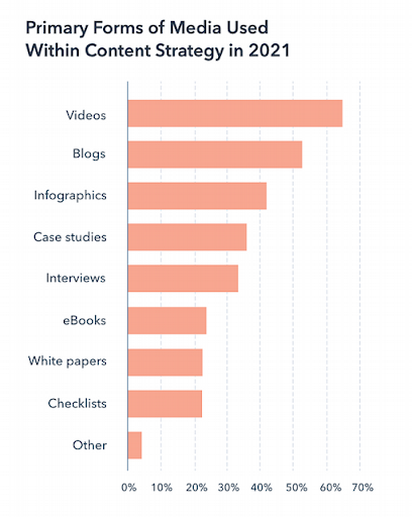 Source: Hubspot
Here are some ways how content marketing can help you with online reputation management:
Develop Microsites For Crisis Management And Control
Corporate blogs and social media are always the first fronts in the battle for a stellar online presence. But content marketers these days are also investing in microsites, a small domain with some highly targeted pages.
Microsites are small websites that aren't merely for reputation management. These sites are also viable tools to control a crisis. They allow crisis-focused content to be removed from your brand's main site to avoid the existing customers.
In addition, microsites provide your businesses with a platform that keeps your messaging consistent in a public relations (PR) emergency.
Here are some tips to formulate content for crisis communication for a microsite:
State the problem clearly




Ensure transparency




Address FAQs (frequently asked questions)




Offer different contact information for the public and press




Provide updated info regarding the actions taken
Microsites serve as a valuable resource for generating new leads and bringing them down your sales funnel. These websites take a straightforward approach to content and design, making them highly effective at connecting with new audiences.
However, you need to prioritize the best practices to create a microsite that generates the most potential qualified sales leads. By doing so, you can encourage visitors to interact with your brand and its content meaningfully. Also, it will help you establish a level of engagement and loyalty that will have a real and positive impact on your company's bottom line.
Branded Articles: Earned And Paid Media
Following negative stories, the crisis can potentially hurt your search landscape for an extended period as Google associates issues when they occur together consistently.
Therefore, publishing more content related to a positive matter will ultimately overpower the undesirable connection. Even though this is a significant simplification of online reputation management, this is the fundamental basis of most strategies.
You can categorize branded articles into two main groups: paid and earned media. While both approaches are entirely dependent upon top-quality content, each has diverse goals.
Earned Media
Generally, earned media placements are acquired via journalist pitches, press releases, organic amplification, etc., of paid content. Although this offers several benefits, a reputation management approach has two primary goals:
Earn credible backlinks to constructive content




Secure placements on influential and leading publications that rank

for branded searches
As most media outlets logically want to discuss your crisis, it is imperative to have a compelling pitch and a great caption to persuade them to highlight something else. 42% of prospective customers Google companies they plan to do business with.
Here are some critical practices to write a press release for reputation management:
Share the most crucial info at the very start




Make your headline catchy and memorable, include your brand name




Keep it short and straightforward




Provide quotes from influencers and decision-makers




Add links to high-quality content you want to rank for branded

Google searches
Paid Media
Paid content comprises sponsored content, advertorials, and MAT releases. This type of content is focused on customers; there are fewer brand mentions, and the emphasis is on presenting services/products as a viable solution. In addition, the links that these articles contain typically don't offer SEO value as they have been bought. However, it is still vital to include them just in case other publications get the story naturally and feature it on their sites.

Source: Hubspot
Essentially, paid media has the following goals when it comes to reputation management:
Increase positive brand mentions to offset negative press




Earn organic media placements if the story is picked by journalists

or bloggers
While sponsored content inclines to moderate brand mentions, each article must contain your brand's name somewhere within the main text. Incorporating your brand's reputation into the heading is ideal. However, it is often challenging with paid media.
Here are some best practices to incorporate while creating paid media content:
Build brand trust by adding your company name with positive content




Educate readers




Don't sell your brand




Cite your sources, including your brand
Infographics For Positive Visual Search Content
Infographics make for very effective positive visual content to optimize your B2B online reputation management through this content marketing type. Google may also add image carousels in your branded searches if adequate visual content exists.
Even though it may be harmful to companies whose reputation issues are being caused via viral memes, it presents opportunities for other brands looking for real estate with content you have come up with.
An infographic strategy should help you:
Earn backlinks from credible sites to infographics on your

domain




Encourage Google to include an image carousel by creating

brand-specific images
Your public relations (PR) team and SEO marketing team will need to endorse those graphics on dependable websites, earning backlinks to the original content on your site.
 Here are some ways to create infographics that are great for your reputation:
Opt for a specific topic and explore it in detail




Add unique information that communicates a story




Make it digestible, simple, brief (below 10,000 pixels)




Post the visual content to your website and entice others to use it

with appropriate citation




Brand the graphics with your website and logo
Infographics are like visualized articles. Therefore, make sure you structure them the same way. For example, begin with a thesis, provide supporting facts, and conclude with what you want your viewers to draw.
Also, break up your graphics into smaller cards as it can help you increase social shares and your chances to break into Google's image carousel.
Involve Influencers With Impressive Reputation
Influencer marketing is becoming an undeniably crucial B2B marketing trend. When brands generate content involving significant, relevant, and influential people, customers are bound to attract.
Here are some of the advantages of partnering with the right influencers:
Improve your brand integrity




Increase your brand's online visibility and expand your audience




Boost your engagement level and get your leads talking about your

brand




Build loyal and lasting relationships with your prospects
People may not engage with your content on digital channels, but they follow the relevant influencers who they take as industry experts. Therefore, as a B2B marketer, it is imperative to find and connect with the right influencers who can reach the exact audience you want to target.
And doing it right can help you build long-term relationships with these influencers or industry experts. As a result, they can promote your business and offerings in the future while boosting your online reputation significantly.
It allows your brand to:
Provide fresh and informative content.

When your business

collaborates with influencers, it is an excellent method to deliver

new content to your leads and prospective clients like blogs or

reviews regarding your brand through the influencer



Build trust.

Customers often consider brand mentions if or

when it is coming from an expert in the industry. Therefore, when

these industry experts vouch for your content efforts, it can

instantly boost engagement with the audience



Increase awareness.

Since popular influencers have thousands

of followers, the promotional posts about your business offerings

can expose your brand to leads and prospective customers and even

support those existing customers.
However, make sure you connect with only those influencers that work within your business's niche.
Initiate Community Participation
One thing is certain when it comes to clients; they want to purchase products or leverage services from businesses that share and honor their values and give back.
Being an active community member can be of immense value for B2B firm's content marketing. After all, visually appealing content remains essential for increasing brand awareness.
As a B2B company, you can leverage this community involvement to increase awareness about your brand. Start by focusing on your online content via multiple formats such as:
Posting Videos

. This is an effective and practical way of

showcasing your business's community participation. For instance, if

your employees have taken part in some sports event or some other

event, you can post some clips from behind the scenes (BTS)



Posting photos

. This is another excellent way to tie up your

community involvement and your content strategy by posting pictures.

For example, if you have participated in any community or fundraiser

event, you can post those on your digital sites and channels
Developing a nurturing sentiment and focusing that community involvement from your brand demonstrates trustworthiness, which B2B customers especially look for in a particular brand.
Wrapping Up
Understanding the role of content marketing in online reputation management optimization is key to future profitability and growth. It is possible to accomplish your reputation management goals through careful content creation, coordination, and search engine results.
About the Author
Matija is a marketing and tech enthusiast, both on and off work. You can never bother Matija with "just one more question" when it comes to marketing. He likes to get scientific about marketing, performing research on various related topics – sharing his insights and interpretations with like-minded enthusiasts.