We're pleased to announce that Oro is extending its educational offerings. We now offer three exclusive technical training programs: Oro Fundamentals, OroCommerce, and OroCRM. These courses are designed to provide a firm grasp of the concepts behind Oro applications and allow participants to become more adept at working with them.
Read this post to get a better understanding of who should sign for Oro technical training, how they are organized, and what topics are covered within each course.
Who benefits from Oro Technical Trainings?
This training benefit our Enterprise customers, partners, community members accountable for software development, and just about anyone that wants a deeper technical knowledge of Oro products.
As an Oro Enterprise customer, enroll your in-house developers in one or more of our  Oro technical training programs and save time and money on outsourcing the implementation and maintenance of your Oro applications. Knowing your way around Oro applications enables Oro partners to better serve their clients and provide superior customer experience.  
By completing Oro tech training, our Community members and external developers will improve their skill set through relevant professional development that can be leveraged to win more clients and grow income.
How and where is Oro Technical Training delivered?
We offer training in two convenient formats:  online and offline. On-demand, onsite sessions can be held anywhere around the globe. Our training sessions normally run from 9:00 a.m. until 5:00 p.m., whether they are held at your premises or delivered online.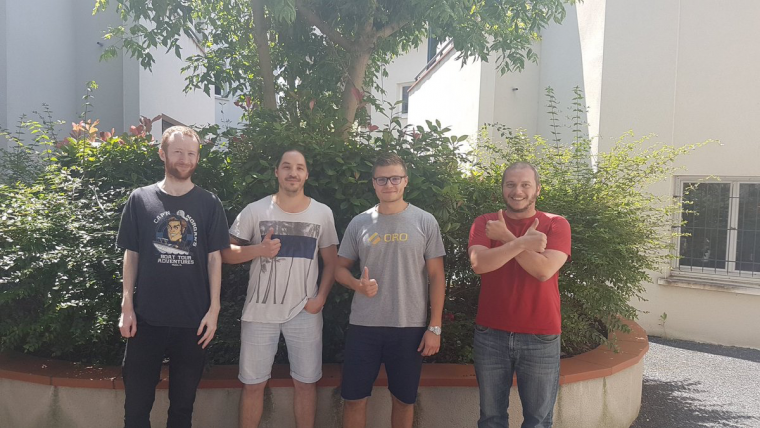 Attendees of an onsite OroCommerce technical training recently held for one of our partners in France. Image source
What are the prerequisites for Oro Technical Training?
First, you should have some basic knowledge of Symfony and Doctrine. In addition, every student needs a computer connected to the internet and an Oro application already installed. You'll also need to install IDE and debugger and establish the connection between both, install PhpUnit5, install code style utilities and integrate them with IDE. That's all you need to do to be set up.
What topics are covered?
Each of the three training sessions has a unique focus.
Oro Fundamental Technical Training

is an intensive five-day course that gives an in-depth introduction to the Oro development environment. It covers testing, extending functionality with bundles, entities, and their import and export, security and access control lists (ACLs), workflows, API, JavaScript components, integrations, activities, language, and translations. Optionally, course takers will be taught about MessageQueue, Oro dashboard widgets, the reporting and segmentation engine, and other helpful topics to round out your basic tech knowledge of Oro solutions.

OroCommerce Technical Training

is a three-day course. You should first complete the Oro Fundamental Technical Training before taking this course. It provides a deeper dive into functionalities and application components covered in the entry-level course, with a  focus on OroCommerce. Attendees will learn OroCommerce's frontend layouts and themes, customer entities, products and catalogs, pricing, inventory, taxes, checkout, payment and shipping methods as well as shopping lists, orders, and RFQs.

OroCRM Technical Training

is a two-day course that builds on  Oro Fundamental Technical Training.. The training covers such topics as contact information, sales process, activities, and marketing tools.
Will I be bored?
We believe you will be engaged and not bored. All training delivers a well-balanced amount of theory and practice with a pinch of fun on top. During the explanatory and demonstration parts of the sessions, our instructors use a pre-designed slide deck along with a sample Oro development. Attendees put their newly minted knowledge to work with extensive hands-on experience with the features they explore. Everyone gets the opportunity to test their newly acquired knowledge in the staging environment.
Ready to step up your Oro product game? Get in touch with us to enroll in the course and format of your choice and get details on delivery and price.