Businesses handle large amounts of internal and external correspondence on a daily basis and managing it all can be daunting and time consuming. As part of our efforts to improve corporate communications and help users increase productivity, we introduced email automation in our 1.8.0 release. This feature allows businesses to set up corporate mailboxes that can be accessed by multiples users, configure automatic responses to emails, and configure the automatic creation of Leads or Cases.
All businesses want to make their sales process more efficient. Individual sales representatives have to regularly ply through thousands of emails a month and manually create Leads in their CRM. Now, with OroCRM, a company can set up a mailbox for its entire sales team (i.e. sales@domain) to handle inbound leads and sales requests. The administrator can easily manage access permissions for the mailbox, which can be given both to individual users and specific roles, making it easy to maintain proper access. The sales team can then define certain criteria to categorize incoming emails, generate automatic responses, and automatically create leads, thus standardizing their process and saving time.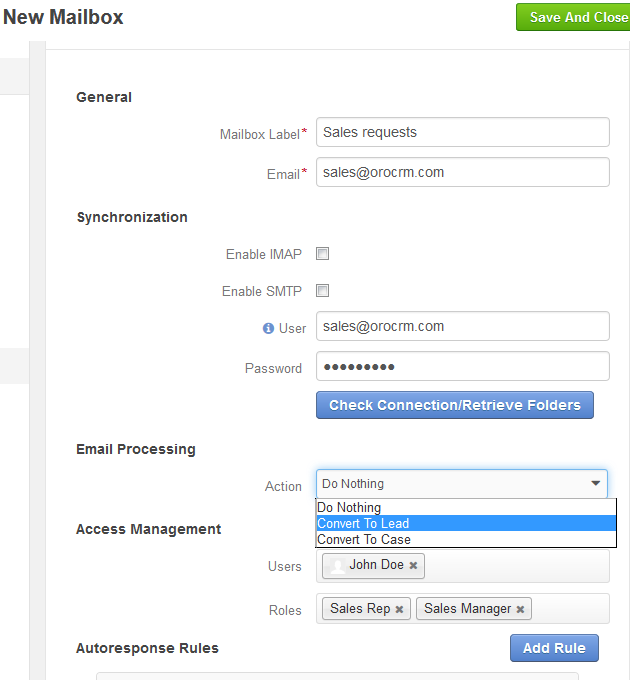 A business may also want to set up a mailbox for its customer support team (i.e. support@domain) to handle incoming customer requests. Similar to the sales team, the customer support team can configure multiple auto-response rules with different conditions and messages, so as to create proper replies for different types of customer emails based on who sent it, what is written, whether it was sent during a workday or a weekend, and so on. OroCRM will automatically turn these requests and support tickets into Cases, providing an efficient solution for handling customer support.
When a Case or Lead is created from an email, OroCRM will contain the original correspondence in its activity list, allowing the sales representative or support engineer to keep track of the conversation and have all the necessary information to respond effectively. A developer can easily update criteria, tweak existing processes, or add new ones to customize Lead and Case creation to your business needs.
To learn more about OroCRM, schedule a demo with one of our solution architects, or you can try OroCRM for yourself here.
As always, we look forward to hearing your feedback and comments in our forums.