OroCRM offers deep out-of-the-box integrations with many eCommerce platforms (i.e. Magento, PrestaShop, etc.) providing users many benefits such as better shopping cart management, better customer management, more personalized marketing campaigns and targeted offers. Today we will discuss the improvements made to the Magento integration in OroCRM 1.7.0 and 1.7.1 and how they can benefit your business:
Immediate access to Magento data
We improved the way Magento data is imported into OroCRM, and vice versa, in order to provide a better user experience. To prevent long wait times while the data syncs in this 2-way integration, Oro now imports Magento data so that users are able to access some of the data almost immediately and start working with their Magento channels without any delay. This allows businesses to save time during the integration and immediately access deep customer insights to personalize outreach and increase sales.
Automatic accounts discovery
This feature solves the omnipresent problem of duplicate customer accounts across different stores by automatically syncing and updating customer profiles in your channels. When you create another store, all customers imported within it will be matched towards existing accounts based on predetermined criteria (first name, last name, and email are matched by default), reducing the duplication of data and saving the user time. This feature allows businesses to gain a cohesive view of their customers, no matter which channel they are using or store they are shopping from.
Create and edit Magento customers from OroCRM
It is now possible to create Magento customers directly in OroCRM and sync them back to Magento. This feature helps save time by allowing the user to quickly create a new customer without leaving OroCRM, which can be valuable in many sales scenarios (i.e. an over-the-phone sale with a new customer who is not yet registered). The user will also be able to edit existing customer data from OroCRM and changes will automatically sync to Magento. Any conflicting edits will be resolved based on the channel settings. This alleviates businesses from having to waste time manually syncing and further allows the user to manage most sales and marketing tasks from within OroCRM.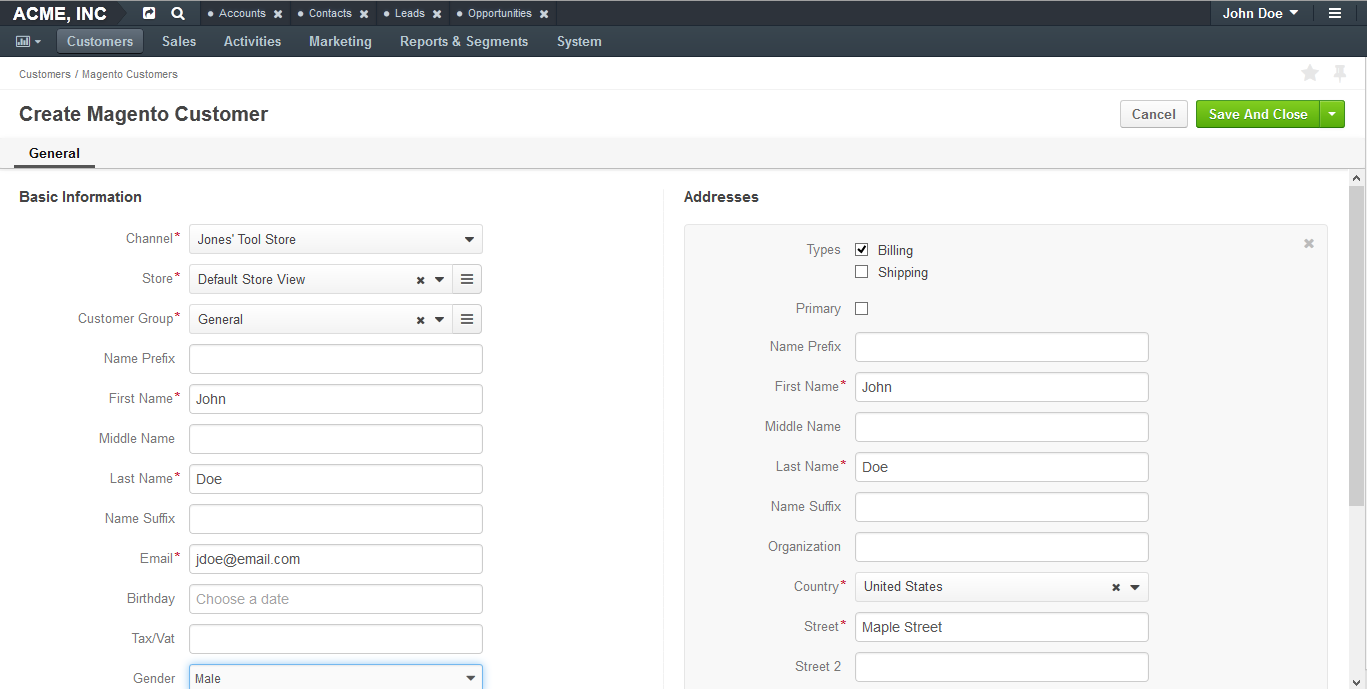 To start using this feature, you need to enable two-way synchronization for your Magento channels and update OroCRM Bridge to version 1.2.0 or higher.
Import Magento newsletter subscribers
Magento newsletter subscribers are now imported into OroCRM as a separate entity and their data is available for reporting, segmentation and email marketing. If you enable two-way synchronization, you will be able to manage subscription status directly from OroCRM. This gives the user the ability to separately analyze newsletter subscribers and better understand their interests to send more targeted offers and increase conversions.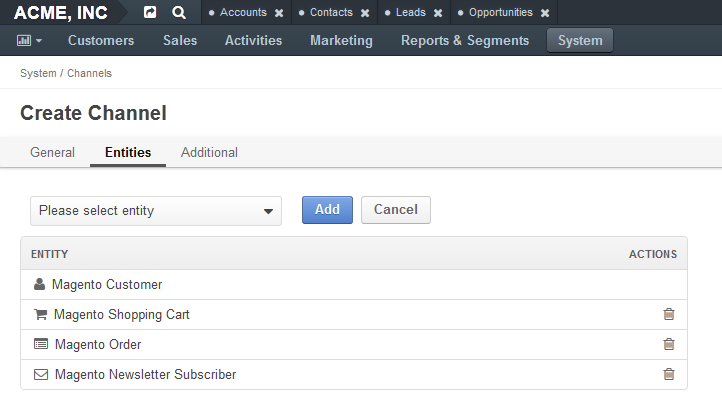 To start using this feature, you need to update OroCRM Bridge to version 1.2.0 or higher.
Guest customer profiles
Guest customers are those who made a purchase but decided not to register in your Magento store. Information collected during the guest check-out process will be used to create Magento customer profiles that will look and behave exactly the same way as regular Magento customer profiles, except they won't be synced via integration and they won't have a current shopping cart. This will allow businesses to still identify non-registered customers and gain deeper insights on them to better tailor their customer experience.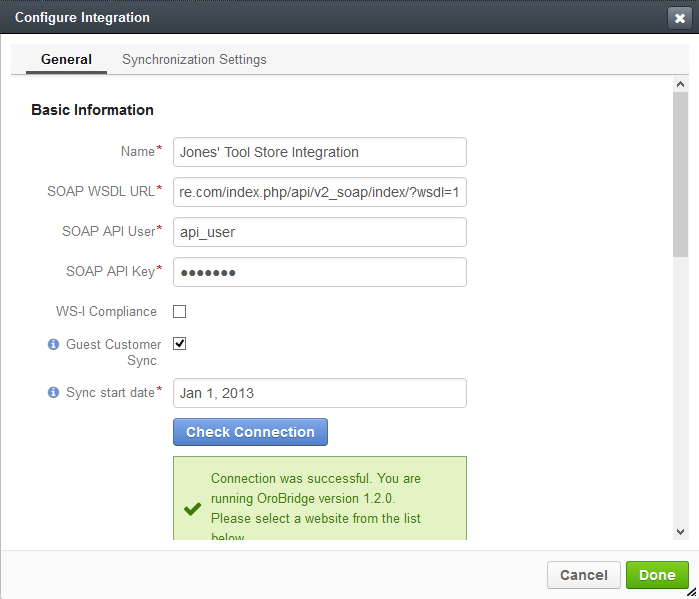 If at some point later in time a customer chooses to register, his existing guest profile will automatically connect to his newly created Magento account and be kept in sync thereafter, saving the user time. If a customer deletes an account in Magento, the Magento customer profile in OroCRM will remain but turn into a guest account, allowing the user to still track that specific customer's behavior. Guest orders placed by registered customers will also be recognized and appended to their corresponding accounts, giving the user the full picture of their customers' purchases.
Cart history
We now store the entire history of the shopping cart. This not only includes items that are currently in the cart, but also all items that have ever been put into the cart by the customer. This gives the user more data about the customer's purchase intents for more precise marketing segmentation and campaigning to increase sales.

If you're interested in learning more, schedule a demo with one of our solution architects, or you can try OroCRM for yourself here.
As always, we look forward to hearing your feedback and comments in our forums.
Thank you!