In today's post, we'd love to inform our community on the OroCRM product release schedule that is set for the next few years.  This post will also serve as a reminder for when support for outdated versions will typically stop. We also offer a brief description on the differences found across our major and minor releases. Please note that technical support will only be provided to OroCRM Enterprise Edition customers but Community Edition users are welcomed to use our help guides and post questions to our forums.
The core, major releases of OroCRM come out once we're ready to deliver upgraded functionality, significant improvements to the system's architecture, and a bundle of new features. The major versions are regularly maintained for bug fixes, scalability as well as security-related fixes.  
Within each major OroCRM version, there are a number of minor product releases that come out roughly every two months. Typically, most of the minor releases (e.g. versions 2.1, 3.3) will be supported for both bug fixes and security issues for the next four months after release.
There are also long term support versions spacing over much longer periods (e.g. versions 2.3 or 2.6). These versions are scheduled to be released every six months regardless of major or minor transitions.
Standard minor versions offer new capabilities and gives a path for users looking to immediately utilize new features. All they need to do is upgrade to the next version once it's available.
The same new features, however, will be rolled out a bit later in the long term support releases anyway. The users that want to take their time to adopt the advancements may enjoy stability and a longer support by catching up exactly with the long-term support versions come out instead of upgrading every few months.
To get more details on OroCRM's versioning timeline or check when exactly the maintenance support of your software version terminates, take a look at the chart below: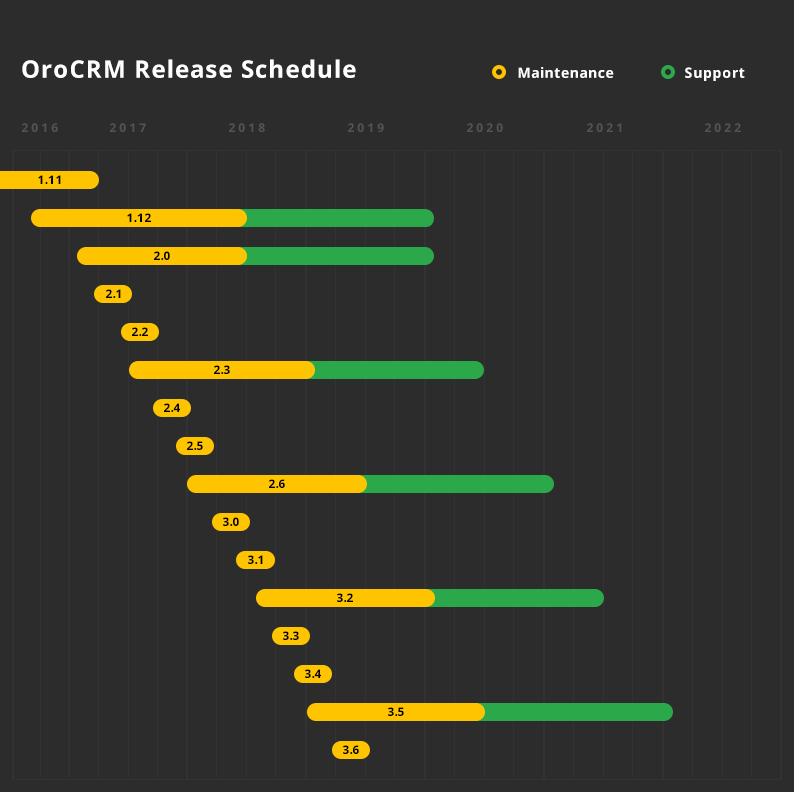 As always, we'll keep you posted on all major and minor releases of OroCRM including maintenance patches, and teasers to cool, new features upcoming in the next release.