Customer support is often instrumental in delivering a great product experience. That's why service agents need a feature-rich yet easy-to-use help desk software to efficiently handle support requests and keep customers satisfied.
We're proud to announce DiamanteDesk, a free open-source ticketing system and customer service software, has developed their application using OroPlatform. Since DiamanteDesk uses the same platform as our OroCRM and OroCommerce products, the help desk software perfectly integrates with our Oro products.
DiamanteDesk was developed by our partner Eltrino, who is a full-service eCommerce solutions provider with a vast portfolio of development projects across US and Europe. Besides its standard customer service software capabilities, DiamanteDesk goes beyond the simple ticketing management solution and provides its users with out-of-the-box features with the following benefits:
DiamanteDesk can be

easily customized

whenever required so that the companies using it could tailor it to their specific business needs;

Due to its open-source nature, this service desk software can be

integrated with the external systems

such as CRM systems (e.g. OroCRM), eCommerce solutions (Prestashop, eBay, Amazon etc), and bug-tracking and project-management tools (e.g. Jira, Redmine, Basecamp and so on);

A full control

over the system is provided via the API;

DiamanteDesk

offers

a special

Support Dashboard tool

to quickly access and analyze help desk-related data;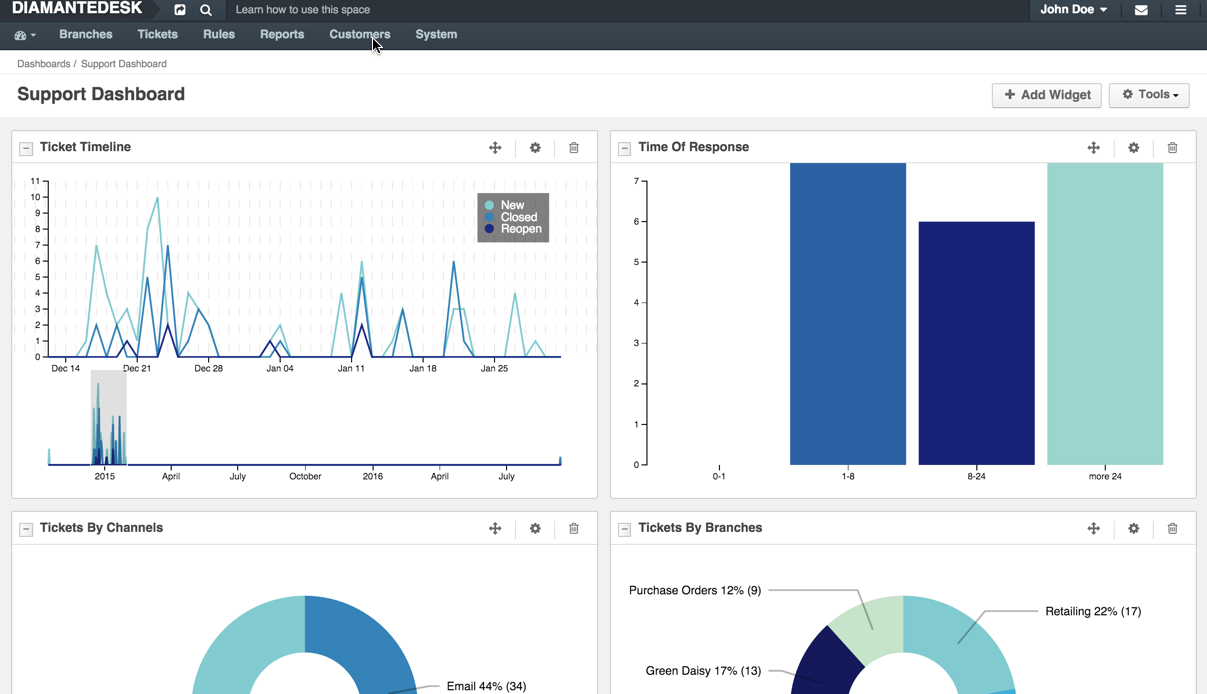 Allows to generate data-rich reports

(based on tickets by priority/branches/channels/response time) to estimate your customer service reps' performance, optimize channel resources allocation, and keep a close eye on all of the issues that have ever been logged in the system;

Delivers an extra supervision option

for the high-priority tickets via the Watchers function;

Allows to set up rules

that determine automated system behaviour and thus save time and effort when managing, assigning and prioritizing service tickets.
We're very happy that our flexible and customizable platform serves as a robust base for other enterprise-level applications. Due to PHP5 and the quality and flexibility of the Symfony2 framework, the Platform provides external developers a reliable set of pre-built features and tools needed to start building their application.
We're proud that such high-performance business applications like DiamanteDesk have become a part of our ever-growing Oro ecosystem.
Would you like to learn more about using OroPlatform to develop your own custom applications? Here's how you can get started. If you'd like to share your opinion or ask a specific question, leave a comment below or simply contact us.