This summer, people are spending a lot more time looking at Coke bottles. They're going out of their way to buy bottles with their own and friends' names on them. They're tagging people in Facebook photos. And when they can't find the name they want, they're having the bottles custom printed.
Coke's "Share a Coke" promotion is a simple and genius example of the power of personalization. The soft drink company took the 250 most common names among young people and posted them on bottles in place of the usual red and white logo. Those with less common names can have custom mini-cans printed or print a virtual bottle to post to social media.
Images of and comments about these personalized bottles (which still sport the iconic red color, serif font and white swish) have been posted over 125,000 times since the campaign started on June 2. Over 353,000 of the virtual bottles have been posted to the "Share a Coke" campaign website. The promotion is making Coca-Cola the most talked about beverage of the summer, edging out other heavily promoted campaigns such as Bud Light's "Whatever USA" campaign and Coors Light's "Live Summer."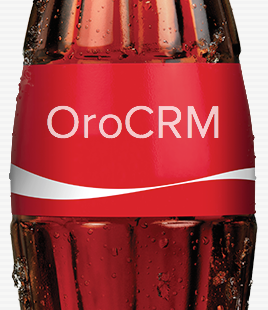 Personalization helps build connections that can bring higher revenue and better client retention. According to research by Experian, personalized emails deliver open rates that are 29% higher and 41% more click-throughs than generic messages. A few ways you can easily personalize transactions, whether online, in brick and mortar or the B2B realm:
Use Names
One of the benefits of CRM software is that you have a record of previous buyers. When it comes time to approach them again, make sure that your communications, whether via email, postal mail or another option, are addressed to your customer personally.
But, this doesn't just end with personal communications. Coca-Cola's named bottles, as an example, are a new turn on an old personalization trick. Florists, bakers and other small businesses throughout the country have posted signs for years offering deals to people with specific names. The chance to win a free cookie or a rose keeps people's eyes on your signs day after day, earning you far more impressions than a generic sign would.  What creative and engaging activity can you do to connect people to your business?
Use Custom Landing Pages to Speak to Specific Personas
Customize the language and offerings on landing pages designed for each of your customer personas or targeted segments. How many custom landing pages do you need? According to Hubspot, sites with 31 to 40 landing pages receive seven times as many leads as those with only 1 to 5. Those that had over 40 landing pages got 12 times as many leads.  Companies that invest in a personalized marketing approach see the results in increased leads and ultimately revenue.
Brick and Mortar and In-Person Meetings
Brick and mortar businesses can accomplish this through specialized catalogs and by training sales personnel in the best approach for each of your business's customer personas. By being a personal guide at the end of a buyer's journey, sales people can increase profits. Simply meeting in person has a highly positive effect. A study by Oxford Economics showed that every dollar spent sending sales professionals to in person meetings with clients brought in $12.50 in added revenue.  Even if you don't have a brick and mortar presence you can look for ways to increase in-person engagement with high-potential or top customers.
Respond in Social Media
More and more customers are using a company's social media presence to reach out with questions, comments and even complaints. Make sure you have someone on staff to monitor Facebook, Twitter and other pages. Thank posters for compliments, engage in conversation, and pass along customer complaints to the people who can solve their issues. This personal touch doesn't just make the person you are messaging happier; it's a public testament to your company's customer-centric values.
What results are you seeing through personalization?  We would love to hear your ideas!