As a rule, repeat customers make up about 65% of a company's business. It's crucial to keep your message in front of existing customers if you want to remain competitive in a crowded marketplace. Your chances of closing a sale with an existing customer are 60–70%, while the likelihood of closing a sale with a new prospect is only 5-20%. It is more cost-effective to encourage repeat purchases where the acquisition cost is already paid than spending to acquire new buyers.
On the other hand, to grow, you must continually acquire new clients. With so many communication channels available, engaging and re-engaging customers and leads isn't difficult. In today's blog, we'll explore push notifications and how to use them to reach out to first-time visitors and stay connected with existing customers.
How Web Push Notification Works
Web or desktop push notifications are succinct, clickable instant messages that are delivered to a user's browser once permission is granted. They work for any type of device or browser. Desktop push notifications allow you to reach users that are not even currently browsing your site.
There are many tools that make setting up web push notifications easy. OneSignal, FoxPush, PushCrew, Push io are just a few. Be sure to select a tool that integrates well with your site's CMS.
Here's how push notifications work. Once a visitor lands on your site, an opt-in box pops up to obtain permission to send notifications.
If the visitor selects Allow, they are automatically added to the list of your subscribers. You can now send themed messages in real time. When the recipient clicks the notification, they are directed to the URL embedded in the message text.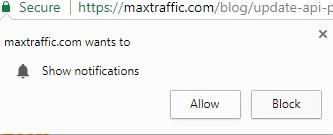 Why Add Web Push Notifications to Your Marketing Mix?
Seasoned marketers know that it makes sense to utilize multiple communication channels such as PPC retargeting, social media, and email. This tactic re-engages users using at least one of these channels. Push notifications should be a tool in any marketer's toolkit as they are highly effective. For example, push notifications sent to less than 5000 subscribers to result in almost an 11% click through rate while for the click through rate for email to the same number of subscribers is barely 3%. Theoretically, site users may unsubscribe from push notifications, but less than 10% of subscribers ever do.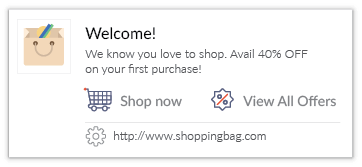 Sample Push Notification Uses
Web push notifications promptly convey any message to your prospects and customers to trigger engagement and drive traffic. Here are a few examples of ways to use push notifications:
     Announce new products or services, arrivals, or back-in-stock items;

     Notify time-sensitive price drops and sales;

     Abandoned shopping carts or payment due reminders;

     Announce new content or educational material;

     Suggest reorder based on date of last purchase;

     Provide order status, product shipment, and delivery information;

     Incentivize visitors to register with contact details in exchange for a discount;

     Solicit feedback;

     Provide prospects and customers with personalized content or exclusive deals based on site activity or purchase history.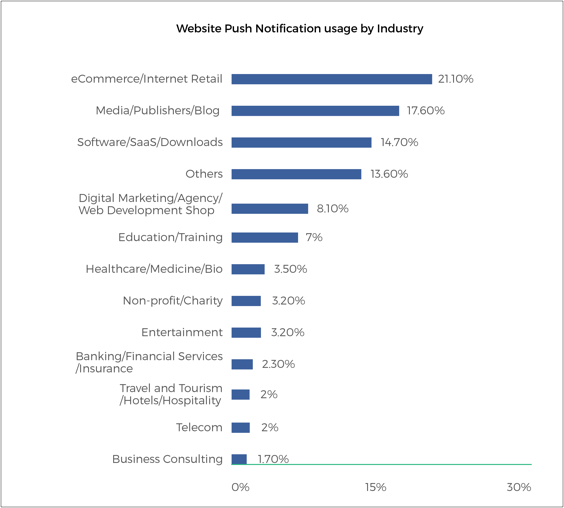 Source: The State of Web Push Notifications 2016
As the bar chart shows above, push notifications are already being used by a variety of companies in all industries and niches. This collection of industry-specific use cases demonstrates how market players are taking advantage of this emerging technology.
That's what push notifications from a website may look like:

Benefits of Push Notifications
As you can see, push notifications are a versatile tool to retain customers and convert leads.  In addition, there are many other benefits to using push notifications.  
Cost effective and easy-to implement
Implementing and sending web push notifications is budget-friendly. It costs almost nothing compared to the cost of developing and implementing a dedicated notification-sending application. Setting up web push notifications is easy too. With just a bit of code, you can be a wielding the power of instant messages.
Wide reach and broad coverage
Push notifications aren't platform or browser-dependent. All popular browsers such as Chrome, Safari, Edge and Firefox support push notifications. In addition, subscribers receive messages on the desktop or mobile devices such as phones or tablets.
Engage subscribers without requiring contact information
Subscribing to push notifications meets the visitor's desire for privacy. It doesn't require site visitors to share their contact details such as an email address. Visitors keep personal data to themselves and feel secure knowing It won't be shared with third parties. Every subscriber is assigned a unique ID created by an algorithm.
Messages get delivered every time
Unlike unwanted emails or annoying in-browser ads, push notifications never wind up in a junk folder or get blocked. Your messages are instantly delivered and won't fall through cracks. They are displayed on the browser whether a subscriber is on the website or not. On mobile devices, push notifications land in the notification tray and immediately catch the recipient's eye.
Important Considerations Before Implementing
Although implementing push notifications from a website is easy, you must have a clear implementation strategy. Subscriber permission is precious and you don't want to squander it. So before implementing, carefully consider the following:
Subscription trigger timing
How soon is a potential subscriber asked for push notification permission? Give visitors enough time to assess the value of your site before inviting them to opt-in.
Incorporate brand identity
Subscribers may receive notifications when not on your site. Don't keep them guessing about who the message is from and what it is about. Clearly communicate your message and your brand. Notifications should contain robust identifiers of your company such as name and logo and include clear, action-oriented text.
Target the audience to the notification
Clearly, there are many ways to use push notifications. Effective use begins with segmenting your subscribers and creating unique push scenarios for each segment. You can segment subscribers by behavior (e.g., first-time visitors or frequent buyers), social or professional status, product category or any other segment that makes sense to your business.
Plan timing and messaging frequency
Web users are inundated with information and messages. So much informational noise means that you must carefully time the delivery of your notification. A blast of messages sent at the wrong time is guaranteed to annoy subscribers and may push them to opt-out. Analyze website visitor behavior, keep in mind the many different time zones and time your notifications accordingly.
Set goals and measure results
As with other marketing campaigns, clearly define the business goals and quantify the value the new channel is expected to deliver. The amount of traffic delivered to the site via notifications is not the same as the number of people who visited the site and completed the call to action.  Don't focus on measuring click rates. Measure performance metrics that indicate true success such as:
     Visitors converted to customers

     Repeat purchase rate

     Average number of purchases per customer

     Average time required to convert a lead into sale
Use properly tagged and tracked landing pages for your push notification destination. Use UTM tags to monitor the traffic and behavior of subscribers who act on push messages.
Push notifications yield results during different stages of buyer's journey because they can be highly targeted. Using push messages is one way to keep your competitive edge. Based on this brief introductory guide, consider if push notifications fit into your overall marketing strategy.