In a recent release of OroCRM, a flexible and very powerful customer analysis feature made its debut. This feature is known as RFM. Today we explore RFM analysis in more detail, particularly for eCommerce merchants looking to use this marketing technique to identify top performing customers in a dynamic way.
What is RFM?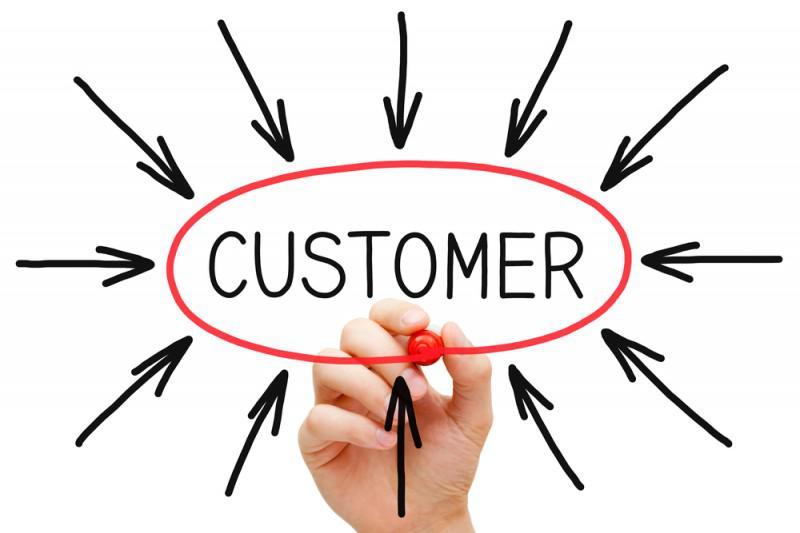 Let us first define RFM Analysis. RFM (Recency, Frequency, and Monetary) analysis is a way to quantitatively identify which of your customers are top customers (amongst other things) based on how recent they purchased, how often they purchase and how much they spend when they purchase. Customers are scored based on these parameters and this score allows you to determine where to spend marketing and sales efforts most effectively.
Define RFM Segments
In OroCRM, a marketer can define and customize as many scores or buckets as needed to properly utilize RFM for their needs. Setup is simple, and takes just a few minutes. Here is what recency frequency monetary values measure.
Recency is measured in days. The fewer days since a customer's last purchase the better so setup a threshold that make sense for your business. In our example below our best customers purchase from our store every week.
Frequency is measured in orders per year. How many orders per year do your best customers make? We decided our best customers order every week, so 50 or more orders makes a great customer in this example.
Monetary value is the amount of money collected and is also setup on an annual basis.
Here is a look at our setup for a very active eCommerce store with a loyal customer base.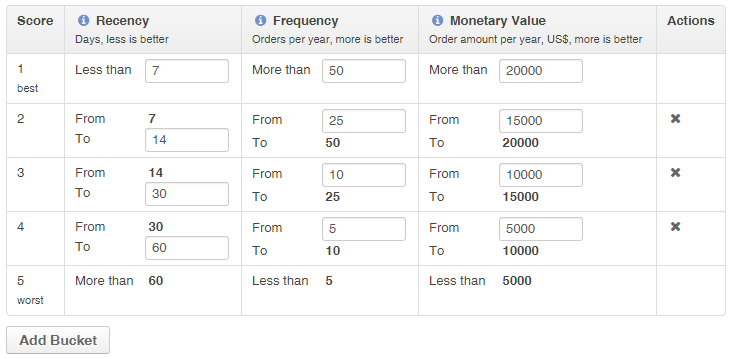 Visualizing an RFM Score
With RFM configured for your eCommerce channel, your customers in that channel have already been scored and are ready for segmentation automatically.
RFM scores can be used throughout OroCRM in many different ways. Here are a few popular use cases of how others are using RFM scores in OroCRM.
Creating segments based on RFM score. Segments often look at Top Customers, Most Active Customers and Top Grossing Customers. Other useful segments include Rescue Customers, 1 Year No Activity Customers and many others to quickly identify groups to target with unique messaging, offers or personalized contacts.
In the Account View, each RFM score is displayed in the channel section. This allows for quick decision making for Sales and Service staff giving them an at-a-glance view of the value of this customer.

RFM is popular for generating reports and using those reports to generate new opportunities. In the example below we created a quick report to show customers with high RFM scores that have recent abandoned shopping carts with a high monetary value. This creates a perfect list of potential opportunities that are very likely to purchase with a simple follow up.
RFM scores are often used in segments to target a specific group through email marketing. Knowing which customers are Top Customers across online channels, having those customers in a dynamic OroCRM marketing list and pushing those customer segments to your email marketing platform makes for a powerful combination.
RFM by Commerce Channel
Because no two channels are 100% identical, RFM can be set up on a per-channel basis. This provides you flexibility to control the RFM parameters for different platforms, marketplaces, websites and others to score each customer appropriately for your business.
RFM for OroCRM
There are many ways your organization can utilize Recency Frequency Monetary value Metrics to maximize revenue, provide proper support and empower marketing and sales teams with effective tools for success. RFM analysis often supports the marketing adage that "80% of business comes from 20% of customers," so make sure to always know who that 20% is and how to best reach them with RFM for OroCRM.
Contact us today for a personalized demo of OroCRM so we can show you this feature and others in a way that focuses on your business needs. Also feel free to use OroCRM yourself anytime by accessing our demo online at demo.orocrm.com. We look forward to hearing from you!