Oro's Marketplace is an essential part of our evolving ecosystem. Its  was launched for both developers wanting to sell/share their add-ons/connectors/feature extensions and market their services, and for customers to have access to innovative, effective, and cost efficient solutions.  
The Oro Marketplace already offers many add-ons to extend on OroCRM and OroPlatform capabilities and help improve the user productivity and customer experience. We're also about to launch the Marketplace specifically for OroCommerce-targeting extensions in late May/early June. The Oro Marketplace promotes both free and paid options. Please refer to our blog post to learn more about extensions we provide.
Building OroCRM extensions and connectors as well as publishing them on our Marketplace allows external developers and agencies to promote their expertise, reach out to new audiences, and boast their OroCRM-compatible apps. For those interested in submitting an extension to Oro's Marketplace, let's start with several things a developer should take note of prior to publishing their product at our site.
Prerequisites:
Before adding an extension to Oro Marketplace, be sure to

prepare the package

and upload it to a repository (preferably to any public repository such as GitHub for free extensions).

To start submitting an extension, log into the

Oro Marketplace website

first and click 'Add Extension' under the 'My account' section.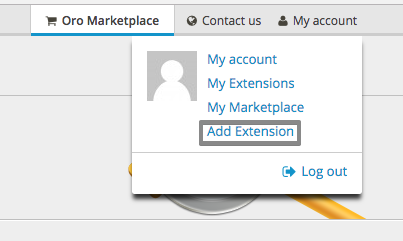 Marketing Your Extension at Our Website
Once you're on the Add Extension page, make sure you fill in the following data:
Pricing information

including currency for paid extensions;

A short product description

– an overview of your application's value to OroCRM product users;

Release notes

(if applicable);

Product support information

(if applicable);

Web URL for the landing page

customers will be redirected to from our website once they click the Get Extension button (for paid extensions);

Up to eight images

with one of them to be chosen as a default image (in

JPEG, PNG, or GIF formats, up to 1MB in size, default image dimensions –

400px x 300 px

).
Marketing Your Extension At Your Company Website
Make sure to reference Oro products with the proper backlink on your company's website. Ensure the backlinked page explains the benefits of your extension and its capabilities inside corresponding Oro application.
Technical Review
To ensure quick review of your extension, please submit the code for review and/or provide a demo of the working extension.
What Comes Next?
Once we receive a request to submit new extension, the Oro Team performs a product quality check to assure the usability of the extension. Until then, submitted extensions will only be available on the My Marketplace page with a "Pending" status. In case any information is missing or needs further clarification. you may be contacted by Oro's marketing and technical teams, so make sure you are have an active email address in your Oro Marketplace account.

As soon as your extension successfully passes the technical review, it will be finally published on the Oro Marketplace. You will receive a notification via email once it gets available.
If you have any questions on contribution or submitting a new extension/connector to OroCRM, OroCommerce or OroPlatform, simply contact us or leave a comment below.