Having in place a feature-rich customer relationship management  solution – like OroCRM – already affords your business numerous benefits. However, to increase the efficiency of your company's marketing, sales, and customer service departments and to leverage all advantages offered in our CRM, your business should think about what data and indicators (KPIs) to track and visualize for reporting purposes.
With this blog, we're going to recap OroCRM dashboard widgets and run through the top-three widgets that sales executives and business owners will find useful.
We are going to cover the following widgets:
Opportunities & Leads Lists

Business Sales Channel Statistics

Forecast
Before we go into the specifics of each widget, let's first define what OroCRM dashboard widgets are and what they are meant for.
Snapshot of OroCRM Dashboard Widgets
Oro Dashboards serve as a launchpad providing quick visualization into CRM data that users would like to instantly access for daily business operations.
Dashboards provide an 'at a glance view' of consolidated information required for agenda keeping, performance tracking or measuring, customer analysis, reporting and much more. Within OroCRM, it's possible to create multiple adjustable dashboards for entirely different purposes and switch between them (e.g. to view particular department's performance, to keep an eye on eCommerce sales, or other sales & marketing activities). In tune with the general idea of our solution's flexibility, within the same OroCRM instance, every department manager can easily customize their dashboards and set them up to reflect marketing or sales specific data respectively. In this post we will elaborate on three must-have widgets for a sales dashboard, but stay tuned for marketing widgets post later on.
The dashboards come with a collection of pre-configured yet customizable Oro Widgets – which are mini-applications to be embedded into dashboards. Users authorized to manage widgets, can naturally add, edit, configure, and move them around the dashboard to their desired preference.
For example, you can configure dashboard widgets that focus specifically on B2B  data they pull from the system  for a quick view into channels health and KPI's you use to gauge the progress towards your business objectives.
Here's what your B2B  dashboard populated with informative widgets may look like in OroCRM: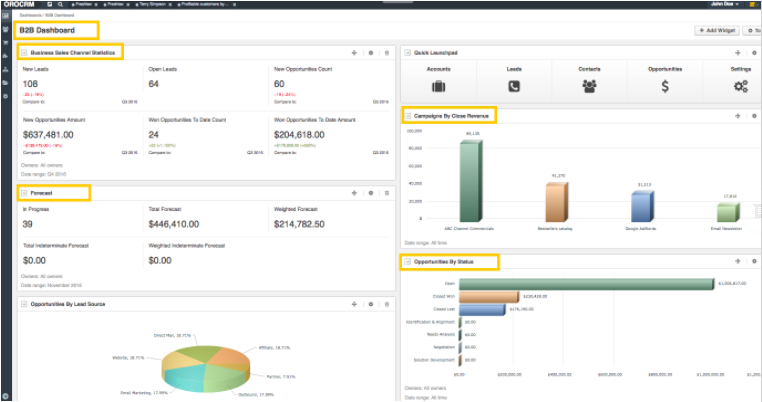 In a wrap, Oro Dashboards and Widgets are a smart set of interactive virtual tools that allow the system users quickly compile and immediately view business information they find important.
Most Useful OroCRM Widgets for Sales Management  
#1. Leads & Opportunities Lists
Leads List
The Leads List widget displays the array of generated leads, their current status and the date sales representatives have last contacted them.

When setting up the leads list, you can filter the system records by business units for more granular reporting. You can select the leads by the role, or narrow the list based on lead owner. Optionally, you can exclude leads in a specific status (i.e.new, qualified, or disqualified) from displaying to create focused views on only leads you want to inspect.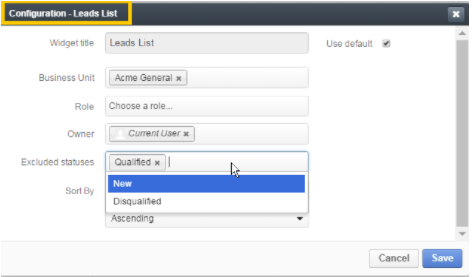 Once you're finished configuring the Leads List widget, it  provides an instant view of all leads across their different stages.
By using the Leads List widget, sales managers are able to estimate the amount of leads that are currently in the pipeline and to distribute the leads among individual sales reps or teams, etc. To make sure that the manager understands the workload of each of their team members, they can complement the Leads List widget displaying all the new leads with other widgets showing the count of leads currently owned by individual sales reps. They can also configure another Leads List widget showcasing only disqualified leads to double check whether their reportees have not dismissed worthy prospects.     
Opportunities List
The Opportunities list widget provides immediate access to highly probable opportunities in the sales pipeline.  It aggregates essential information on the opportunity, such as estimated budget spend, status, probability rate, and expected close date.This is a must-have flexible tool for sales executives as it allows quickly setting up, managing, and analyzing data related to expected revenues.
Setting up opportunities list and sorting the records is actually identical to adjusting the list for the leads.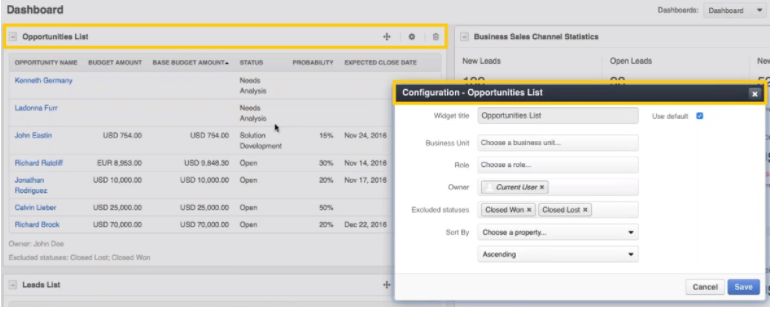 One of the greatest benefits a sales manager will enjoy while using this tool is the ability to add multiple Opportunities List widgets to the same dashboard to monitor opportunities belonging to specific sales reps, teams, company's departments or locations. This allows tracking the performance of specific sales reps or departments and compare them one against the other. If your business dwells in different geographic locations, you might want to create separate dashboards based on locations to find which locations are getting the most sales.
#2. Business Sales Channel Statistics
The Business Sales Channel Statistics widget is a useful tool for obtaining data related to the leads and opportunities and measuring the success of their processing. It displays the actual state of things within your sales pipeline and provides an insight into performance of B2B channels in your business.
This widget presents the amount of new leads that have been created within a certain period, the current amount of open leads, the number of new opportunities created over the specified time, as well as the expected and actual revenue from those opportunities.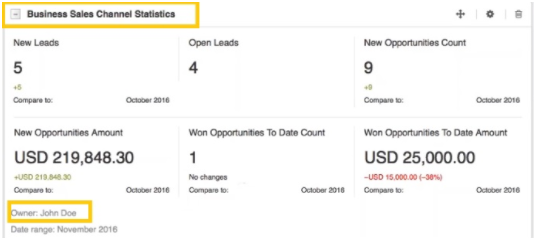 To see specific information in this configurable widget like choosing which metrics to be displayed, simply add, remove, and rearrange their order in the Business Sales Channel Configuration window.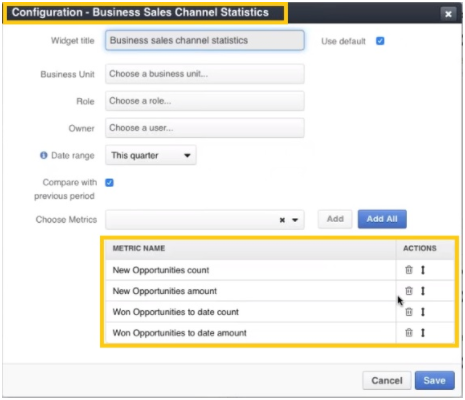 By using the Business Sales Channel Statistics widget, sales executives can get insight into the current state of affairs compared to previous periods. This offers the ability to identify bottlenecks or decline in performance for marketing and sales channels. For example, if the quality or total number of leads is declining compared to previous periods, then it is likely that the marketing team will need to address this issue. However, should the widget display an ample amount of leads assigned to a sales rep while the number of opportunity conversions shrink could indicate an inefficiency in the sales process.
This widget also makes it easy to compare the performance of various sales reps, teams, and departments against each other to measure relative efficiency.
All in all, the data displayed by this widget enables the executives to estimate whether or not actual performance is enough to follow the work plans built for a certain period. Should such probability turn low, the managers can identify the bottlenecks at early stages and take steps to eliminate them, or alternatively revise some of the designated goals.
#3. Forecast
The Forecast widget displays data that relates to future metrics like forecasted revenue. It is often used side by side with Business Sales Channel Statistics widget as collectively they provide a better picture of what kind of outcomes a business can expect in the nearest future.
This widget provides information on the opportunities currently being in progress, the total amount of budget to be gained if these opportunities are won, the amount of budgets multiplied by probabilities (aka 'weighted forecast' which is a more precise estimate of the revenue the company is supposed to get by the end of a certain period), and the indeterminate forecast built on the opportunities in the pipeline with no supposed close date.

Setting up this widget is very similar to configuring the Business Sales Channel Statistics. The only difference is the additional Advanced Filters that allow you to view forecasts based on any combination of conditions.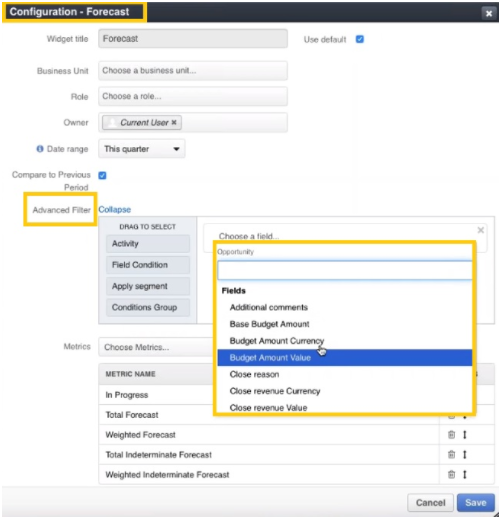 For example, you might want to create separate views for opportunities with different base budget amounts (e.g. less than $5k, $5k to $10k and more than $10k) to set apart deals that come from small businesses vs medium vs large.
Summing Up
Businesses are constantly looking for innovative solutions to improve their performance and maximize efficiency to close more business. OroCRM widgets offer businesses rich insights into current and projected state of affairs. With OroCRM, company managers can configure and add widgets to the dashboard based on their specific business objectives. This allows business users the ability to promptly identify trends, patterns, and areas that require attention.
The Opportunities & Leads Lists,  Business Sales Channel Statistics, and Forecast widgets you've just familiarized yourself with are only a few of the widget tools designed in OroCRM specifically to fulfill the needs of sales executives. Try using them yourself to track your company's most significant KPIs .
Are you interested in learning more about other dashboard widgets available in OroCRM? The blog on marketing dashboard widgets is already on its way! Are there any particular widgets you want us to cover too? Let us know in the comments below.