Following our post on OroCRM dashboard widgets useful for sales executives, this blog post will discuss  the widgets specifically designed for marketing professionals.
In OroCRM, marketing widgets are essential tools that allow you to access any of your marketing KPIs at a glance and immediately glean an in-depth insight into the efficiency of your current and past marketing strategies and tactics.
The following are the top-four OroCRM dashboard widgets we consider most useful for CRM reports of marketing executives and company CEOs:
Campaigns Leads

Opportunity-Generating Campaigns

Opportunities By Lead Source

Campaigns by Close Revenue
But before we proceed to the marketing dashboard widgets, let's quickly brush up how the information on leads and marketing campaigns actually gets into OroCRM to make sure you understand how these handy analytical tools work.
Leads can be typically added to OroCRM either via importing as a .csv file or entered manually.
When uploading leads to the system, be sure that the external leads list you transfer as a .csv file provides this information.  

When creating leads manually, be sure to fill in the Source field in the Create Lead form every time you add a new lead to the system.  
The information based on leads is entered to the system automatically if you have Oro Website Tracking functionality or Oro Embedded forms enabled on your site.
Once we have made sure that all the tracking has been properly activated, we can move on to populating a dashboard with the marketing widgets to create actionable CRM reports based on the system data.
Most Useful Widgets for CRM Reports of Marketing Management
# 1 Campaigns Leads
The Campaigns Leads dashboard widget reveals the number of leads captured by each marketing campaign you've launched within particular time. This can range from email marketing campaigns to commercials including other marketing efforts.

With the help of this widget, marketing executives can quickly define how many Marketing Qualified Leads (MQLs) each campaign drives, compare the outcomes, detect the bottlenecks and optimize marketing efforts for the future success.
#2 Opportunity-Generating Campaigns
The Opportunity-Generating Campaigns widget allows the tracking of marketing efforts. The data displayed by this widget is based on the number of opportunities your company generates via leads from a particular marketing campaign.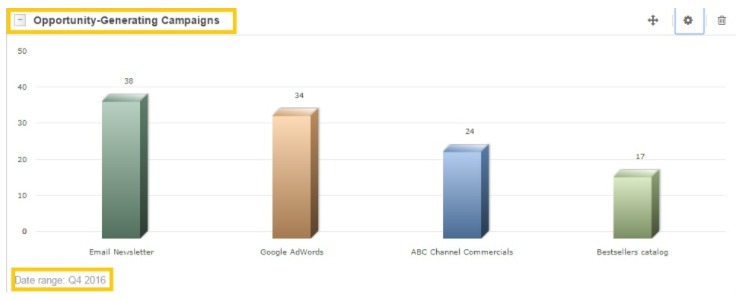 The Opportunity-Generating Campaigns widget is very helpful for B2B businesses, as it gives an understanding to the  quality of the leads that particular campaign generates. And as mentioned previously, the lag between the creation of an opportunity and the close of a sale can take weeks to months, so the ability to quickly view the number of opportunities created by each marketing channel is usually a better indicator than comparing based on Closed Revenue.
# 3 Opportunities By Lead Source
This widget comes in the form of a simple pie chart and displays the percentage of opportunities created by each lead source (e.g. email marketing, direct mail, via website or partners, etc.) over a certain period.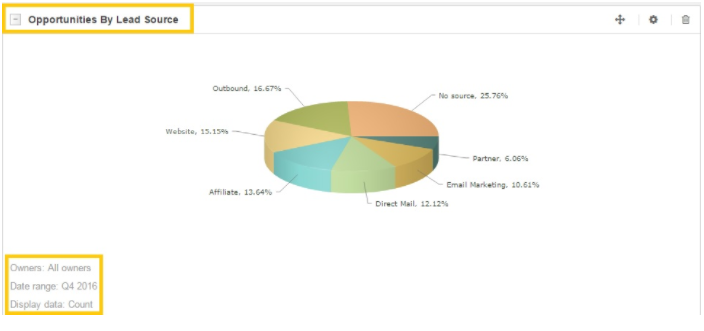 Should the lead source be specified as No source, it means that the opportunities have been generated from the existing customers. So comparing No source leads against the ones with a defined source might give you an idea of new vs returning customers' opportunities during specific time frame, assuming you have properly tagged sources on all the new leads in the system.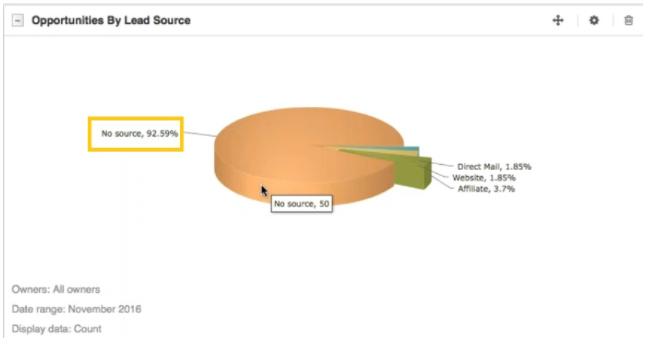 Having 50% to 70% of opportunities coming from existing customers is typical among B2B businesses, but you still need to closely monitor the dynamics of new lead opportunities, as negative trends within this area might be a sign of business stagnation or an issue with your outbound marketing campaigns.
The data converged in the Opportunities by Lead Source dashboard widget allows marketing executives to understand where quality leads are coming from, define lead sources generating more opportunities, evaluate which of them underperform and require attention, and generally improve future marketing efforts allocation.
#4 Campaigns By Close Revenue
The Campaigns by Close Revenue widget is conceptually very similar to the Opportunity-Generating Campaigns widget. Shown in a bar chart format, it offers the ability to evaluate and rank various campaigns based on the total amount of closed sales attributed to a particular campaign over a certain period.

The widget lets management quickly analyse the campaigns with the highest ROI. Armed with this data, executives can easily evaluate and identify successful marketing efforts and prioritize which campaigns to cut or invest in.
It's important to note that depending on which business niche you are in, your customers may have very different timeframes for making purchases, so month over month evaluations might lead you to skewed data. Our advice would be to consider bigger periods and calculate your customer acquisition cost per marketing channel, based on that data.  
Let's Conclude
With the help of well-designed marketing dashboards, everyone in the company from marketing associates to the top-executives can visualize the effectiveness of all marketing channels within just a few clicks. The dashboard widgets are more than simple data reports; they are insight-driven tools for decision-making. By displaying valuable real-time results, the dashboards and widgets enable marketing managers to measure effectiveness of marketing efforts, discover problem zones affecting campaigns profitability, and restructure the strategies to ensure the marketing department is performing in line with its goals.  
The Opportunities by Lead Source, Opportunity-Generating Campaigns, Campaigns by Close Revenue and Campaigns Leads widgets you've just read about are only a few of the widget tools designed in OroCRM specifically to fulfill the needs of marketing executives. Try using them yourself to track your company's most significant KPIs.
Want to learn more about the opportunities OroCRM provides? Schedule a private demo with our team member today!