With this post, we're kicking off our new Training Thursday blog series. Once a week, we'll add a short training video on how to use a particular OroCRM feature and will announce it in our blog and social channels. We like the idea of starting out the series with something grand. Let us introduce OroCRM Quick Start, our new self-led tutorial already available on our website.
With its help it's now possible to learn OroCRM essentials anywhere and anytime. This interactive step-by-step training educates first-time OroCRM users on how to get started with the application and familiarizes themselves with basic functionalities.
Note: Before you start, consider opening an instance of OroCRM to follow along with the exercises given in the course. This is non-obligatory but might come in handy. Use your personal instance or free demo.
Smart Content, User-Friendly Interface
OroCRM Quick Start is a comprehensive guided course comprised of learning slides, screenshot & recorded simulations, section summaries, and short try-it-yourself exercises with tips enabling you to practice what you've just learned. At the end of the training, you can test your knowledge by taking a short quiz (don't worry, you can skip this but where's the fun in that!).
Just like our OroCRM product which is highly flexible product, so is our course. Users can either follow the provided course sequence or select preferred sections from the main menu and complete the training at their own pace. The intuitive player buttons allow navigation across the learning slides. You can keep the audio on to listen to the narrator or disable it and simply read through the guidelines.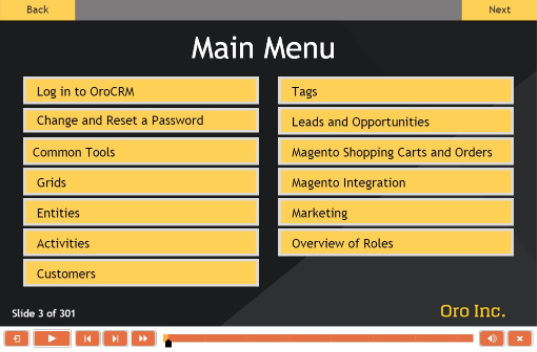 The Course Overview
The OroCRM Quick Start self training is compact yet informative and covers many different areas within OroCRM.
After completing the guide, you will be able to:
Log in

into OroCRM

Change and reset password

Use

Common Tools

that help easily navigate through the application (such as shortcuts, items, pins, search function, History, Favorites, Most viewed, Sidebar panel, Navigate records, and My Configuration)

Manage

Grids

, import and export them, use the action buttons, grid options, settings, and filters

Differentiate between

Entities

and use them respectively

Work with different types of

Activities

to create, track, and update customer related actions

Set up

Customers

(Magento and Business customers, accounts, and contacts)

Add

Tags

to records

Use

Leads and Opportunities

and know how they are related

Access and handle

Magento Shopping Carts

and

Magento Orders
Integrate Magento store

with OroCRM

Use

Marketing functionalities

for efficient organization and marketing campaign tracking (including marketing lists and Magento newsletter subscribers)

Use

Roles, Permissions

, and

Ownership types

.
We hope this CRM self training course helps new OroCRM users grasp the basic concepts and improve overall application knowledge.
The OroCRM Quick Start online course is free and it can be used as often as you'd like. The only requirement is to sign up or log in to your existing Oro Account.
Do you have any suggestions on how we can improve our course? Share your thoughts with us!