The next OroCRM 1.10 release, scheduled for the end of July 2016, will include many product and feature enhancements. In addition to the new Oro Web API that enables quick API development and better performance, this release will significantly improve the current sales workflow focusing on the following areas:
Elimination of excessive complexity and confusion from the current sales workflow.


Improvements to the current user experience of creating Leads and Opportunities.

Improvements to the user experience for qualifying Leads into Opportunities, developing Opportunities, and closing Opportunities.
The upcoming release addresses these areas providing a more simplified and streamlined user experience throughout the sales pipeline.

Sales Process Entity Now Deprecated
The Sales Process entity found in previous releases will now be obsolete and deprecated. It will still be available in 1.10 if migrated from previous versions, but it will be removed from the default setup of a Sales channel. If you still wish to use this entity and its workflow, you will have to add it explicitly to the channel.
Improvements to Leads/Opportunities Workflow
Instead of the Sales Process workflow, we have created a simplified Leads and Opportunities flow where you can work directly with the entities. Here's how it looks like:

Create a Lead with any piece of information

. First name and last name are no longer required fields allowing new leads to be added with ease. (Same applies to new Contacts as well.)

Qualify a Lead into an Opportunity with a single button

on the Lead view. This no longer requires the intermediary step of creating a Sales Process.

Start the sales flow directly from Opportunity

for accounts/leads that are immediate opportunities. Quickly create an Opportunity and populate additional account and contact information on the fly.

Probability percentages are now tied to the opportunity status.

As you change the status of an opportunity, the probability percentage will also be updated to reflect the change reducing overall clicks and accelerating the update process.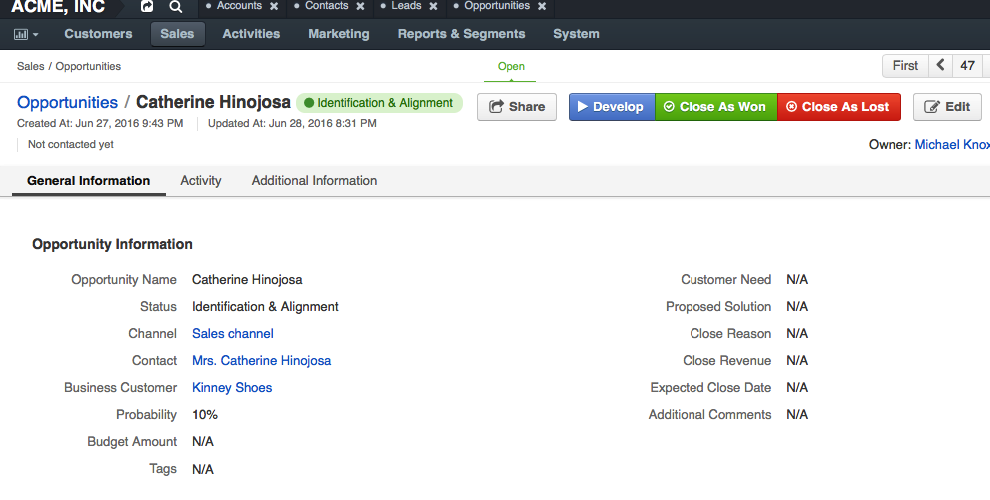 In addition, greater flexibility is provided when managing the Opportunity workflow. There are two principal train of thoughts:
No workflow, full freedom

– Your sales reps will be able to create Opportunities and change its fields at anytime. Eliminating the workflow provides full freedom but comes at the consequence of possible data inconsistency. We believe this option will be the most useful for small organizations and sales teams where every individual representatives can share the burden of correct records-keeping in sales.

A workflow that limits freedom but ensures data integrity

– When enabled, the default Opportunity workflow will limit choices when editing certain fields—meaning that you will be safe from inconsistencies like an opportunity marked as in progress but with close revenue or a closed opportunity that has no close date.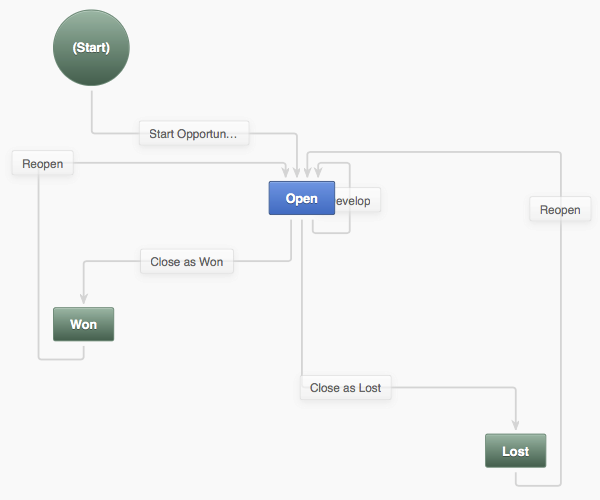 Further proving its flexibility, the 1.10 release of OroCRM allows companies to seamlessly switch between the two approaches and test which workflow fits better for the company. Both options can be easily switched by simply enabling or disabling the workflow in the workflow configurator.
Better Visibility into Sales Pipeline and Improvements to Sales Dashboard

In addition to the workflow enhancements mentioned above, the new 1.10 release looks to provide better visibility and reporting into the sales pipeline. Improvements include:
More data filters.

Configure your widgets to display data on opportunities owned by a specific sales rep, sales team, or all sales reps. Specific time and date filters along with customizable display options are also provided allowing users to quickly see the data they want.

Two new widgets that display Opportunities and Leads

you are working with, providing you quick access to them from the dashboard.

Minor improvements to existing widgets.

To learn more about OroCRM, schedule a demo with one of our consultants or try OroCRM for yourself here.
We are always eager to get your feedback, so please either comment on this blog or send us questions or comments via our forum.
Thank you!
The Oro Team