B2B customer experience and customer experience management are like the weather. Everybody talks about it but few do anything about it. Well, there is storm brewing. Customers are demanding a better experience and companies aren't delivering. Get it right and enjoy sunny skies, smooth sailing, and success. Get it wrong and be lucky to weather the storm.
When competition is fierce, delivering the right customer experience can be the difference between a growing brand and sales and shrinking profits. But do you know the difference between customer experience management and customer relationship management? Do you have a customer experience management strategy in place? Have you deployed the right customer experience management tools? Read on to find out why managing the customer experience is vital to business success.
The Elements of Customer Experience
Customer experience is the direct or indirect interaction a person has with your company or brand. Every facet of your company has an impact on how customers perceive your company. This includes everything from the products and services you offer to the sales process, billing, and support after the sale. Even company leadership attitudes impact the customer experience.
Customer experience is built on touch points, that is every contact with the product or an employee. Touch points are opportunities to get the experience right or deliver something less. The gap between customer expectations and experience should be paper thin at every touch point. And, all touch points must be in sync.
Imagine a company where the sales force is passionate about the product and works closely with customers to provide solutions, but the support call center is staffed by unmotivated employees that don't even want to show up for work. That customer experience is schizophrenia. On the one hand, sales makes the customer feel valued and delivers a positive customer experience on the other hand support appears lazy and uncaring.
Managing the customer experience can be a major market differentiator. Forrester reports that for the third straight year, customer experience in the US is stagnating. More and more brands are becoming mediocre.
Customer Experience Management Isn't Customer Relationship Management
Managing customer experience and managing customer relationships are different. Your CRM software provides data about individual customers. It tracks customer contacts, orders, service requests, product returns, and gives a 360° view of what a company knows about a customer. A customer experience platform captures what a customer thinks at touch points and is based on surveys, studies, and observational research.
What is Customer Experience Management?
Whether the customer just wants to check a price, get a question answered, or place an order, they want a pleasant and efficient experience. That's customer experience. So, what is customer experience management? It is the strategies and tools companies use to ensure customers maintain positive brand perception and interactions with a company.
Since you can't manage what you can't measure, customer experience management begins with tracking customer interactions. Data on past patterns captures information on a recent experience immediately after the experience. Use it to improve transactional experiences, assesses the impact on customers of new initiatives, and identify emerging issues. According to statistics on the effectiveness of follow-ups, not following up can cost you.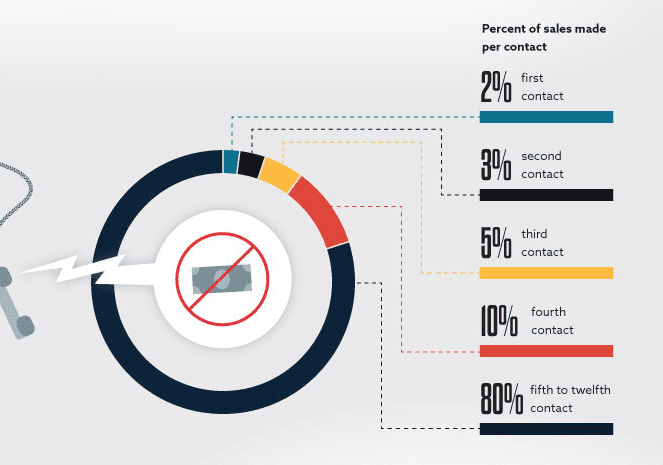 [Source]
So, knowing how to write effective follow-up emails, conducting user surveys, monitoring forums and blogs is the first step to collecting data. Data on present patterns uncovers current experience issues for future improvement. Look forward as well as backward to garner a deeper look at relationships and is frequently used with critical populations and issues. These probes help you understand customer desires for new features or competitor awareness.
User group polling, quarterly account reviews, and focus groups help gather insights, too. Data on potential patterns unmasks and tests future opportunities. These insights are one-off projects driven by specific problems and incorporate existing knowledge of a customer group. These learnings are frequently used in product development.
Whether you use email surveys or focus groups, it's important that the insights gleaned be aligned with customer experience objectives from the start. That means challenging assumptions and including all business functions with touch points in the research. Effectively managing customer experience may mean throwing out what you think you know about your customers, challenging conventional wisdom, and really listening to what customers have to say, even if it isn't pleasant. After all, customer complaints are a rich source of customer experience information if you treat them as such.
Effective Customer Experience Management Strategies
Addressing customer experience requires looking at the company and the purchase journey through the customer's eyes. It's not easy. Bain & Company surveyed the actual customers of 362 companies. 80% of these companies said they provided an experience that was "superior" but only 8% of their customers agreed. With such a major disconnect, it's no wonder that customers are frustrated and dissatisfied. But, with the right customer experience management strategy, those frustrations are opportunities to build brand loyalty and even develop brand advocates. Start by baking certain customer experience management strategies into your digital presence. These include:
Mobile support. Everyone has a phone or tablet and that's the device many turn to first when they've got a question or a problem. Every customer experience management strategy must address the mobile experience. Make sure your website can render on small screens legibly. For customer support, consider a mobile app to support the website. When customers find the information they need on mobile, they won't use the device to call customer service.
Self-service. Today's buyers prefer self-service. A robust online collection of knowledge bases and FAQs let people find the answers themselves. Just make sure that the information is complete, accurate, and fully answers actual questions. Otherwise, this customer experience management tool can backfire and turn what should be a positive customer experience into bad.
Live chat. Live chat lets site visitors get help and answers to their questions without leaving the website. That's good for brands, because it helps convert sales and it's good for customer experience because it requires a minimum of customer effort. Gartner predicts that by 2022, 85% of companies will offer live chat on their website or mobile app. For the best customer experience, the chat agent should have access to the CRM for customer data, order history, and other contextual information.
Social support. Your current and prospective customers use social media. Do you know what they are saying about you? It's important for customer service and marketing to monitor social media. Marketing may be sharing information socially but gathering information is important as well. Monitor compliments and complaints and respond accordingly. How you handle customer complaints on social media speaks volumes to others.
Why Companies Get It Wrong and How to Get it Right
We're all customers and we've all experienced bad customer experiences. Why does this happen? It may be that marketing comes up with "customer first" marketing messages without customer experience management tools in place or buy-in from the other departments. The brand makes promises that the people aren't empowered to deliver. Other times customer touchpoints are too narrowly defined. Instead of developing a B2B digital customer journey map that captures the journey across all channels in the real and digital world, they collect data on just a few path-to-purchase touchpoints.
Finally, in some organizations "exceptional customer journey" only gets lip service from senior management. In companies where the chief executive comes through the sales and operational ranks, this isn't generally a problem. These executives are naturally customer-focused. Executives that rise through the financial ranks must work on being customer-focused.
To get the customer experience right, every department must be involved. Organizational silos that hinder focus on the end-consumer must be destroyed. By combining marketing and customer service functions under a Chief Customer Officer or a Chief Experience Officer, support for customer experience management begins in the C-suite and the customer journey becomes as important as the brand.
In Short
In an increasingly competitive world, you need every differentiator you can get. With customer experience stagnant, there is an incredible opportunity for brands that are willing to get customer experience right. By combining the digital experience customers want with effective human interaction you can not only provide the right customer experience, you build business relationships that last. And in B2B, relationships are a key to success.
More about B2B customer experience in the manufacturing industry