eCommerce CRM for Online Businesses
OroCRM is a Customer Relationship Management software made for businesses who sell online. With available connectors into countless eCommerce platforms, Oro offers a flexible eCommerce CRM that is ready to track all website interactions for better marketing and sales focus.

Enable your sales teams to identify and target your most valuable customers by recency, frequency, and total dollar-value of purchases while marketing teams can target customers with abandoned carts. In addition, enable your managers to monitor purchasing funnels and sales pipelines for key operational reports.
Easily Integrate Your eCommerce Platform
Connect into Magento, WooCommerce, PrestaShop, or our very own B2B eCommerce platform for a complete eCommerce CRM. Whether your online business is primarily B2C, B2B, or multi-vendor, gain a 360° view of your customer across all touchpoints and interactions.
We also support integration with popular marketplaces, like eBay and Amazon, for businesses with multiple online sales channels.
Be sure to check out the Oro Marketplace for all OroCRM extensions and connectors.
Get a 360-Degree Customer View
Gain full visibility across any selling scenario, from pure-play, multi-channel, omichannel, or marketplace management.
Capturing information across every customer interaction and displaying the data in a single customer view enables your business to increase customer satisfaction, improve operation efficiency, and gain business intelligence.
Quickly identifying which website pageviews, sales email communications, and outstanding customer support tickets are associated with a specific customer results in an enriched customer experience.
Market to Targeted Audiences
Our eCommerce CRM comes with an advanced segmentation engine that can target customers on specific criteria like abandoned carts or multiple product page views.
Our customers have seen:
5000%+ ROI increase
for automated promotions
3000%+ ROI increase
for segmented promotions
1000%+ ROI increase
for direct mail promotions
Create Custom Dashboards and Reports
Our eCommerce CRM generates dashboards and reports that track everything from sales pipeline figures to customer website activity all from a single place. Managers are able to customize their dashboards with the most relevant reports and widgets for business intelligence.
Other reports on eCommerce data, like overall online revenues, average order value, and orders over time, are also offered out-of-the-box.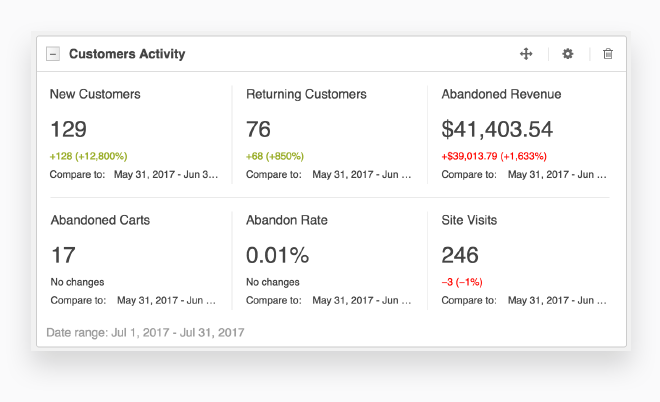 "Thanks to data centralization within OroCRM, we can discard our approximate reporting for more detailed insights. This allows us to better manage our marketing and sales activities."

See a few of our customers