B2B Buyer Preferences in the eCommerce Marketplace Economy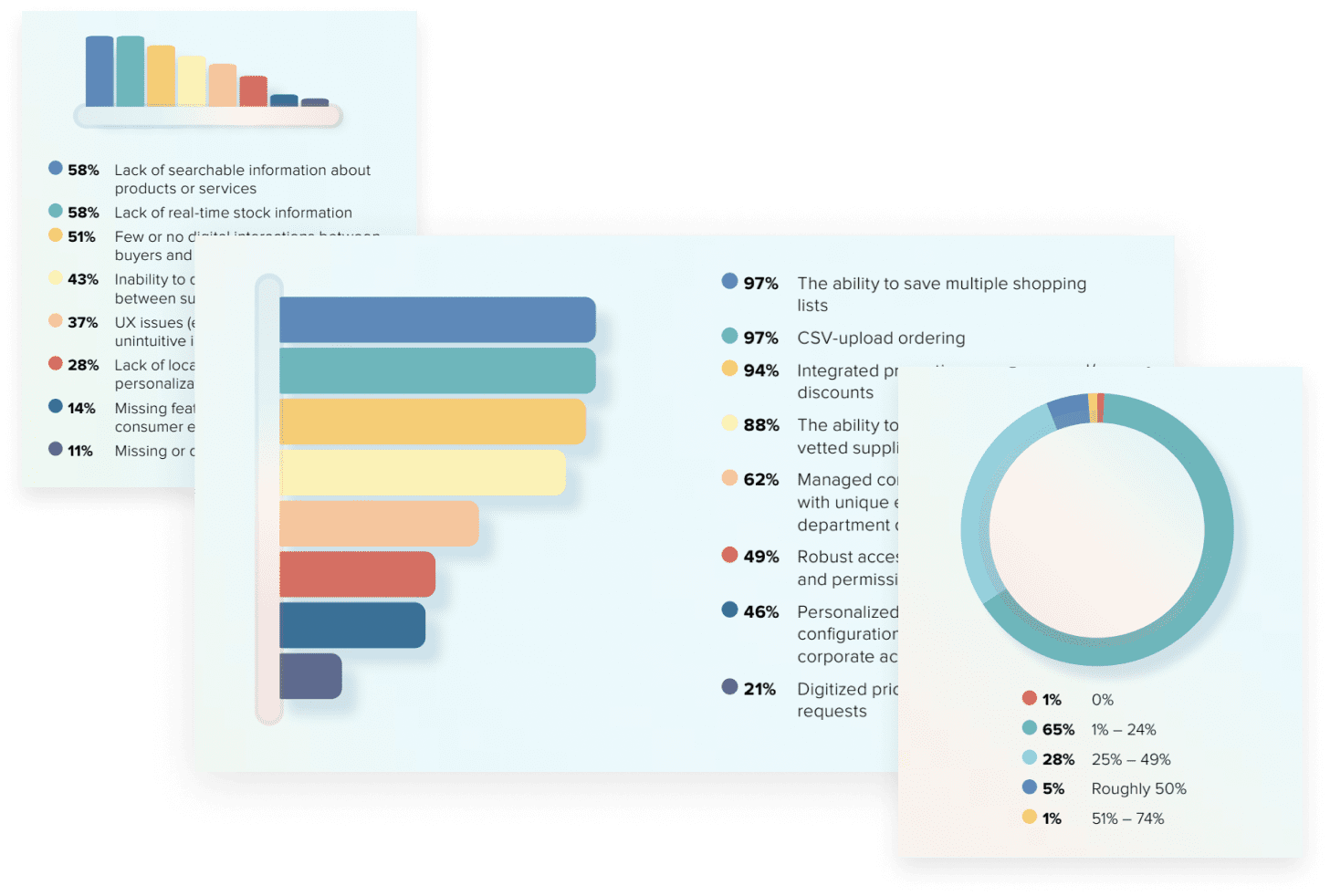 Download now
Why download this report?
We conducted an extensive survey of 100 B2B procurement managers across 11 different industries in the US and Canada who use B2B marketplaces for their purchasing needs. The result is a collection of the most comprehensive insights on marketplace B2B purchasing experiences to date!
Nearly 3 out of 4 respondents noted the top benefit of using a B2B marketplace is the opportunity to discover new products or services.
To succeed in 2023 and beyond, sellers will need to address issues such as a lack of real-time stock information, difficulty searching for products or services, and limited digital interactions between buyers and sellers.
Key findings from the report:
Marketplaces are here to stay. 24% of buyers purchase through B2B marketplaces, and expect this to continue beyond 2024.
Marketplace features offer significant benefits. 97% of buyers benefited from CSV-upload ordering and the ability to save multiple shopping lists when using marketplaces.
Marketplaces are the primary research destination. 72% say discovering new products or services has been a very significant benefit of purchasing through B2B marketplaces.
Marketplaces need to make significant improvements to encourage adoption. 63% prefer traditional purchasing arrangements, such as contract-based or direct purchases.
Who should read this report?
This report is useful for:
C-Suite and Leadership Teams
Sales, eCommerce, and Marketing Directors
Customer Success and Service Managers
Customer-Facing Staff
What's included?
How are buyers using marketplaces?
Although B2B marketplaces are a relatively recent development, they're quickly becoming a crucial part of the procurement process. Nonetheless, traditional purchasing processes and agreements still dominate and can influence how buyers utilize marketplaces.
What percentage of purchases are made on marketplaces?
Procurement managers gravitate towards marketplaces because they offer greater selection, convenience, value, and automation features. However, not every marketplace lives up to the demanding needs and expectations of today's procurement teams.
What are the benefits and pain points of the marketplace experience?
A good B2B marketplace experience should have several key elements, such as detailed and real-time product information, an easy-to-use ordering interface, and offer the same level of value as traditional purchasing. Not all marketplaces are up to this task.
How can sellers improve the marketplace experience?
When asked about their biggest challenges, many respondents mentioned they'd want to reduce complexity during the buying process. Addressing these concerns could go a long way toward enhancing the overall marketplace experience.
Fill in the form to download the report for free:
We will send the pdf with the guide to the email
that you specify in the form below.