The pandemic accelerated the growth of online shopping, and the broader digitization of our shopping culture has products offered in more and more places.
Over the last few years, online marketplaces have seen unprecedented growth. Today, slightly less than half of all eCommerce purchases are made on marketplace platforms, and Amazon's marketplace holds roughly 25% of the total US eCommerce spending. It's no wonder that marketplaces are gaining the attention of B2Bs, including manufacturers and distributors.
Before you think about technology, it's important to understand why you're building a marketplace and most importantly, whether your company is ready to operate a marketplace. This post helps you answer those important questions.
Why Should You Start a B2B marketplace?
According to Gartner, B2B sellers use marketplaces to expand their product assortment, mitigate B2B supply chain and inventory risks, and better engage with customers post-pandemic. For traditional B2B businesses, it provides a way to grow their businesses, expand their ecosystems, and explore new revenue streams.
Ecosystem growth
Typical B2B businesses operate within a large ecosystem of suppliers and distributors. Adding a marketplace can elevate their standing by engaging technology providers, payment providers, adjacent suppliers, and competitors. The marketplace provides a way for the operators to remain relevant in their industry. To be successful, the marketplace may require sourcing new partners, new operational and technical capabilities, and engaging their user base.
Greater insights
Whether they open their platforms to third-party sellers or manage vetted participants, marketplace operators collect critical insights to better run their business. Marketplace owners obtain metrics that inform decisions to streamline operations, develop new products or promote existing ones. Marketplace data helps companies to identify and act on needs, launch adjacent services, and create new revenue streams. It also becomes easier to pursue strategic partnerships to expand reach and grow sales.
Revenue opportunities
Launching a marketplace offers numerous opportunities for exploring and establishing new revenue sources. Aside from marketplace participants contributing to overall sales on the platform, operators can branch into offering complimentary services such as consultations, installations, financial services, logistics services, and advertising space, just to name a few options.
Improved resilience
A marketplace's strength is in numbers. Whether concentrated around a specific business vertical or spread across different industries, marketplace participants represent immense value and growth potential. In other words, as long as the marketplace innovates and remains relevant, it can maintain a good market share, or expand both vertically and horizontally to secure additional markets.
Now that you know the major benefits of marketplaces, are you tempted to start a B2B marketplace? If so, it's important to determine if your business is ready for a marketplace. Let's take a look.
Is Your B2B Business Ready for a Marketplace?
There are two approaches to marketplace participation. Many B2B vendors sell on extremal marketplaces like Amazon Business or eWorldTrade. Others believe operating their own enterprise marketplace better suits their needs. However, launching a marketplace greatly depends upon your organization, your ecosystem, the products and services you're selling, as well as your short and long-term growth plans.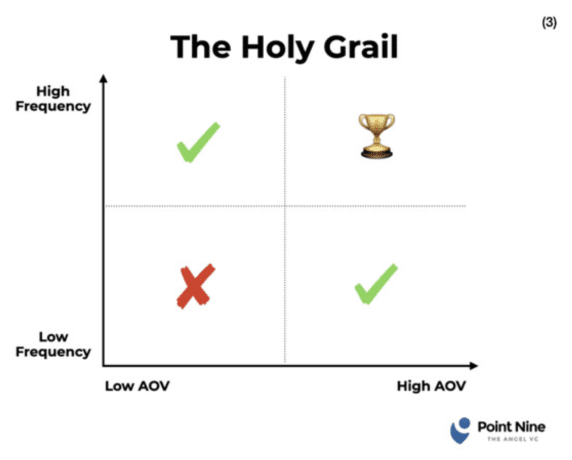 When envisioning how they will build a B2B marketplace, businesses strive to emulate the order frequencies of Amazon, the retention rates of Uber, and the transaction values of Airbnb. But the truth is, achieving both high frequencies and high average order values (AOVs) is challenging to achieve and takes time.
Is your product suitable for a marketplace?
What is the value of your product and how often do your customers make purchases?
If you're building a marketplace for low-priced inventory, you must focus on efficiency and retention to achieve sustainable revenues for every item sold. This requires offerings such as personalized perks, coupons, and other incentives to encourage repeat purchases. You must also continually monitor the competition and optimize commissions and monetization models.
On the other hand, low-frequency marketplaces, or marketplaces where customers make infrequent purchases requires a focus on risk disintermediation (more on that later). If you sell high-value products infrequently, you must build additional value into the platform, such as vetting vendors, personalization, and after-sales support. With low purchase frequency and low transaction values, you have the double task of acquiring customers and tracking efficiency and retention.
Is your business vertical conductive to marketplace sales?
Most businesses typically trade horizontally or vertically. For example, an electronics store may sell horizontally to anyone looking to buy laptops, cameras, or accessories. A distributor specializing in medical monitoring devices is vertically oriented and caters only to hospitals and clinics.
Horizontal marketplaces offer a large selection of products, marketplaces with a narrower focus offer more targeted value-added services and marketing campaigns. This increases competitive advantage and footing in a respective market.
Barriers to entering many lucrative B2B verticals include industry resistance to regulatory requirements and the difficulty in acquiring customers.
Is your business model appropriate for a marketplace?
When you think about marketplaces, you probably imagine a platform where marketplace owners invite third-party merchants to sell. However, enterprise marketplaces (also known as integrated marketplaces) are a specific breed of marketplaces. In many cases, they operate as an additional sales channel for existing brands to increase market share and grow the business. These marketplaces take one of the following forms:
A multi-vendor marketplace enables customers to purchase products from different sellers. As the marketplace grows and matures, it becomes a trustworthy destination. Vendors can offer more products, make partnerships, or provide adjacent services. While operators can offer their inventory alongside other sellers, they usually monetize the marketplace by charging placement, membership, transaction, or subscription fees.
Procurement marketplaces are closed portal organizations built for their members. These usually consist of a small number of partners and customers, such as subsidiaries, branches, or franchisees. These marketplaces streamline procurement and allow greater supply chain control and efficiency. Instead of fees, procurement marketplaces offer value through improved relationships, a broader market share, and new capabilities.
Branded marketplaces revolve around the brand, allowing organizations to expand their product offerings, explore new revenue streams, or strengthen their ecosystems. By adding a marketplace to their core business, brands benefit from stronger relationships, greater transparency in value chains and customer journeys. Branded marketplaces help brands remain competitive, grow their market share, and future-proof their businesses.
Is Your Ecosystem Ready for a Marketplace?
Aside from purchase frequency, transaction values, and marketplace types, there are other factors to consider when determining if you're ready for a marketplace. Namely, whether your ecosystem is conducive to marketplace success.
Ease of achieving network effects
Unlike eCommerce websites, marketplaces generally depend on a large pool of buyers and sellers interacting. Industries with large market depth stand to benefit from their network effects – that is – the marketplace's value increases as its user base grows.
For example, many B2B eCommerce marketplaces believe they cannot compete with Amazon Business, and for a good reason. Its abundance of buyers and sellers makes it difficult for users to search for alternatives – and competitors to differentiate. Standing out rests on your value proposition and competitive strategy.
Cannibalization concerns
Businesses launching branded marketplaces fear cannibalizing their existing businesses. Resistors to change within organizations often cite cannibalization as a reason to scale back or abandon marketplace projects. This flawed logic doesn't recognize that the vendors will offer products and services that are similar or complementary but not identical. Ultimately, marketplaces leverage the network effects of vendors offering products in niches you don't serve.
For example, if your brand is logistically weak in a certain geographic location, channeling orders to a vendor that's better equipped to handle them will lead to satisfied customers. You also gain insights into new markets at virtually no cost.
Fragmentation and concentration
Marketplace fragmentation refers to the degree to which products are offered to a smaller or larger number of customers. While in multi-vendor marketplaces, fragmentation is desirable, a highly concentrated enterprise marketplace may target a small group of buyers, who, over time, may start influencing the marketplace to cater to its needs at the expense of other users.
Homogeneity and heterogeneity
Third-party marketplaces risk overwhelming consumers with options and must commoditize offerings to some extent. This is done by offering only vendors and products relevant to customers. Marketplace operators either highlight or diminish specific product characteristics to make them appear more homogenous or heterogeneous.
For example, offering industrial cleaning products in bundles tailored to hospitality customers diminishes decision paralysis and purchase friction. In other scenarios, highlighting differences between suppliers or products may be more desirable.
Monogamy and polygamy
When marketplace transactions primarily involve a single seller or buyer, they can be considered monogamous. Some marketplaces, such as specialty equipment suppliers or service marketplaces, are often monogamous since buyers select the same provider repeatedly after establishing trust and familiarity. Other categories are more polyamorous, such as booking or product rental services.
Prevalence of multi-tenancy
Multi-tenancy is the ability for vendors to list items on more than one marketplace, or end-customers to seek alternative marketplaces or suppliers for products.
For instance, an office supplier may sell on one marketplace, while simultaneously listing products on Amazon Business. If left unchecked, this practice can weaken a marketplace's appeal and strength.
Risk of disintermediation
Disintermediation is the risk of vendors and end-users transacting outside the marketplace. One common occurrence is when end-users visit marketplaces to conduct research and then purchase off-platform, including offline.
In many cases, disintermediation is motivated by trying to bypass fees, purchase friction, or lack of perceived value, all of which marketplace operators can work to minimize.
Switching costs
It takes considerable effort to build relationships with suppliers. Marketplaces facilitate these connections, from initial searches to product discovery, to relationship building. The cost of abandoning these relationships and potential relationships, including other value categories, can all fall under this definition.
What KPIs Should You Measure?
Once you've started a marketplace, you must keep it on the right track. That requires measuring vendor and customer activity.
Marketplaces have many moving parts. Based on our experience with B2B marketplaces, we've prepared a post on the most crucial marketplace KPIs that accurately convey the health and performance of your marketplace.
These KPIs can be divided into the following categories:
Liquidity metrics to measure how well your marketplace brings together buyers and sellers.
Profitability metrics to measure your finances to determine if you are making or losing money.
Usage metrics to evaluate how site visitors behave and their movements in the marketplace.
Vendor metrics to track how well vendors perform and how valuable they are to marketplace users.
Remember, you may not need to use every KPI you come across. Identify the top KPIs applicable to your marketplace needs and focus on them.
Launch Your MVP As Soon As Possible
Even after careful consideration and planning, many brands invest far too much into developing a marketplace only to realize that no one is interested in it.
Avoid this trap by developing a minimum viable product (MVP). It's the fastest, easiest, and most effective way to validate your business idea. With minimum risks and little upfront costs, you can build out a test product, get it in front of your target audience and evaluate whether it addresses their core problems or not.
Oro's B2B marketplace solution is designed for B2B businesses. That means it comes with the features B2B sellers like manufacturers and distributors need out of the box. It's also flexible and customizable so it supports the MVP approach. This helps brands validate their product early on to ensure they're on the right track.
Is a B2B Marketplace Right for You?
Now that you better understand the benefits of marketplaces, the types of marketplaces, and the ecosystem necessary for success, it's time to dig deeper. Check out the next episode of the B2B Commerce UnCut podcast.
This live, unscripted, and often lively podcast brings together people in the B2B space to talk about everything B2B eCommerce. The upcoming episode will feature Rodrigo Garcia, MBA, VP, and Chief Technology and Transformation Officer at PartsBase Inc.
PartsBase, Inc. is a Baton Rouge-based distributor that operates the world's largest B2B online parts locator service for the aviation, aerospace, and defense industries. The marketplace sees over 2.8 million page views monthly and counts over 7,600 member companies across 200 different countries.
Whatever marketplace type you're exploring and your stage of preparation, this talk will help you find your bearings and help you perfect your strategy.