With a traditional eCommerce platform, an individual buyer connects to a retail seller. Another flavor of eCommerce handles transactions between businesses. This B2B eCommerce is usually between manufacturers, wholesalers, distributors, and their business customers. A twist on B2B commerce is when multiple vendors use the same platform to connect with a pool of buyers. This marketplace model requires a platform that can handle the intricacies of B2B eCommerce while also managing the complexity that comes with multiple vendors selling on one platform.
In this article, you'll learn what makes a multi-vendor platform, the different approaches to multi-vendor software, how B2B differs from B2C, key features to look for in a multi-vendor eCommerce platform, a bird's eye view of the major multi-vendor marketplace platform providers as well as the pros and cons of each.
By the end, you'll have an overview of the technology and the best options available for your multi-vendor eCommerce marketplace platform.
What is a Multi-Vendor eCommerce Platform?
In a multi-vendor eCommerce business scenario, B2B sellers invite other vendors to participate in a marketplace that appeals to a certain niche, vertical, or product.
The company that operates the marketplace may participate in the marketplace as a seller or may simply serve as the marketplace operator. The operator's monetization model determines their level of participation.
What a Multi-vendor eCommerce Platform Does
A multi-vendor eCommerce platform provides the technology to facilitate transactions between buyers and sellers while also providing the tools a marketplace operator needs.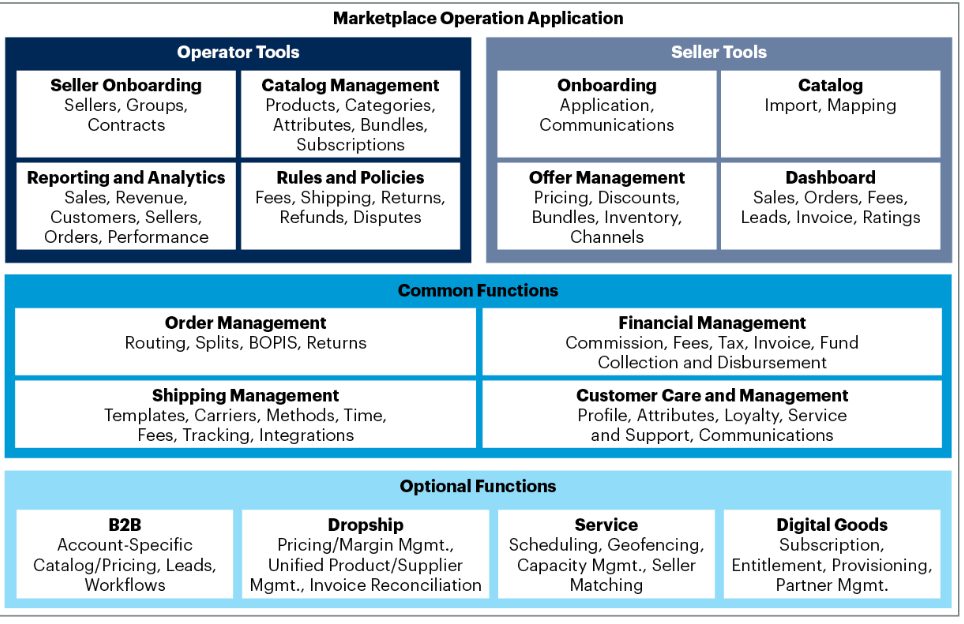 Source: Gartner
The core functions required to facilitate buyer and seller transactions are similar to those provided by single-vendor eCommerce platforms. The difference is that a single order may contain products sold by multiple vendors. This means the technology must know how to separate line items by the vendor and handle the complexities involved when multiple vendors sell the items on a single invoice.
How a multi-vendor eCommerce platform appears
When a potential buyer arrives at a marketplace, it appears as a single entity.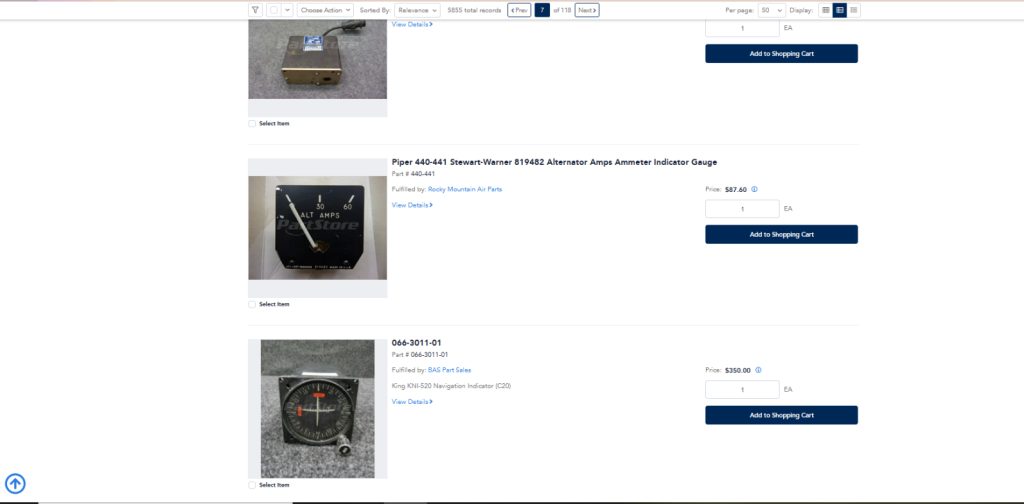 This screenshot is from PartsBase, a marketplace that supports the aerospace industry. When a buyer visits the site looking for parts, they find parts available from multiple suppliers. It's one site and one shopping cart on the front end.
So, to the buyer, the transaction appears unified. That is to say, visitors feel as if they are shopping in a unitary setting. Think of walking the common area in a virtual mall. The buyer selects merchandise from multiple sellers, but when they check out, they see one invoice and make one payment.
On the backend, the multi-vendor marketplace software must route sales orders to each seller, allocate the payment, and create reports for the marketplace operator and each vendor.
The backend functionality gives each seller the ability to manage their own store and orders and puts the operator in control of the entire marketplace.
Types of Multi-Vendor Platforms
There are two approaches to providing multi-vendor marketplace software. Some software vendors extend existing software through an app that provides multi-vendor functionality while others build their solutions from the ground up to be an eCommerce platform for multi-vendor marketplaces. Vendors with various backgrounds are jumping into the market to offer their solutions. These vendors have experience in everything from eCommerce to drop shipping.
In addition, multi-vendor platforms can be focused on products (think Amazon) or services (think Airbnb). When evaluating solutions, be sure to note that with Software as a Solution (SaaS) options you won't own your marketplace solution. If you ever decide to replatform, you'll need to start from scratch.
Extension via application
If you currently sell on BigCommerce or Shopify, you can look in the integrations and apps sections for marketplace apps. Look carefully, for many of the available apps will connect your store to an existing marketplace such as Walmart, Wayfair, Etsy, etc, but will not create a stand-alone marketplace.
For BigCommerce, WebKul and Marketplace.IO are your only sanctioned options. WebKul also offers a Shopify app that extends standard Shopify eCommerce to a multi-vendor eCommerce marketplace. At this time, the WebKul app is the only Shopify-approved app, so if you have a Shopify storefront, your options are very limited. There are options like the ShipTurtle Marketplace Creators for Shopify, but these are repurposed solutions. ShipTurtle was designed to handle shipping from multiple warehouses but has been modified to serve as a marketplace creator.
Purpose-built eCommerce
When you move into the purpose-built software space, you'll find many more vendors offering multi-vendor eCommerce marketplaces. Some of these vendors, such as AppsDirect and CloudBlue, have created solutions specifically designed for use by IT companies while others like OroMarketplace and Marketplacer are for enterprises and SMBs that sell physical products, digital products, or services.
As mentioned previously, SaaS solutions don't offer code, just access to code. That limits your choice of hosting provider and can make customization difficult and costly. In addition, some vendors such as Mirakl and Spryker push their headless-only options. That means you'll need your own front end to attach to the vendor's back end. The best B2B marketplace solution will be the one that fits your needs today and will grow with you.
What does it take to build a multi-vendor marketplace?
How are Multi-Vendor B2B and B2C Solutions Different?
Not every multi-vendor platform can handle the complexities of B2B eCommerce. As a rule, every multi-vendor platform can handle B2C and C2C eCommerce, but only a few are up to the rigors of B2B selling in a multi-vendor environment.
B2C and C2C multi-vendor marketplace solutions handle straightforward transactions. They allow buyers to purchase items from multiple vendors on a single ticket and make one payment at checkout. Some solutions may allow sellers to offer bulk discounts for large purchases. However, they will not allow sellers to create price lists for each customer or negotiate prices on a per-deal basis.
Multi-vendor marketplaces for B2B and B2C also must offer vendor onboarding and management features. However, B2C marketplaces may not offer the depth of functionality to serve B2B vendors. For example, B2B vendors often need multiple access and permission levels for their accounts. That's because more than one person may be involved in the management of the seller account. A marketing person, a sales rep, and an administrative employee may all need access.
So, a multi-vendor eCommerce platform that's built for B2B use should natively allow vendors to define roles and permissions. Otherwise, administering vendor accounts will quickly become a time-consuming nightmare for marketplace operators.
B2C marketplace solutions expect buyers to pay in full at checkout using a credit card, PayPal, a digital wallet, or even cryptocurrency. B2B buyers generally negotiate the terms of sale, and many purchases are made on terms or paid by e-check through the ACH.
So, B2B multi-vendor marketplaces can handle B2C transactions, but that doesn't mean B2C multi-vendor marketplaces can handle B2B transactions.
Choosing a Multi-Vendor eCommerce Platform
When choosing the best multi-vendor eCommerce platform for your use case, make sure you select a solution with the multi-vendor eCommerce website features you need today and the flexibility to adapt to changing and future needs. And because the needs of B2B sellers are different, if you plan to attract vendors with a B2B client base, then you'll need to choose a solution that can handle B2B complexity.
In general, you'll need to assess the functionality to support buyers, sellers, and marketplace operators.
Marketplace operator functionality
At a minimum, you'll want support for buyer and seller onboarding and the ability to split payments between sellers. A CRM for marketplaces is very helpful in managing these relationships, so look for native functionality. Not only should you look for a solution that supports your current monetization strategy, but also for a platform that allows you to change your monetization strategy to fit the changing ecosystem.
If you want to scale your marketplace, you'll need a platform that can handle thousands of vendors, millions of products, and no limit on your ability to grow and expand. Make sure that you don't sacrifice performance as you scale. Of course, you'll want the ability to localize the currency, language, and tax rules to support global operations.
B2B buyers and sellers will demand corporate hierarchy management, so make sure that begins at the operator level and flows through to buyer and seller. And an extensive set of open APIs will be necessary to integrate the marketplace platform with other business solutions.
Of course, the best multi-vendor eCommerce platform will meet the highest security standards and provide GDPR, PCI DSS compliance, and SOC 2 Type II certification.
Vendor functionality
Vendors will want a platform that makes it easy for them to set up their webstore within the marketplace and create custom landing pages and offers to support their own marketing efforts. They will want a CRM that manages relationships with their customers, and the ability to mirror their own internal hierarchy. In addition, B2B vendors will need to allow their customers to control account access and permissions on an account basis.
Vendors should be able to manage multiple warehouses within the marketplace, integrate with their ERP, and integrate with any third-party shipping solution they use. Their dashboard should provide analytics and reports to monitor their own KPIs. Look for everything a B2B seller would want if they were setting up their own store, and you'll cover the feature set for vendors in your marketplace.
Want to know more about eCommerce ERP integration?
Buyer functionality
Buyers want self-serve portals and the ability to share shopping lists with others inside and outside of their organization. They want to access their order history and the ability to use quick reorder forms to place repeat orders. B2B buyers often ship to multiple locations, so look for a platform that supports multiple shipping addresses. To find new products, buyers want guided and advanced product searches. If they have negotiated prices with the seller, their custom prices, products, and configurations should display automatically.
In addition to the operator, vendor, and buyer functionality listed above, look for easy integration, intuitive interfaces, and the ability to automate and customize workflows.
Best Multi-Vendor Marketplace Platforms For B2B
The market is saturated with eCommerce platforms for multi-vendor marketplaces. Some are repurposed applications and others simply extend basic eCommerce functionality. When you start your product research, you'll find these names most often.
OroMarketplace
CloudBlue
Mirakl
Virtualstock
Spryker
Marketplacer
Arcadier
AppDirect
VTEX
OroMarketplace
This is one of the best multi-vendor eCommerce platforms for B2B because it was built specifically with the needs of B2B vendors and customers in mind. The Forrester New Wave recognized OroMarketplace as a contender and noted its strong customer management capabilities. This is because it includes a native marketplace-ready CRM as part of the standard package. It works with traditional, headless, or modular architecture and integrates well with other business systems. It is available as a SaaS, on-site, or private cloud-hosted product. Gartner makes note of the OroMarketplace workflow engine that allows you to define and/or automate common marketplace activities such as seller onboarding, alerting, request for quotation (RFQ), and negotiations.
CloudBlue
This platform is a Platform as a Service (PaaS) offering. Their customers sell digital products on a metered or subscription basis. CloudBlue is popular with telecommunications companies and technology service resellers. If your marketplace vendors will offer physical goods, this is not the solution for you. However, if your marketplace will only handle digital products, this is an alternative to AppDirect.
Mirakl
This SaaS-only platform can be used to create multi-vendor marketplaces for B2B and B2C scenarios. It supports monetization through marketplace-wide ads and leverages AI to make product recommendations to customers. It handles digital and physical goods, but Forrester notes it needs to strengthen its digital product capabilities. There is strong support for automated onboarding vendors and customers. But, Mirakl only supports headless architecture, so you'll need to bring your own front end.
Virtualstock
Virtualstock didn't make the Forrester New Wave report but was recognized by Gartner for its marketplace abilities. Primarily designed as a supply chain and drop shipping solution, it also has procurement marketplace capabilities. It supports B2B and B2C marketplaces primarily operating in the UK. It takes a modular approach to build a marketplace, so each module is purchased separately. The product module is certified GS1 by the UK government. It is available as a full stack option or can be integrated with a Salesforce eCommerce or Shopify webstore. As a marketplace, it is well-suited to managing preapproved procurement supply chains.
Spryker
Spryker is used for B2C and B2B multi-vendor marketplaces. It can be used as a monolith or headless SaaS platform, although no customers currently use its headless capabilities. It handles order splitting and allows for BOPIS sales in the marketplace. In addition, there is a separate fulfillment app available to support pick and pack operations. Forrester rates the customer management and product catalog features as rather decent but finds that improvement is needed in operations and seller management. Gartner likes the shipper support and vendor management capabilities.
Marketplacer
Marketplacer has a strong B2C eCommerce focus. It is used primarily for marketplaces serving fashion, grocery, and household goods. This solution has a very strong presence in the Asian and Pacific Rim areas. Forrester notes the strong product catalog functionality offered by the platform while Gartner points out its overall weaknesses for vendor capabilities.
Arcadier
This is a multi-tenant SaaS-only platform. It is designed specifically for enterprise-grade marketplaces and supports headless architecture, or you can use one of their predefined templates. It is not suited for digital goods but is geared toward the sale of physical products. It is used primarily for retail and professional services. The Gartner Guide for Marketplace Applications notes the platform's ability to integrate with 3rd party shippers but its inability to handle ship-from-store scenarios.
AppDirect
If you need a solution for a multi-vendor service marketplace, you are sure to look at AppDirect. This platform was designed as a marketplace for buying and selling B2B technology services. However, this marketplace solution isn't appropriate for B2B vendors selling physical products as it is geared specifically for subscription services and metered sales only. Forrester Q4 2021 New Wave Report highlighted the strength of the platform's architecture for selling digital products.
VTEX
Forrester rates VTEX as a strong performer, especially in the product catalog area. However, the support for digital products is limited to simple one-off digital sales. Most VTEX clients operate B2C marketplaces that sell physical products to retail customers. It supports BOPIS and shipping from the store options so important to B2C retailers. This functionality leads Gartner to recognize VTEX for its vendor shipping management functionality. It is available as a multi-tenant SaaS offering and can be used to manage an existing Google marketplace application.
Learn more about managing technology change.
Download the Guide to Technology Change Management
Pros and Cons of Multi-Vendor Marketplaces For Manufactures and Wholesalers
Is a multi-vendor marketplace right for your manufacturing or wholesaling operation? It depends on your business goals and strategy.
A marketplace could be appropriate if your company can manage change and isn't afraid of innovation. And while innovation in product design is second nature for manufacturers, the same isn't true when it comes to innovating business models.
When making the decision, consider these pros and cons of multi-vendor marketplaces.
Pros
Depending on the approach you take to your multi-vendor marketplace, you may literally make money from your competitors. Pick a niche or vertical and invite your competitors to participate and you can potentially make a profit on every sale they make.
If you are selling your own products on the multi-vendor marketplace, you may put products in front of customers you never knew existed. And for existing customers, you can create an ecosystem where those customers can meet most of their purchasing needs. That strengthens relationships and solidifies customer loyalty.
A marketplace opens new sales channels and new streams of revenue and can be part of a strategy to scale the business.
Cons
Do it wrong and ruin your reputation. A multi-vendor marketplace puts your company on the line for the quality and integrity of every vendor and every vendor's product. It's crucial to vet and select vendors carefully.
Selecting a B2C multi-vendor platform to do the work of a B2B multi-vendor platform can ruin your chances of success from the minute you launch. So, you must select and invest in just the right solution. The resources dedicated to the marketplace cannot be used elsewhere, so this can divert resources from other profitable ventures.
OroMarketplace: Benefiting Your Customers and Your Business
OroMarketplace provides you with the tools to create a multi-vendor B2B marketplace where your customers and your business can thrive.
With OroMarketplace, you get all the functionality you need to set up and operate a marketplace right out of the box. In addition, robust vendor and customer functionality are created specifically for the complex needs of B2B selling. Use the workflow automation engine to define workflows that work for your customers and your business. The software conforms to your needs, and not the other way around.
Successful companies such as Diplomat Group and Andikem have used OroMarketplace to increase their global presence.
Connect with Oro and discuss your marketplace model and goals. Schedule a demo and see how OroMarketplace can empower your brand. There's no commitment. If you decide to proceed, we'll help connect you with partners to build out your marketplace and even provide team support and development review. Your success is our success.
See OroMarketplace functionality in action
Conclusion
The use of multi-vendor marketplaces is increasingly popular with manufacturers and distributors. B2B eCommerce marketplaces benefit the operator by creating new revenue streams and expanding the customer base while improving customer experience and satisfaction.
There are many products available, and they are available as SaaS or licensed products. The best multi-vendor marketplace platform is the solution that fits your business model, makes the best use of your resources, and scales for future growth.
Successful marketplaces attract customers by including relevant products from trustworthy vendors. The success of your marketplace comes down to the marketplace solution you select, the vendors you include, and the efficiency of transaction processing.
Frequently Asked Questions
Is multi-vendor ecommerce profitable for manufacturers?
Yes, multi-vendor eCommerce can be profitable for manufacturers, distributors, and other B2B sellers. By creating an ecosystem around the manufacturer's niche, vertical, or industry, the manufacturer operates a marketplace that serves the vendors and buyers.
How do you know which multi-vendor marketplace platform is right for you?
The selection of the multi-vendor marketplace begins with an analysis of your marketplace goals and strategy. The multi-vendor marketplace platform that is right for your business will provide the functionality you need for marketplace administration as well as the functionality that your vendors and customers will demand. The more complex the products and transactions, the more complexity the solution must be able to resolve.
How much does it cost to build a multi-vendor marketplace?
The cost to build a B2B multi-vendor marketplace will depend on the approach you take (new solution or extending an existing solution), the software you select, and amount of resources required for development and marketing, and other total costs of ownership items such as domain purchase, hosting, security, etc.
What is the difference between a B2B drop shipping site and a multi-vendor marketplace?
There are major differences between B2B drop shipping sites and multi-vendor marketplaces, although many of the features of the software may be similar. A B2B drop shipping site sells products to resellers but ships the product directly to the reseller's customer. A B2B drop shipping site may include a single product or may have many products from the same manufacturer. A multi-vendor marketplace allows customers to visit one website and purchase from multiple sellers. The buyer gets one invoice and makes one payment. The operator splits the order and payment between the sellers and the sellers send the products to the buyer.