The B2B eCommerce space constantly evolves to better meet the needs of business buyers and vendors. The next wave of B2B eCommerce is the marketplace. According to Gartner, within the next two years, 15% of medium- to -high gross value merchandise brands will be selling on a marketplace. Whether you are interested in starting a multi-vendor marketplace as a business model or are looking to expand your brand's ecosystem by building a multi-vendor eCommerce marketplace, you must create a space that appeals to buyers and vendors alike.
Oro understands marketplaces because we've played a part in creating them. OroMarketplace's B2B marketplace management platform powers many successful marketplaces. We know how to start a multi-vendor eCommerce website, and helped clients plan and build their own multi-vendor marketplace websites from the ground up. In the process, we've identified the approach you need to take and the core functionality that is necessary for a successful multi-vendor environment.
Before we dive into how to start a multi-vendor website, let's learn what a multi-vendor B2B marketplace is all about. In short, it's a digital selling scenario that benefits the marketplace operator, the buyers, and the vendors. It facilitates new supplier research for the buyer, provides vendors access to their target audience, and allows the marketplace operator to diversify their revenue streams. Here is what you need to know about multi-vendor marketplace development to make your destination the place to do business.
What Is a Multi-Vendor Marketplace?
If you've ever shopped with Amazon Business or made a purchase through eBay, you've interacted with a multi-vendor marketplace.
You landed at a single website, signed into your account, and then had the ability to shop for the items you needed from a variety of vendors. As Michael Calhoun, owner of the Red River Brewing Company, explains, a marketplace provides the "ability to find everything we need to run this company in one place." This is especially important to buyers in rural areas like Red River. He says, "It's difficult for businesses in Red River to get what they need efficiently, given we're a few hours from the city."
But with a marketplace selling everything from barware to hops and yeast, companies like Red River Brewing can consolidate their purchases, simplify the procurement process, streamline invoice payment, and keep the focus on their product, not their purchasing.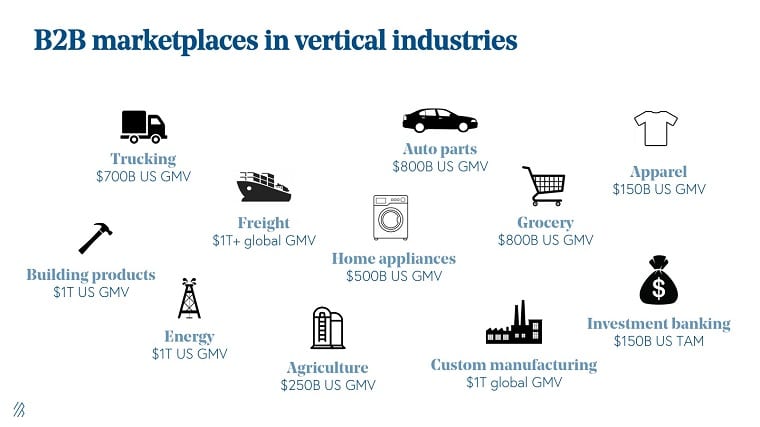 [Source]
Multi-vendor marketplaces can be vertical, horizontal, or global. Vertical marketplaces focus on selling a very specific product category – like PartsBase, a global marketplace for aviation parts. Horizontal marketplaces appeal to buyers in specific industries but selling products belonging to multiple categories  – like SupplyCore, a logistics marketplace for government suppliers. While other marketplaces, like Alibaba are global, multichannel destinations for B2B and B2C customers. They serve as a source for any business or consumer to find almost anything you can imagine. Discover what you can learn from successful marketplaces on the example of the Alibaba B2B business model. 
No matter how the multi-vendor marketplace is positioned, it must add value to not only the operator but buyers and vendors alike. When it does, everyone benefits.
Benefits of Multi-Vendor Marketplaces
More people turn online for answers, more of them depend on mobile devices, and fulfillment and delivery experiences keep improving. When you create a multi-vendor marketplace, you are giving birth to a place where other companies depend on you to add value to their company. One need not look further than Amazon to know that marketplaces are a robust and future-proof business model that only grow stronger with time.
Benefits for Vendors
Your marketplace will benefit vendors by exposing them to niches, industries, and companies they might miss with their direct marketing methods. You can add value by facilitating payment processing. In B2B transactions, the order amount may be large and payment via credit card isn't practical. Buyers expect terms and may prefer to pay via an invoice. If your marketplace can help assess and manage credit risks and reduce the strain on a vendor's cash position, vendors will gladly pay for those services. Managing returns and mediating disputes are also admin tasks vendors prefer to outsource. 
Benefits for Buyers
Busy business buyers don't want to spend more time than necessary searching and sourcing their supply chain. When you build a multi-vendor eCommerce website, you are building a tool to make purchasing easier for enterprises, account representatives, and procurement managers. Buyers benefit when you pre-approve vendors, removing vendor vetting from the purchasing process. You also add value for buyers by facilitating payments. When invoices from multiple vendors can be paid with one payment, bookkeeping is much easier. 
Benefits for Marketplace Operators
Of course, the marketplace benefits the operators. They can act as entrepreneurs, offering value for a fee. Marketplace operators collect revenue through commissions and fees (think the Airbnb marketplace), through a subscription fee (like Rakuten), or through a listing fee (such as Etsy). Marketplaces may also charge fees for processing payments and other backend admin support services.
Key Considerations in Developing a Multi-Vendor Marketplace
Like with any other business initiative, your multi-vendor marketplace app development plan must have some key elements in place. First, you need a clear vision of your product and a strategy for executing your plan.
Determine the Purpose of Your Marketplace
What is the purpose of your marketplace? Are you looking to expand your own brand's ecosystem with complementary services or products? Is the marketplace the business? The purpose of your marketplace determines how you will approach vendors and buyers. And speaking of buyers and vendors, be sure to do your market research. Make sure the industry you will serve is growing. According to CB research,  42% of all startups fail due to a lack of market need. 
Identify Your Marketplace Niche and Participants
Once you are sure there's a need, look to see if there's a specific niche that is unserved. For example, Etsy started small as a place for crafters to sell their wares. Remember when Amazon was a small vendor of books?  Also, spend time developing personas of both buyers and vendors. In order to be successful in your niche, you must understand the pain points of both participants in a transaction. 
Questions to ask about buyers include:
Who are your target users?

Where are they currently buying and why?

What are the pain points in their procurement process?

Who and what influences their buying decisions?
Talk to potential vendors on your marketplace. Find out about their needs to reach new markets and increase their sales. Home in on issues such as:
How do they currently sell their products?

Do they use other marketplaces and why or why not?

What are their biggest challenges in sales?

How can you make selling their products easier?
Once you understand your buyer and vendor, you can start addressing their needs. Your multi-vendor eCommerce app development path should closely align with them, too.
Identify Your Monetization Method
How are you going to make money? If you start with a subscription model, will you be able to generate enough business to keep new vendors on board? How many leads will you initially provide? Success with a subscription model requires you to successfully market your vision of a thriving marketplace to potential vendors and then deliver on the vision. Nominal sign-up fees may be a way to weed out vendors that aren't serious even if they aren't the primary source of income.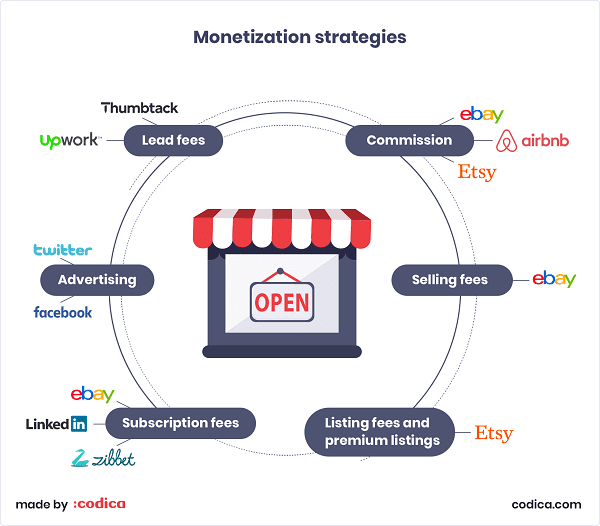 [Source]
If you plan on offering admin functions, will those come standard, or will you charge a la carte for these services? If you are offering payment processing, will you charge based on a flat rate or a percentage of the sale?
Will you make money via listing fees? eBay was profitable from the start because founder Pierre Omidyar charged both buyers and vendors in order to cover his monthly internet bill. Amazon and Etsy took years to become profitable. 
No matter your monetization model, make sure you generate sufficient cash flow. Lack of cash is the number 2 reason start-ups fail. 
Define the Features of Your MVP
When you first create a multi-vendor eCommerce marketplace, you should start with a minimum viable product. This approach minimizes the up-front costs and allows you to test the multi-vendor marketplace waters.
The eCommerce MVP provides the minimum number of features you need to validate the value of the marketplace. It is not a barebones marketplace. It provides functionality, but with careful attention to design and reliability.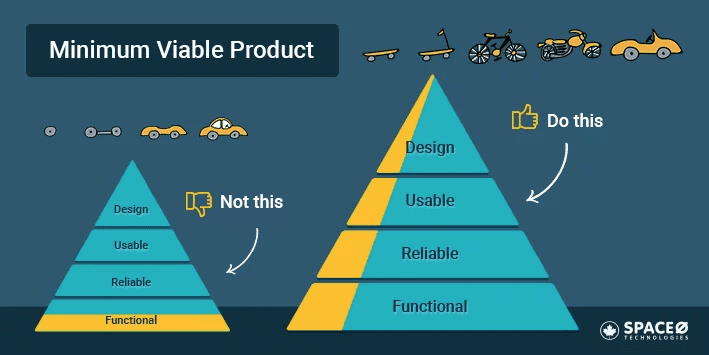 [Source]
Benefits of taking the MVP approach include:
Validating the need for the marketplace

Fine-tuning the monetization method

Testing and improving the user interfaces for buyers and vendors

Identifying what features are most necessary and what features are not needed
Implementing an MVP strategy for developing a marketplace website with multi-vendor functions requires an iterative process. The steps include develop, test, deploy, gain feedback, and revise based on feedback. So, you won't go down the wrong path for very long before identifying the need to turn around. 
Most common MVP features include an admin panel, so you can onboard buyers and vendors and manage the marketplace. Next is the online store component. Vendors will need a way to register, create their business profile, add products, and track sales. Buyers will also need an account creation workflow, order history or buyer dashboard, and a payment portal. In addition, buyers and vendors will both want a robust search function, support for multimedia product information, corporate accounts with different roles and permissions and a digitized RFQ process. 
Compare Marketplace Platforms for Core Multi-Vendor Features
Once you have scoped your MVP, it's time to start looking at marketplace platforms. To create a multi-vendor marketplace website that's targeting B2B niches, you'll need core features to support B2B transactions as well as the specific needs of B2B buyers and vendors.
Features to Support B2B Transactions
B2B buying decisions rarely involve just one person. On the buyer side, you need support to mirror the buyer's internal corporate hierarchy. This requires multiple users and user-based permissions and approval levels. On the vendor side, user-based permissions may be necessary if your vendors require internal approval on pricing. To be safe, look for a solution that features multiple users per buyer and vendor account and allows buyers and vendors to create user-based permissions and authorities. 
Since B2B transactions are traditionally negotiated and priced per contract, you'll want features in your marketplace that can digitize this workflow. After all, the purpose of a marketplace is to remove pain points, not add them. A digitized Request for Quotation (RFQ) workflow allows buyers to easily get prices and terms of sale from multiple vendors. On the vendor side, a digitized RFQ process combined with a pricing engine and user-based permissions makes responding to inquiries easy. Your multi-vendor marketplace platform should provide each vendor with access to a pricing engine to automatically price contracts based on their individual pricing structure.
Features to Support B2B Buyers
During the development of your business plan, you identified buyer pain points. Make sure your marketplace platform provides the features to reduce friction in the purchasing process. This includes features such as a buyer dashboard where buyers can access their current orders and view their order history. Because not every buyer likes to take the time to register and create an account, provide the option for guest checkout to speed the process. And speaking of checkout, don't forget a one-page checkout to optimize the user experience and improve conversion rates.  
Provide an advanced product search feature so buyers can quickly find the products they need. Whether they search by UPC code, SKU, or product description or category, make sure they can easily find the appropriate vendor products. 
One of the great appeals of a marketplace is the ability to purchase a wide variety of products. Make sure your marketplace will allow buyers to purchase from multiple vendors in one cart. This requires functionality to split payments between multiple vendors. And when it's time to place another order, make the process easy with quick reorder forms via the purchase history or even uploading CSV files and EDI for eCommerce support. 
While most B2B buyers prefer a self-serve experience, they do appreciate support when they need it. Look for a marketplace platform that allows for online customer support and integrates with chatbots and online support apps. 
Features to Support B2B vendors
B2B vendors want to establish a personal relationship with their buyers, even if the relationship is maintained digitally on an eCommerce marketplace. Make sure you provide vendors the tools they need to personalize their process of doing business. This includes personalized promotions and coupons as well as customized catalogs and price lists. 
B2B vendors are concerned about corporate and brand identity. Their marketplace space must align with their other sales channels. Make sure your marketplace platform allows vendors to create their own unique branded storefronts. This gives vendors the freedom to maintain their identity while participating in the marketplace. 
B2B vendors will appreciate the functionality that comes with a marketplace CRM. Because sales cycles are longer with B2B transactions, vendors need a way to track, qualify, and nurture leads. A CRM as part of their marketplace dashboard will give them a 360-degree view of each customer. 
Many B2B vendors need support for multiple warehouses and the ability to offer a variety of shipping options. And like any eCommerce website, they need functionality to manage returns online. And because marketplace participation is probably just a small portion of their total business, B2B vendors need easy integration with their ERP, WMS, and other business solutions. 
How to Build a Multi-Vendor Marketplace with Oro
Oro embraces the complexity of the marketplace. That is why instead of creating a one-size-fits-none solution, we imbue flexibility into every facet of the OroMarketplace product. From customizing the application to deployment, you enjoy the freedom to create the marketplace you envision – not a marketplace confined by code.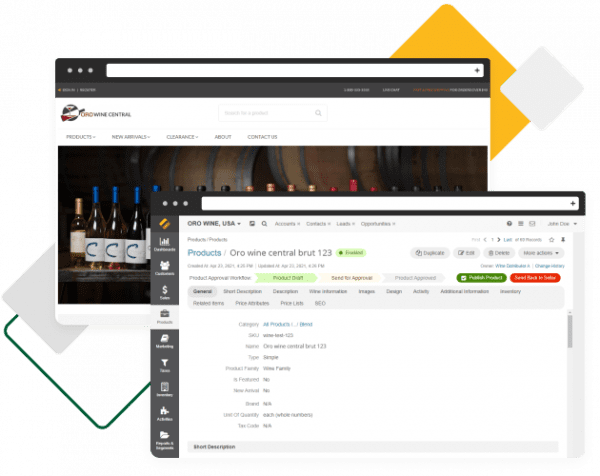 Openness and Innovation
An utter dislike of superimposed limitations is in Oro's DNA. That is why our philosophy is openness in all aspects of our work, – in communication with our partners and customers, as well as in the source code of our products. Open source code is constantly under scrutiny. So, the code base is frequently updated and more secure than most proprietary code.
This approach to releasing application code results in a large and active community of users, developers, and tech partners. As a result, there's a high level of support for the product, themes, add-ons, and plug-ins available. That same community ensures that the code is merit-based. What works stays, what doesn't work is identified quickly and discarded just as rapidly. That's why the open-source approach has a well-earned reputation for being more reliable and adaptive to changes than proprietary, vendor-controlled options. 
Deploy Anywhere
OroMarketplace gives you the freedom to deploy your marketplace using any model you prefer. Whether you desire to keep the application, data, and operating environment on-premise or are looking for a cloud solution, OroMarketplace deploys with any model. 
An OroCloud deployment offers OroMarketplace as a complete B2B SaaS product. You focus on building your marketplace while the OroCloud keeps it safe and secure. It's a fully hosted and managed solution. 
On the other hand, OroMarketplace can be deployed on any private or public cloud. 
Or, if you need the best of both worlds, deploy with a hybrid solution. For example, you can keep the data in-house and processing cloud-based. 
Deploy anywhere and if you change your mind, OroMarketplace migrates too. 
Out of the Box Features and Full Support
OroMarketplace comes with all the features you need to get your MVP to market fast. All the functionality needed to support B2B buyers and vendors is available out-of-the-box with the standard product. From onboarding new vendors to taking their store-front live, you've got everything you need to create your marketplace and get vendors selling fast. 
And because OroMarketplace is highly customizable, you will be able to iterate and improve on your working MVP, as you grow your marketplace and process your buyers' and sellers' feedback. If you need assistance, Oro provides full 24/7 ticketing support during development and after you go live. 
Integrated Solution For Every Marketplace Model
OroMarketplace marketplace management software does not only support your backend processes, but has a native digital commerce component, based on the award-winning OroCommerce B2B eCommerce platform. It means that you save time and effort building your marketplace as you control both back-end and front-end operations all from the same platform and don't have to worry about the complexities of integrations.

On the other hand, if you already have a running eCommerce storefront that you prefer to integrate with a marketplace management system, OroMarketplace allows that too. The broad collection of open front-end APIs make headless and decoupled operation models possible and have been successfully leveraged by our customers.
Transparent Fees
Oro's transparent pricing philosophy means you know your licensing fees upfront. There are no transaction or volume fees. When you know your cost is fixed, it's easier to budget and that's important when starting up a new marketplace.
Stages of Oro's Multi-Vendor Marketplace Creation Process
At Oro, we understand and are fascinated by the unique needs of B2B marketplace platform operators, buyers and vendors. That's why our job never ends as soon as we close the license deal. It is important for us to be involved in all stages of your project planning and implementation, so that the marketplace you envision is the marketplace you open.

Our usual process includes the following steps:
Connect with an OroMarketplace expert and tell us about your vision, model, and goals for your marketplace. 

Based on your goals and vision, we'll involve the best partners for your use case from our ecosystem and work with them to prepare a recommendation for your MVP. 

When you are ready to move forward, the implementation phase starts. As our trusted partners work on your marketplace, Oro advises and guides them throughout the process to ensure quality.  

Once you go live, our partners, as well as Oro's account managers will be by your side to make sure you are happy with the solution. In case of any technical questions, our ticketing support is available 24/7 to help you solve any issue as soon as possible. 
Build a Better Marketplace Today
If you build it, they will come may be true for a Field of Dreams, but not an online marketplace. A successful marketplace fills a market need, is built on a sound plan that generates revenue for the marketplace operator, and adds value for buyers and vendors. 
Your choice of technology will have a tremendous impact on your marketplace success. The best marketplaces are built with technology that is flexible and scales easily.  They extend effortlessly to integrate with common business systems.
Are you ready to build a better marketplace? Talk to Oro. Together we'll build something great. 
Questions & Answers
What is a multi-vendor marketplace?
A multi-vendor marketplace is an eCommerce website where many different vendors offer products and services. A multi-vendor marketplace can serve retail customers, business customers, or both. The purpose of the multi-vendor marketplace is to make shopping easier for buyers and expose vendors to customers they may not reach with their traditional marketing methods.
What is the best multi-vendor marketplace?
The best multi-vendor marketplace software provides maximum flexibility for all marketplace functionality.  This includes:
OroMarketplace

Mirakl

Izberg
Of these four, only OroMarketplace can be operated as a SaaS, IaaS, and PaaS option. The others are available as SaaS only, limiting your ability to customize and deploy.
How do I create a multi-vendor marketplace?
First, determine if there is a need for the marketplace. Lack of demand is the most common reason for business failure. Second, develop a comprehensive business plan including personas of your buyers and vendors and a method of monetization. Third, select a multi-vendor marketplace platform that meets your needs. 
What are examples of multi-vendor marketplaces?
The largest multi-vendor marketplaces selling goods are Alibaba and Amazon. Airbnb and VRBO are examples of multi-vendor marketplaces that sell services. Etsy, eBay, and Craigslist are multi-vendor marketplaces that target consumers. PartsBase, Shippo, and TradeIndia are multi-vendor marketplaces that target business-to-business transactions.
How does a multi-vendor marketplace website work?
A multi-vendor marketplace brings together many vendors and buyers. vendors are usually vetted by the marketplace operator before they can offer their goods for sale. Buyers come to the eCommerce website and connect with vendors. They may place orders for goods or services or negotiate prices and terms first. Payment is generally made to the marketplace operator who then remits to the vendor less any transaction fees.