Buyers flock to marketplaces for low prices, wide product selection, multiple vendor options,  and an easy purchasing experience. So, the more sellers a marketplace attracts, the greater the value it offers to these buyers. These buyer-seller relationships are the backbone of successful marketplaces.
But in 2021, building and maintaining these relationships is difficult. Marketplace operators must understand customer needs to grow while also onboarding new vendors, and tracking vendor engagement and performance.
In sales, customer relationship management (CRM) tools have traditionally been the go-to technology for centralizing communication, activity, and data about potential and existing customers. In eCommerce, the CRM helps online sellers attract and retain customers and better meet their needs. When it comes to online marketplaces, the marketplace operator needs a CRM with the flexibility and capability to provide visibility into both vendors and buyers. 
In this post, you'll learn about the role of CRM in the marketplace and why marketplaces require unique CRM tools.
What is CRM Software?
CRM software allows companies to monitor and track every interaction with their customers to gain insights that maximize marketing and sales efforts. It's a must-have tool for marketing and sales teams to control their pipeline, evaluate the effectiveness of marketing strategies, nurture relationships, and improve communications with customers.
The CRM performs many critical functions.
It collects and centralizes customer data. This makes tracking customer activity easier and allows brands to segment customers for more effective marketing. A CRM identifies the times and methods for optimal engagement to increase repeat purchases and ultimately sales. 

It automatically performs many customer-related business processes, increasing staff productivity. It also handles data transfer between sales, marketing, and support teams to eliminate data silos. 

It provides the analytics and reports necessary to fine-tune marketing and sales strategies. Brands can craft better marketing plans and calculate more accurate sales forecasts.
While CRMs are designed to manage customer relationships, they also meet other business needs. For example:
More effective collaboration.
Businesses want to improve customer relationships, customer retention, and customer satisfaction. By offering sales, service, and marketing departments a unified customer view, various departments can better collaborate to deliver the right customer experience.
Automate sales and marketing tasks.
Many businesses recognize the benefits of streamlined activities such as pipeline management, marketing, and customer support. They use CRM software to reliably generate leads, manage the pipeline, and engage with customers with automated campaigns.
Improve marketing decisions.
Every business has sales targets, business objectives, and profitability metrics. A CRM aggregates up-to-date, relevant information from large volumes of data, giving sales teams better insights into marketing ROI and sales trajectory.
Why Do Marketplaces Need a CRM?
Just like individual eCommerce sellers, marketplace operators must manage customer information, activity, and interactions. They need to collaborate with team members, streamline workflows, and monitor marketing strategies. Marketplace operators must maintain both buyer and seller relationships. This adds a layer of complexity to CRMs for an online marketplace.
Marketplace success depends in large part on vendor quality. Marketplace operators must identify the right vendors and then onboard them smoothly. Operators must track vendor performance and engage with vendors according to their unique corporate business structures. In addition, vendors must manage their leads and build relationships with their customers, requiring additional functionality. A CRM for marketplace must manage the following relationships:
Operator-vendor relationships
The marketplace operator controls every aspect of the vendor relationship, starting from onboarding, communication, contract documentation, and catalog verification. With so many moving parts, marketplace operators require a flexible, scalable CRM system with strong features for marketplace duty to ensure nothing falls between the cracks.
Vendor-customer relationships
To meet buyer needs, vendors must collect and analyze accurate data on their customers. Vendors must be able to segment their customers (by demographics or purchase activity for example) to set promotions or create marketing campaigns. Vendors need information on their customer behavior and their eCommerce activity to make the most of their participation in the marketplace.
Operator-customer relationships
To offer customers the best possible experience, operators must track everything from page views to purchases and abandoned carts. Depending on the marketplace, the marketplace operator can offer customer service, promotions, discounts, or offer value-added services. With a CRM system, operators have the data they need to address transactional, delivery, or any other customer dispute.
Marketplaces, by their very nature, depend on strong relationships, and today's software is the glue that binds these relationships. Let's compare the differences between a simple eCommerce CRM and a complex B2B marketplace CRM.
Two different applications of CRM systems
Let's explore some real-world CRM applications in two different digital commerce environments.
1. CRM for Simple eCommerce
In the most basic business-to-customer (B2C) eCommerce scenario, you have one entity (the business) selling to another entity (the customer). Customers are usually private individuals who just want an easy checkout process.  The buying cycle is short, so leads turn into purchases in mere moments. You don't need an account manager and the customer does the onboarding. The CRM simply needs to capture customer data as well as order and credit card information. This data can then be used to target the customer with relevant marketing: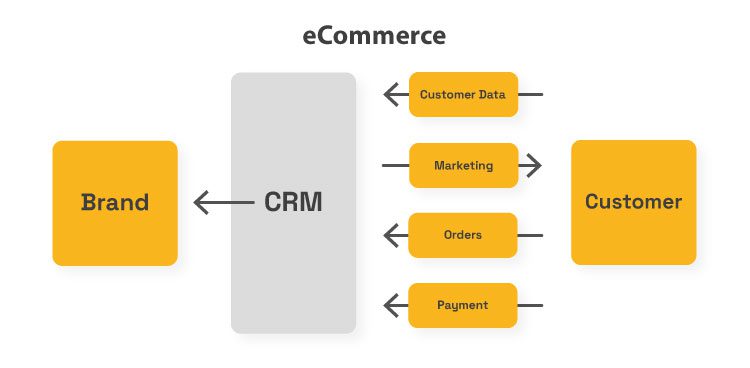 These sellers market with promotions, upsells, and personalized discounts, so they need visibility into marketing activities, sales performance, and inventory to maximize the seller-customer relationship. A simple eCommerce CRM system should provide powerful segmentation and reporting features, offer some sort of email marketing automation, and social media integration. It might offer omnichannel support for sellers using offline and online channels. In terms of the customer relationship, it manages a simple one-to-one interaction.
2. CRM for B2B Marketplace
The marketplace operator uses CRM software to manage both vendor and customer relationships. In addition, the operator needs to provide this capability to marketplace vendors. A marketplace CRM software treats new vendors like leads to move them through the onboarding and approval process. It should recognize that business customers need control over their own unique purchasing workflows. In the example below, the CRM captures customer data and relays marketing material to the right customer while splitting customer data associated with orders and payments between vendors: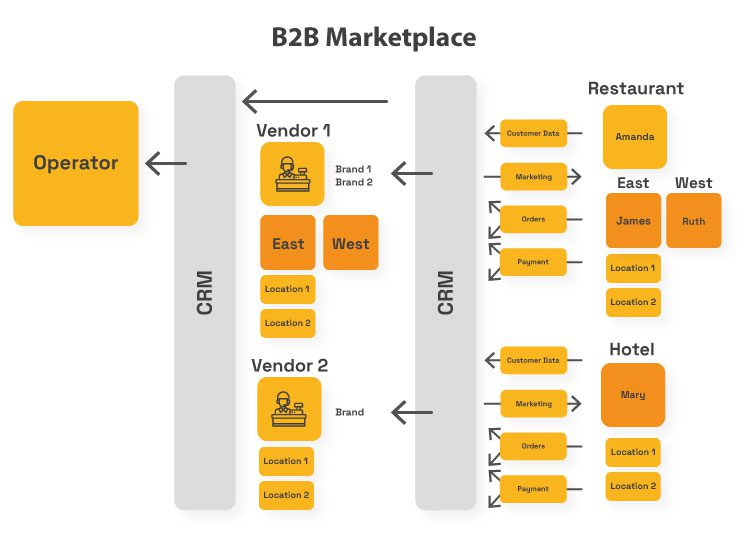 Operating a B2C or B2B marketplace is considerably more complex than single-seller eCommerce.  The CRM for marketplaces must offer features that give visibility into vendor performance, buyer activity, and help maintain the overall health of the marketplace. Look for a CRM with B2B marketplace features out of the box combined with the flexibility to customize the solution to your unique marketplace needs.
According to Accenture, 80% of B2B Buyers leave suppliers that are unable to align service to buyer expectations. So a marketplace CRM must offer vendors features that enhance customer visibility, too. When you give vendors insight into their performance and customer activity, they'll continue selling with you, which creates a strong and resilient marketplace. 
Key Features of a Marketplace CRM System
Now that you understand the complexity of the marketplace, it's easy to see how marketplace CRM solutions must support various marketplace relationships over diverse organizational structures, ordering hierarchies, and buyer types. From the most common to the most unique, here's a look at the key features of a CRM marketplace.
1. Contact management
Marketplaces generate large volumes of customer data, so centralizing contacts is a must. This feature is a crucial part of any CRM, as it enables you to supply customers with the marketing material, promotions, and products relevant to them.
2. Lead management
When buyers visit the marketplace, vendors need to make the right connections to convert them into customers. To ensure that leads don't fall between the cracks, look for a CRM that delivers real-time customer activity data and maximizes conversions with customer engagement tools.
3. Opportunity management
As sales cycles increase, teams need to manage opportunities effectively. As opportunities move down the pipeline, the CRM can help prioritize them, as well as offer data on past opportunities to keep campaigns on track.
4. Sales performance management
While sales teams nurture leads and grow customer relationships, sales managers need to understand how everyone performs. With the CRM providing a clear overall picture, they can drill down to individual team members and see exactly when and where they need additional help.
5. Reporting and analytics
Aside from nurturing sales leads and managing opportunities, you must also monitor outcomes. Sales analytics and reports are tools to aid in better qualifying leads, engaging with customers, and improving marketing strategies.
6. Sales forecasting
With reporting data in one place, it's easy to compare current performance with past results. A CRM with sales forecasting features helps identify areas of focus for future marketing endeavors.
7. Automation and workflows
Automation is critical to keep staff productive, reduce errors, and offer personalized customer experiences. Markets and buying preferences change over time, and flexible CRM automation features adapt to changing needs of users.
8. Campaign management
Once campaigns are launched, they must be monitored and managed. Look for a CRM that features campaign dashboards with analytics features that can manage multiple campaigns from a single place.
9. Mobile-friendly support
Vendors and buyers are attached to the phone or tablet, so mobile functionality is a must-have for any CRM system. Look for a system with an app or responsive design that works on any mobile device.
10. Roles and permissions
If your marketplace operates in a B2B eCommerce environment, the CRM should support the business structures unique to business customers, including multiple brands and sub-brands, corporate hierarchies, and user permissions.
11. Approvals and contracts
Business customers usually consist of many decision-makers and approval structures. Managing these processes by hand can be prohibitive and invites opportunities for errors. Look for CRM that can support multiple approvals, contracts, and RFQ workflows.
12. Document management
As your marketplace business grows, you'll need to accurately store, track, and process your business documents. From emails to contracts to sales documents, the CRM should provide the right file and version when needed.
13. Vendor onboarding workflows
For marketplaces and third-party eCommerce sites, vendor experiences are important. A poor vendor experience will lead to vendors leaving for competing marketplaces. Look for a CRM that can handle your routine tasks through automation.
14. Vendor approval workflows
A marketplace must quickly and effectively identify new vendors and offer them a smooth verification experience. Look for a CRM that can manage vendor contracts, proposals, and unique seller specifications or requirements.
15. Vendor reports and dashboards
Marketplace CRM systems should track vendor performance and customer activity including clicks, purchases, shopping, and checkout behavior. You may want to provide each vendor with their own sales performance and customer activity dashboards, too.
16. Integration, flexibility, and customization
No matter your eCommerce or marketplace environment, you depend on multiple business systems to operate. The CRM is a central part of your software stack, boasting a wealth of customer information – which is critical if you want to eliminate time-consuming data entry and make better data-driven decisions.
Integration facilitates critical functions such as real-time customer updates and order history synchronization enabling you to offer customers a personalized experience. Look for a system that integrates with tools you already use but also consider their architecture, APIs, and development resources.
CRM Options for Marketplaces
Marketplaces are as individual as the niches they serve. That means every marketplace's customer requirements are different. Firstly, not everyone uses dedicated software to perform functions involving customer relationships. If you do, you may decide to offer varying permission levels to vendors and buyers. You may want to focus on marketing automation, facilitate collaboration, or streamlining transactions. Here are the most common approaches to managing customer relationships and the pros and cons of each. 
ERP integration
ERP systems generally serve as the backbone of complex marketplaces. Since an ERP spans all departments (production, inventory, sales, accounting) and gathers virtually all data necessary for the organization to function, it remains the marketplace operator's single source of truth.
Pros:
Most enterprise-grade ERP systems store some customer data and come with CRM modules. If your distribution ERP software is capturing all the data you need, a standalone CRM may not be necessary. In this instance, using the ERP as a CRM tool keeps inventory, product, pricing, ordering, and invoicing information in one place, greatly enhancing operational visibility.
Cons:
One big downside of using the ERP as a CRM is that an ERP is built to manage processes, transactions, and operations, not customer information. In addition, many marketplaces run a drop-shipping model, where the vendor doesn't keep stock, and relies on third parties to stock, label, ship, and handle returns. Along with smaller marketplaces, these businesses typically don't use an ERP, so they need a CRM to manage relationships.
CRM integration
With integration, you essentially combine your customer data and eCommerce activity. You enjoy the freedom of choosing a system that meets your needs while enabling data transfer with your marketplace management platform.
Pros:
Your CRM can capture website activity, interactions, and order history from your marketplace, giving sales and marketing teams greater visibility into vendor and customer activity. This data helps you to craft marketing campaigns to benefit vendors and buyers. Marketplaces with long sales cycles or complex supplier relationships require a way to nurture leads and manage opportunities. A CRM system helps operators and vendors prioritize activities, track progress, and meet sales goals.
Cons:
The quality of your integration will depend on how well your CRM can connect and integrate with other technologies in your tech stack. You may be limited by the technical capabilities of your systems or the way information flows between them.
Also, keep in mind that the B2B marketplace CRM industry is still in its infancy, so finding an off-the-shelf solution without complex development and workarounds may be challenging.
Built-in CRM software
The optimal solution, of course, is to find a marketplace platform that comes with a native CRM.
OroCRM is a multi-channel CRM built for virtually any commerce scenario, including marketplaces. It's built on a robust open-source architecture, making it flexible and customizable to any use case. It comes with features such as 360-degree customer view, segmentation, promotions, customizable workflows and reporting engines.
OroCRM comes with OroMarketplace, an integrated B2B marketplace management solution that offers operators the ability to easily onboard vendors and provides visibility into vendor activity. It also provides vendors their own tools to manage their customer relationships.
Marketplace Relationships Demand Unique CRM Strategies
The CRM is an indispensable tool for any multi-vendor eCommerce marketplace business looking to build long-lasting relationships with partners, vendors, and customers. A CRM system offers marketplace operators the necessary context and information to convert these mutually beneficial relationships into revenue. 
But not all CRMs are equal. Marketplace operators must carefully review the CRM features, the ability to customize and integrate, and the ecosystem of developers for customization services and support. The right marketplace CRM system embraces the complexities of marketplace relationships, boosts customer satisfaction, and creates loyal customers.
Empower your B2B customers with the help of technology
Discover real-life case studies from leading distribution brands.
Questions and Answers
What is an eCommerce CRM?
A CRM helps eCommerce businesses turn site visitors into leads, centralize customer data, and streamline sales processes, thereby increasing revenue. A CRM software for eCommerce unifies fragmented customer data and offers sales and marketing teams the tools to better engage and market to customers.
What is a Marketplace CRM?
A marketplace CRM helps marketplace operators to onboard, engage, and manage vendors. Aside from tracking vendor performance, a marketplace CRM also offers operators insights into shopping activity. Some marketplace CRMs allow operators to enable CRM services to vendors for additional insights.
Does a marketplace need a CRM?
Marketplace relationships are complicated. Keeping track of partners, vendors, customers, and leads is a challenge, and maintaining a holistic view of these relationships is a constant struggle. A marketplace CRM helps identify the right connections, build on existing relationships, and analyze data to make better decisions.