The Forrester New Wave™ is a premier resource for buyers considering technology in the emerging market over a wide range of software, hardware, and services offerings. The Forrester New Wave™: Marketplace Development Platforms, Q4 2021 report evaluates the emerging market for marketplace management platforms.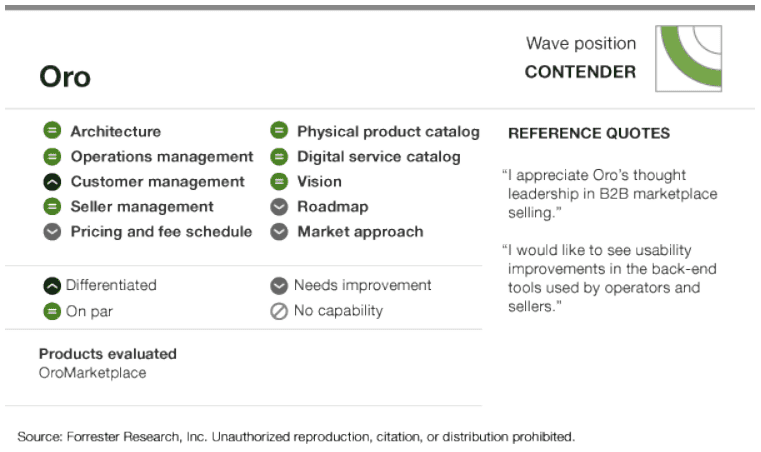 Forrester's evaluation found that "Oro is the best fit for midmarket manufacturers providing one-stop shopping. Oro's e-Commerce presence in midmarket and smaller enterprises that are working toward scale of sellers makes it well positioned to offer range extension to its ideal client profile."
In addition, one Oro reference customer stated, "I appreciate Oro's thought leadership in B2B marketplace selling."
We are proud to be recognized as a Contender in The Q4 2021 Forrester New Wave for Marketplace Development Platforms. Oro was among the fourteen platforms to be evaluated based on ten assessment criteria. Even though we only started marketing our marketplace solution this year, it already powers numerous major enterprise marketplaces in verticals such as government procurement, manufacturing, and distribution.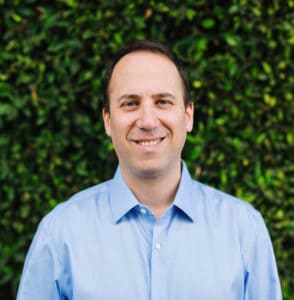 Oro is committed to developing the most robust and feature-rich solution available for today's marketplace operators, and Forrester's analysts have recognized our industry-leading capabilities.
Yoav Kutner, CEO,
Oro Inc.
Forrester New Wave Report: What Is It and Why Read It
Forrester Research is one of the most influential market research companies in the world, providing professionals and global leaders advice on the latest technology trends and offerings.
The Forrester Wave uses a unique and transparent methodology to compare various vendors so that industry professionals can make informed decisions in less time. In this report, Forrester first conducted primary research to evaluate vendors based on ten criteria, seven of which are based on current offering, and three of which are based on strategy:
Architecture

Operations management

Customer Management

Seller management

Pricing and fee structure

Physical product catalog

Digital service catalog

Vision

Roadmap

Market approach
The Forrester New Wave™ report assesses the top products in emerging technology markets. This report evaluates select marketplace vendors that:
Demonstrate features and capabilities that Forrester clients are interested in.

Go to market as a marketplace development platform, or an eCommerce platform with marketplace capabilities.

Have a significant presence in the marketplace development platforms market.
What This Recognition Means for Us
In our eyes, this recognition from Forrester is yet another proof that building products that place B2B relationships first is a winning strategy. We are determined to continue empowering people with B2B eCommerce and marketplace solutions to grow existing relationships and build new ones. Our customer-driven and ecosystem-centric approach to product development helps us stay on the cutting edge of technology and market demand.
"OroMarketplace is the undisputed leader when it comes to supporting dynamic seller-buyer interactions, facilitating complex workflows, and helping operators to take their marketplaces to the next level. This report validates our customer-centric strategy and our commitment to using best-of-breed open-source software to drive growth for B2C, B2B, and B2X marketplace players." - Yoav Kutner, CEO, Oro Inc.