Last week we hosted a demo on the OroMarketplace LTS release to show you its latest capabilities. Marketplace operators and sellers will appreciate business-oriented features and improvements to make them more productive and enhance their experience.
We thank you for attending and participating in our webinar. If you missed it, you can watch the webinar recording below. Alternatively, we'll summarize what we talked about in the post below.
How OroMarketplace Works
OroMarketplace is a marketplace-focused independent component part of Oro's B2B eCommerce platform. Build on top of native multi-vendor features, it comes with many B2B-focused capabilities such as the ability for marketplace operators to onboard and approve B2B sellers and set seller permissions.
Another key component of the marketplace is managing monetization such as commissions and disbursing payments. Sellers need to manage their own orders and shipping, and buyers need to see orders from all sellers on a single checkout page.
These are just some of the functionalities we covered in the presentation.
OroMarketplace in Oro's ecosystem
Oro's OroCommerce is the leading flexible, scalable, and secure B2B-focused digital commerce platform on the market. With OroCommerce, a typical B2B buyer-seller interaction might involve an organization with multiple brands or warehouses selling to other organizations with their own business units.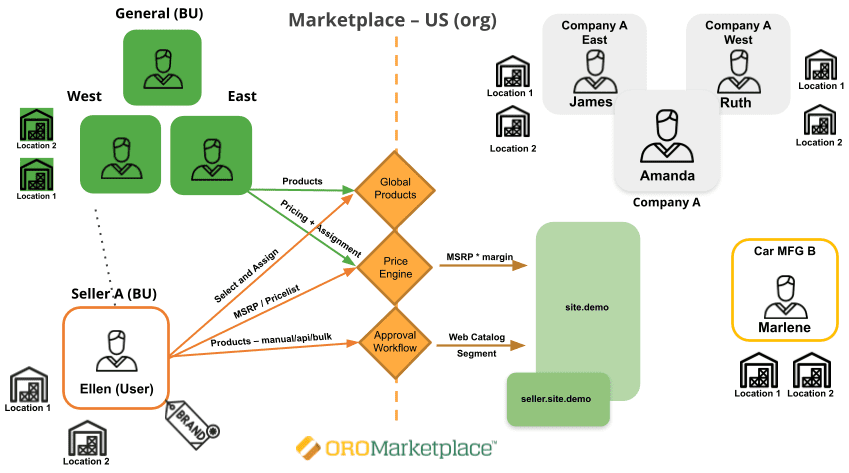 OroMarketplace adds the notion of a seller entity to the equation, which slots between the operator and the buyer for a marketplace scenario.
What's New in OroMarketplace LTS?
Business units and roles
Marketplace business unit
Previously only available for the sellers and buyers, we introduced business units for marketplace operators. This means the marketplace operator can have subdivisions in charge of sellers representing a particular brand, product line, serving a specific geographic area, and so on.
New seller user roles
We also launched new back-office roles for the seller, namely seller admin, and seller catalog manager. Seller admins can receive and manage orders. Seller catalog managers take care of product listings, product attributes, and so on. With roles that correspond to their line of work, sellers can work more effectively.
Seller experience

CRM seller onboarding
By default, operators can onboard sellers via email or a natively available form in the storefront. However, the onboarding process can be further enhanced with Oro's workflow engine, complete with approvals, contract management, and email notifications. By integrating with OroCRM, the system can treat new seller requests as a CRM lead for the operator.
Seller product management
Sellers have a new function enabling them to create and manage warehouses and brands. That allows sellers to control inventory more effectively. Operators can retain some control over the process by setting a predefined catalog, product category, and SKU number so sellers can direct their products to the right place.
Seller price attributes
Marketplace operators have extensive control over seller prices. With Oro's workflows, operators can grant sellers select pricing privileges, specify commissions or margins, or review seller prices before publishing. Sellers can manage their own price lists, and specify MRSP, MAP, retail prices, or tiered prices.
Shipping and order splitting
Buyer-facing marketplace orders are split in the system and presented to each seller as a sub-order. Similarly, shipping rates get calculated at checkout according to every seller's shipping provider. Sellers can create shipping rules that incorporate customer-specific attributes such as order values and purchase frequency.
What's Coming Up
We know that B2B businesses require more complex shipping options than B2C businesses. We're working on enabling sellers to offer multiple shipping options for buyers.

Operators will get a chance to use a single SKU for multiple sellers. Sellers offering an identical product will be listed on a single product page in a "sold by" table.

A tiered commission system is in the works. It will take into account seller categories or any other dynamic condition (for example, based on the seller's order quantity or revenue).

We're speeding up the product approval process for sellers with large inventories. Marketplace operators will be able to approve products in bulk.

Sellers will be able to specify their own customer segments as well as prices, enabling them to create a more personalized experience for their customers.

With an improved order approval and update workflow, sellers will be able to communicate whether or not they can fulfill a buyer's order.

We're going beyond standard RFQ interactions to make OroMarketplace a communication portal buyers can turn to for answers and clarifications.

Seller dashboards will receive more elements, reports, and widgets to give sellers more visibility into their performance.

We'll offer a simplified seller theme and menu so that it's easier for smaller marketplaces and their sellers to get started.

Last but not least, we are working with Stripe Connect to offer Stripe integration for OroMarketplace.
Questions and Answers
What is the pricing structure for OroMarketplace?
We rely on multiple parameters to determine the cost of using our products. Instead of transaction fees, taking cuts, or sharing revenue, we rely on indicators like the total GMV passing through the system. We don't place limits on the number of operators, sellers, SKU numbers, or buyers. However, based on these numbers, we can develop specific pricing for each project.
What are OroMarketplaces' integration capabilities?
OroMarketplace features robust and dynamic front-end and back-end APIs. They're designed in a way to enable integration with various business applications and systems. We support multiple methods and models, including headless. OroMarketplace also comes with a natively integrated CRM system.
How do you manage unique product identifiers?
Marketplace operators manage products via the internal SKU as well as the seller SKU. While the internal SKUs are grayed out for sellers, they can specify their own SKU. Therefore, you can have 100,000 sellers using the same SKU internally, but they'll have a unique SKU in the storefront and displayed side-by-side.
Can sellers provide different payment terms to different buyers?
The seller-buyer relationship will vary from marketplace to marketplace. While some marketplaces allow sellers to see buyers or vice versa, others want more restrictions. For example, if sellers see buyers only when they make orders, it won't be possible to specify payment terms with the seller. Since there are a lot of variables, it's not something that we provide natively – but it's something that can be done.
Can central inventory be used to populate marketplace inventory?
Yes, we can capture inventory data outside of OroMarketplace from a specific warehouse or inventory system to match our sales channels.
If you have more unanswered questions, please refer to the last year's OroMarketplace webinar recap which covers great questions that were asked during the event.
Thank You for Listening In!
We'd like to thank everyone for joining the call and participating in the discussion. We value your participation and the questions and feedback you give us. If you'd like to continue the discussion about OroMarketplace or still have some unanswered questions after watching the webinar, we invite you to drop us a line.