Multi-vendor eCommerce websites are the next wave in B2B ecommerce. Certainly, you've heard by now that marketplaces are the next big thing. Whether you are scoping a B2B marketplace minimum viable product (MVP) or looking to create a multi-vendor environment, you need to carefully consider the operator, vendor, and customer features necessary for success.
B2B marketplaces are quite different from B2C marketplaces. So, it makes sense that the must-have multi-vendor marketplace features are different as well.
In this post we explore the many multi-vendor features you may need for your eCommerce MVP. We will also look at instances where multi-vendor marketplace software is the best solution and when traditional B2B eCommerce with robust multi-vendor ecommerce website features will do the job. You'll even learn about our marketplace RFP tool that makes comparisons easier.
COVID-19 and the Transformation of B2B eCommerce
The COVID-19 pandemic accelerated the move by businesses to buying online, and taught B2B online sellers that while buyers may want the feel of a B2C experience, they still want that B2B personal touch.
The B2C complete self-serve experience doesn't build relationships and even in a pandemic, B2B selling depends on relationships. The most successful digital sellers discovered that a hybrid approach works. When you combine human interaction with digital sales enablement buyers get the streamlined and frictionless online customer experience they demand and sellers get insights for more effective marketing and maximizing customer lifetime value. 
McKinsey & Company Research shows that modern sellers are more reliant on digital and remote selling and that's just fine with buyers.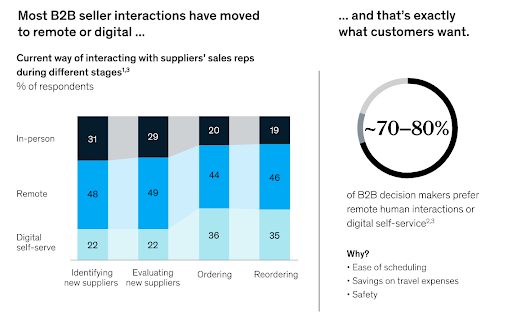 Source
Buyers also discovered that digital marketplaces make purchasing even easier. They can consolidate purchases for multiple vendors under one PO, streamline invoice payment, and start new supplier evaluations from a list of pre-vetted vendors. The marketplace serves as a hub to streamline interactions between the buyer and multiple vendors.
So, as a seller, how can you move from the traditional B2B eCommerce to a multi-vendor model? What new features will you need to support your role as the marketplace operator, attract and retain vendors, and provide buyers a great customer experience?
Let's start by reviewing multi-vendor eCommerce features by role and then compare the different approaches to accessing these functionalities. This will help you identify the multi-vendor marketplace features you need to launch your MVP and the features you may want for future iterations. Not familiar with the MVP approach to eCommerce? Download this guide to learn more. 
General Multi-Vendor eCommerce Website Features
No matter whether you are creating a vertical or horizontal marketplace, there are a few features that every multi-vendor solution should offer. 
Performance
Marketplace and multi-vendor websites must support large product catalogs. This is especially true for B2B sellers. In B2B, each product customization or variation may be represented by a different SKU. A vendor with as few as 50 products with 15 variations can easily have over 11,000 SKUs and most vendors have more than 50 products. Now take that one vendor and replicate it 20, 50, or 100 times and you can see how quickly the marketplace catalog grows. That's why the marketplace solution must be able to handle millions of SKUs without loss of performance. 
Performance doesn't stop with SKUs. A successful multi-vendor eCommerce website attracts large numbers of visitors, and these visitors convert to customers. The solution must handle high daily transaction volumes without a hitch. 
If your multi-vendor website doesn't meet vendor or customer expectations for performance, neither will stay around for very long. So, make sure your marketplace scales effortlessly and performs flawlessly as it scales. 
Localization
If you want your multi-vendor eCommerce website to operate in more than one area, you'll need the ability to localize. From a global perspective, this means the ability to present content in the appropriate language based on location or user preference, handle pricing in multiple currencies, and present shipping options based on location. Even if you don't have global ambitions, you'll need to localize for the various tax rules and rates by vendor or customer location. For some industries, you may even need to control product availability as well. Localization improves the customer experience. 53% of eCommerce buyers find it more convenient to buy in their native language with French, German, and Turkish buyers having the highest preference. And, 74% buy a second time if customer support is in their preferred language. Give vendors the tool to localize and they can customize the experience for each shopper. 
Integration
One of the most important multi-vendor ecommerce features is the ease of integration. The marketplace solution must integrate with your CRM and ERP to become a full member of your tech stack. In addition, your vendors will be looking for integration as well. The easier you make it for a vendor to come as they are with their data in the format they use, the easier you make it to onboard a new vendor. Vendors may also be looking for integration with their own WMS, PIM for eCommerce, or ERP. If they use 3PL services, that integration is vital. When comparing open-source with proprietary solutions, you may find better integration options and APIs with the open-source options.
Operator Features
As the operator, you need multi-vendor features that attract vendors, make onboarding easy, and allow you to monetize your marketplace.
Operator Participation
Will the solution allow you to participate in the marketplace as a vendor? Many operators create multi-vendor eCommerce hubs to create an ecosystem around their own products. Your vendors may offer complementary products or services and if that is the case, make sure the solution easily differentiates between your role as operator and your role as a vendor. 
Multiple Monetization Models
Your monetization model may change as your marketplace matures, so make sure your multi-vendor marketplace features support all common models. This includes commissions, margins, value-added, and subscriptions.
Also within each model, the solution should allow you to treat each vendor separately. 
OroMarketplace back-end lets you assign different commission levels to different vendors to support a multi-tiered approach. As vendors move from tier to tier, changing commissions is easy and orders for vendors at different commission levels don't present a problem.
User Permissions by Vendor
Each vendor will have different needs for user permissions. Put the vendor in control of their own account. For example, a vendor may want to grant permission to an employee to upload products and control product descriptions or inventory without granting access to other areas of the vendor account. By putting vendor permissions in the hands of the vendor, each vendor can tailor permissions and security for their unique situation without the assistance of the operator. 
Global Product Attributes
As the operator, you will want multi-vendor features that allow you to control the products sold in your marketplace. By creating product families, you can apply global attributes to all products, no matter which vendor is selling the product.
A marketplace operator can set global attributes for the products sold on the website. This attribute can be a unit of measure (defining case size), country of origin, or any other product attribute the vendor wants to control.
Automated Vendor Onboarding
Operators need to get vendors selling as soon as possible. By automating the onboarding process, you can get vendors approved, contracts executed, and catalogs approved as smoothly as possible. Look for a workflow engine that allows you to define the onboarding process and then automate it.
Vendor Features
If you can't keep vendors happy, you won't have a marketplace for very long. Your MVP should include multi-vendor eCommerce marketplace features that make selling and managing a shop easy for vendors. 
Multiple Brand Support
Don't lock your vendors into selling a single brand. Look for a multi-vendor eCommerce solution that provides vendors support for multiple brands. Vendors should be able to customize for each brand and operate an unlimited number of brands from one backend. Not only does this contribute to the richness of the marketplace for customers, but it also makes business much easier for the vendor. 
Vendor Controlled Pricing
B2B buyers and sellers are used to negotiating the terms of a deal. Even when the transaction occurs in a marketplace, the expectations remain the same. Look for a marketplace that gives vendors control of their pricing and terms. The pricing engine should be available to each seller to automate the RFQ process. 

In this example, the operator has monetized the marketplace by adding a margin to each product sold. However, the seller remains in complete control of pricing. They simply upload their pricing algorithm or price list structure into the pricing engine which automatically adds the marketplace margin before the price is displayed. 
Look for features that support the natural negotiation that occurs in B2B transactions. 
Custom Storefront Design
Give your vendors the tools to create a custom storefront that is consistent with their brand. While as an operator you might want a unified look for your marketplace, remember vendors look to channels that enhance their existing branding and imaging. Provide a powerful CMS that makes it easy to replicate their brand image in your marketplace.
Marketing Tools
Your MVP should include tools to help vendors market. Provide a segmentation engine that supports segmenting by any attribute. This allows vendors to customize campaigns to the segment for better marketing results.  
Native CRM
Since B2B is built on relationships, give your vendors tools to maintain their customer relationships. Vendors want insights into their funnel and pipeline, especially when selling long-cycle products. Allow vendors to customize their dashboards to measure and track the metrics that matter most to them. 
Vendor Control for Shipping
Vendors want control of their shipping. A multi-vendor marketplace should allow vendors to control their taxes and shipping. While one vendor might calculate shipping as part of the posted price, other vendors may want to charge shipping based on the size of an order or actual costs.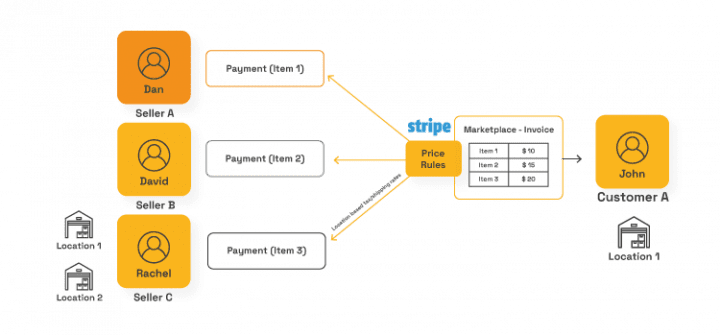 In this example, a buyer purchases from three different vendors in the marketplace, but only one is charging shipping. The marketplace operator's localization feature calculates the proper amount of tax and adds that to the seller-defined shipping to calculate the actual amount due to Seller C.
Buyer Features
Without buyers, you don't have a marketplace, you have a collection of vendors. To attract and retain customers, you must make the purchasing process as frictionless as possible. 
User-Defined Permissions
Just as in straight B2B eCommerce, corporate buyers need control over their account permissions and hierarchies. A B2B marketplace solution must provide the features necessary to allow buyers to define roles and permissions and set security to match their internal organizational structure. Users should be able to create shopping lists and then share them with other account users to make collaboration in the buying process easy. 
Simple Checkout
Allow customers to purchase directly from the product listing page. Then offer them a single-page checkout workflow or the option for guest checkout. Buyers want to get in, make the purchase, and get out quickly so make sure the checkout workflow removes any friction to the process. If your vendors use a third-party service to establish credit, make sure it integrates seamlessly.
Customer Portal
The customer portal should bring together all orders, no matter the vendor, into one place. For multi-vendor orders, the customer should have access to shipping information from each vendor. Customer portal benefits and features that allow buyers to leverage the order history for quick reordering make placing the second, third, or twentieth order easy. 
Advanced Search and Product Ordering
Your MVP should offer intelligent search. Allow customers to search by product name, attribute, SKU, or any other categorization. This helps shoppers find the items they need quickly and painlessly. Then, once they've found the item they need, provide matrix ordering so bulk orders with multiple variations don't require endless data entry. 
Making Sense of Multi-Vendor eCommerce Feature Lists
If the feature list for a B2B eCommerce site seems long, the features needed for multi-vendor eCommerce may seem overwhelming. If you are feeling confused, Oro is here to cut through the clutter. In September, we will release a marketplace RFP tool to help you compare marketplace features. It's also important to know that you don't always need a multi-vendor eCommerce solution to handle a simple B2B marketplace. 
Is a Multi-Vendor eCommerce Solution Necessary?
Depending on your use case, a marketplace management solution may not be necessary. Even before OroMarketplace came on the scene, Gartner recognized OroCommerce as one of the top solutions to support multi-vendor eCommerce marketplaces. 
If monetizing the marketplace isn't the main goal, then you might not need a complete marketplace solution. For example, if you are a franchisor that wants to create a portal for franchisees to order supplies, the OroCommerce solution is all you need. It provides the eCommerce necessary to support the franchise model. Since there will be a limited number of vendors, and rapid growth in the number of vendors isn't anticipated, the most simple solution is the best. 
When the marketplace is set up for convenience or to support your brand's ecosystem and the marketplace revenue isn't the driving consideration, OroCommerce is really all you need. It provides the features you need to support vendors and buyers, split orders, track commissions, and provide marketing support. 
When a Multi-Vendor eCommerce Solution is Required
If your marketplace is your product and your revenue source, you need the full multi-vendor eCommerce features list provided by OroMarketplace.
It is perfect for large catalogs, managing B2B relationships, and processing a high volume of transactions. The workflow automation features keep vendor onboarding and catalog approval moving and allow vendors to automate their RFQ and QTC processes as well. The flexibility to support multiple monetization models and to customize commissions and margins become even more important when the marketplace is your product. 
It provides the ultimate flexibility so operators can control the areas they want and still provide vendors free rein to develop storefronts that support their unique brand and voice. 
Deploy in the OroCloud or on any public or private cloud or even keep on-premise if you prefer. You can rely on 24/7 support from the Oro Team to keep you up and running and that's important when your vendors look to you for reliability. 
To see OroMarketplace in action, sign up now for our introductory webinar to be held on October 7th, 2021, at 11:00 am ET.