PartsBase, the World's Largest Aerospace Marketplace, Raises the Bar in B2B Aviation Sales
PartsBase is the world's largest aerospace buying and selling community, with thousands of sellers offering over 15 billion aviation parts. It's a valuable resource for industry leaders in the aviation, aerospace, and defense industries.
Live Website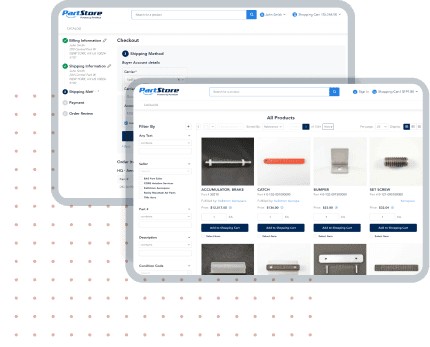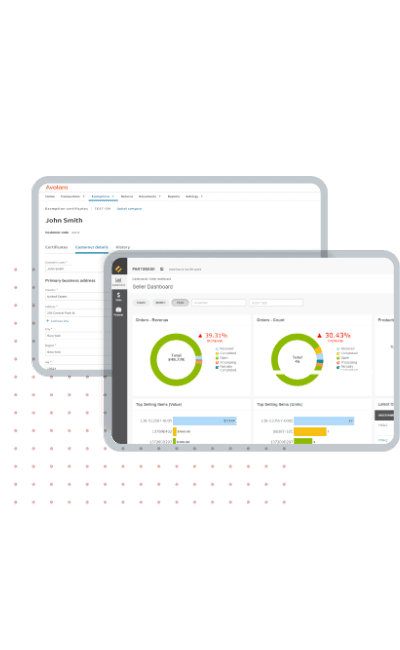 The Challenge
As the world's largest aerospace parts locator service, PartsBase has always been at the forefront of the industry. With the aerospace market constantly evolving and customer demands changing rapidly, PartsBase recognized the need to stay ahead of the game.
The company offers a wide range of products and services to airlines, facilities, insurers, distributors, and defense sectors. Despite its established presence in the market, PartsBase faced challenges with manual sales processes that slowed them down.
Vendors' sales reps had to send PartsBase managers lists of products they wanted to sell, which the manager would then upload to their WooCommerce eCommerce platform. Sales reps also had to check back with the manager to relay updates to customers, which added to the already cumbersome process.
In order to improve the sales process, PartsBase recognized the need for a partner with the capabilities to handle complex B2B marketplace selling processes. They sought out a partner that could grow with them and support their ambitious digital transformation plans into the future.
It was clear that a traditional digital commerce platform was not enough to keep up with their customers' demands.
A huge part of PartsBase's success is in the ability to listen to our customers and their needs, and continuously invest in features and functionality that are being requested by them. In Oro, we found a platform and a partner that truly understands this customer-first approach and provides us not only with native features and capabilities necessary to launch a B2B marketplace but also with the flexibility to keep on iterating and improving our offering further.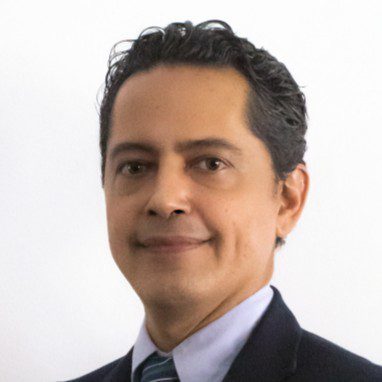 Rodrigo Garcia
Chief Operating Officer at PartsBase Inc.
The Solution
PartsBase chose Oro for their capabilities in handling complex B2B eCommerce scenarios, robust open-source architecture, and API-first approach. The ability to rely on Oro's technical team for project guidance was also a crucial factor in their decision.
The project began by replacing their in-house system with OroCRM to manage customer accounts, communication, and email notifications. In the next stage, they focused on their core business, the airline B2B marketplace, by replacing their previous eCommerce platform with OroMarketplace.
Oro's all-in-one solution allowed PartsBase to consolidate their CRM, commerce, seller, and customer management into a single platform.
Throughout the project, Oro's technical team provided consultations to PartsBase, ensuring a seamless transition from their legacy systems and processes. Oro implemented a centralized authentication system that communicated with numerous PartsBase API endpoints to manage eCommerce, ERP, and CMS data from PartsBase and third-party sellers.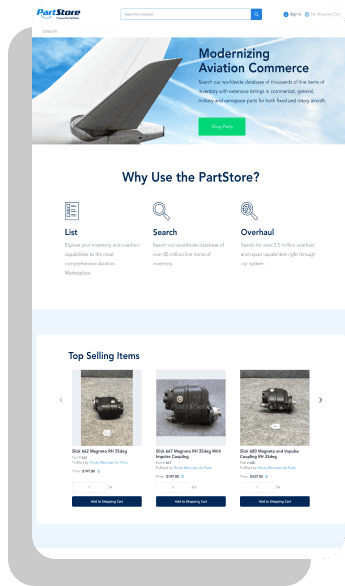 Thanks to Oro, PartsBase was able to implement several new features and capabilities, including:
General marketplace features
High performance and scalability for efficient handling of large numbers of sellers, their products, and customers.
Powerful search that identifies products by part numbers, manufacturers, sellers, and other keywords.
B2B-focused features like support for seller and customer hierarchies, segmentation, pricing, and purchasing workflows.
API connection with proprietary PartSource system for seamless synchronization of customer and product information
Built-in product data (PIM) capabilities, including expanded data fields and external data enrichment.
Customized database replication process managed within Oro's systems for greater data consistency.
OroCRM and Microsoft 365 integration for 2 way seamless synchronization of Outlook emails and events.
Google Analytics 4 dashboard for improved visibility into eCommerce performance and shopping behavior.
Vendor experience features
One-click seller organization, admin, and sales rep onboarding for a streamlined registration process.
Individual seller permissions for greater control over product listings and the buying experience.
Self-serve product uploading with an approval workflow for better quality control.
Ability for sellers to integrate their own product catalogs into the PartsBase marketplace.
Order splitting, grouping items by sellers, sub-orders, and routing on the product level.
Buyer experience features
Registered user and guest checkout options.
Buy it now feature that can be added to any marketplace order for quick and easy purchasing.
Self-service features like order status tracking, approvals management, and personalized checkout.
Payment splitting and support for multiple payments managed through Stripe integration.
Avalara integration for generating automated tax exemption certificates.
Support for predefined shipping rates and free shipping options.
Product and seller reviews powered by YotPo review management integration.
Following the launch of the service at PBEXPO 2023, PartsBase now offers their customers a comprehensive end-to-end solution, from locating the right parts to timely delivery. The company is anticipating the onboarding of hundreds more sellers and providing them with an experience unmatched in the industry. With OroCommerce as their partner, they are poised to remain a leader in the industry in the years to come.