Our Сloud eCommerce Platform
Businesses of all shapes and sizes can harness the power of cloud-based software with Commerce Cloud without the need and hassle to host or maintain infrastructure, giving you a robust hosting platform.
Spend more time running your business as Oro takes care of your hosting, security, upgrades and maintenance with a private and secure platform to support your business.
If you're looking to expand, you'll also be pleased to hear that our Cloud eCommerce platform offers scalability and reliability on a larger level.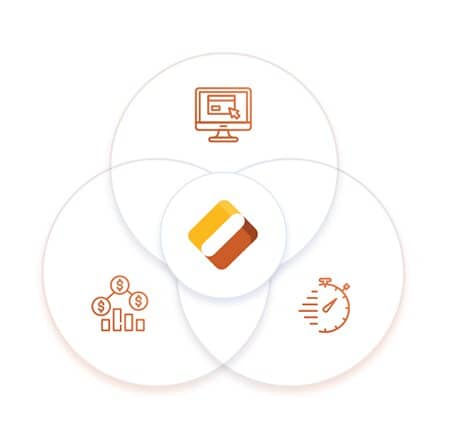 Choosing an eCommerce Cloud Solution For You
Wondering if an eCommerce cloud solution is right for your business? With Oro, you'll be able to benefit from an affordable solution that is both easy to deploy and is hassle-free to set up and maintain.
Our cloud-based eCommerce solution scales with your business, making it suitable for any sized business and can be a long-term solution that you'll be able to keep in place. On behalf of your business, we handle hosting, maintenance and upgrades, so you can enjoy a smooth service with OroCloud.
OroCloud's hosted service is also PCI-DSS certified, meaning that every application tied to our cloud-based software is PCI compliant and secure.
OroCloud Benefits
Security
Let's face it – security is a significant factor when it comes to choosing your cloud-based eCommerce platform. This is why OroCloud offers reliability and complete protection of your data, meaning that nothing can fall into the wrong hands. So, whether you're running a personal store or an enterprise eCommerce platform, we've got all your security needs covered under one roof with our rock-solid infrastructure that keeps your store and data secure, as well as keeping you safe against distributed attacks.
Scalability
If you're looking at becoming bigger and better, then you may have a rough idea of your desired scalability when thinking about your business growth. OroCloud caters to businesses of all scales with a future-proof solution suited to all sized-businesses. As OroCloud grows with your business, you can trust that the performance, reliability and availability of our solution won't be impacted as you grow.
This also means that you won't have to worry about the size of your catalogue, the size of your orders, or the amount of transactions that flow through your eCommerce website.
High-Availability
Downtime can be critical to business operations, which is why we are continuously investing in our solution to support your business globally without compromising on quality and performance. You'll have a high-quality service offered with speed, stability and reliability all along the way, no matter where you are in the world.
We also offer round-the-clock support from our team of dedicated technical engineers, who are constantly monitoring, preventing and fixing technical issues in the unlikely event they occur.
Secure Payments
To ensure complete security and protection when accepting payments on your eCommerce platform, you must have a PCI-DSS Certified solution with a robust infrastructure that is capable of keeping data secure and encrypted. OroCloud is a PCI compliant solution that keeps the security of you and your customers in check.
GDPR Compliant
We take thorough steps to ensure our service complies with the latest security standards in order to provide a GDPR compliant cloud-based eCommerce solution. This is why OroCloud is secured with end-to-end encryption to give you peace of mind that customer data is safeguarded, every step of the way.
Hosting Uptime
OroCloud services are included with all Enterprise Licenses using our open-source eCommerce platform. While you are welcome to use a cloud service or on-premise solution of your choice, Oro's cloud-hosted solution gives you access to round-the-clock support from our team of dedicated technical engineers. You can count on us to constantly monitor, prevent, and fix any technical issues your application may have.
OroCloud: A Solution For All
High-Level Security
OroCloud is equipped with all the safety protocols to keep you safe, including reliable firewalls, encryption and protection tools against distributed attacks.
Ongoing Support
OroCloud supports top-end monitoring tools including Blackfire, Quanta, Stackdriver and NewRelic. This enables us to provide you with a dedicated 24/7 support team who are there should an incident arise.
Guided Onboarding
We provide you with OroCloud self-help guides with step-by-step instructions to walk you through onboarding OroCloud for your business. Although, if you find this tricky, our customer support team is also on hand to support you along the way for a smooth and seamless setup.
Maintenance
Our maintenance tool helps keep complex maintenance operations running smoothly and controlled.
Support, Whenever You Need It
We prioritise cases by urgency and severity, so any major issues will be dealt with as soon as possible. We also promise to respond to your question or request within 4-24 business hours.