ADDEV Materials Delivers Greater Value to Customers and Reduces Costs with OroCommerce
Founded in 2006, ADDEV Materials is a wealth management mid-cap company employing 700 people at more than 25 sites around the world for a turnover of 170 million euros. The company designs personalized, value-added solutions to optimize the industrial performance of its customers. Its expertise in high-performance material transformation processes includes converting films, adhesive solutions, and custom packing solutions serving aerospace, defense, transportation, construction, and other markets.
Live Website
The Challenge
ADDEV Materials wanted to improve the delivery of customised solutions for its French industrial business. Its main objectives were to be closer to customers, bring them more value and reduce order processing costs. During the search for a B2B eCommerce platform, ADDEV Materials looked at OroCommerce, Salesforce and Wizaplace. The company was looking for:
A complete solution both front and back end

Built for B2B ordering and customer experience

Ability to have several sites on the same platform

Personalised experiences for every customer
We don't see Oro as an eCommerce site, but as a platform that allows us to offer different sites and different experiences according to our types of customers with a different offer, etc. Oro allows us to address in a personalized way different types of customers according to their expectations.
Olivier Fiquet
Digital Transformation Officer at ADDEV Materials
The Solution
After evaluating all options, ADDEV Materials selected OroCommerce as its eCommerce solution. ADDEV's technology buying teams were blown away by OroCommerce's native B2B functionality and its PHP & Symfony architecture, along with extensive resources.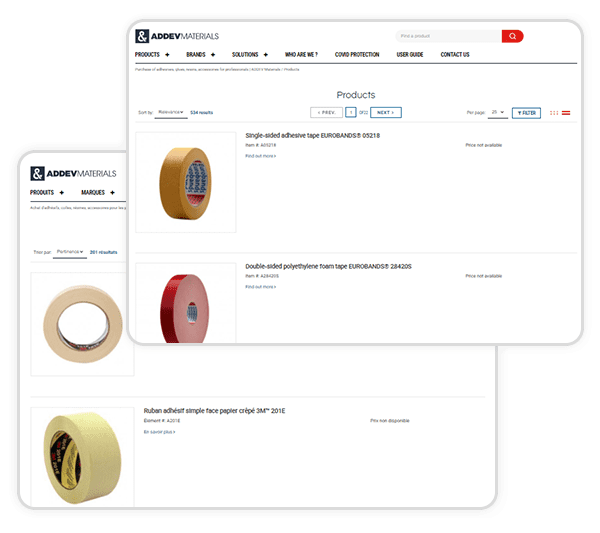 OroCommerce provided:
B2B features out-of-the-box

Scalable catalogue management capabilities

Request for quote and quick order forms

Multiple websites under the same instance

Marketing automation to sell and cross-sell
To ADDEV Materials, having a complete solution for both the front and back ends was critical. Furthermore, getting to market fast was a priority; the company couldn't afford to channel money and time into lengthy customisations. Thus, a major deciding factor was that OroCommerce came with everything necessary out-of-the-box. Oro also helped integrate with ADDEV's many third-party platforms, including Sage X3 ERP and Mollie for payments.
Now with a B2B eCommerce platform up and running, ADDEV Materials plans to expand its eCommerce presence and grow its customer base while maintaining a frictionless purchase experience.